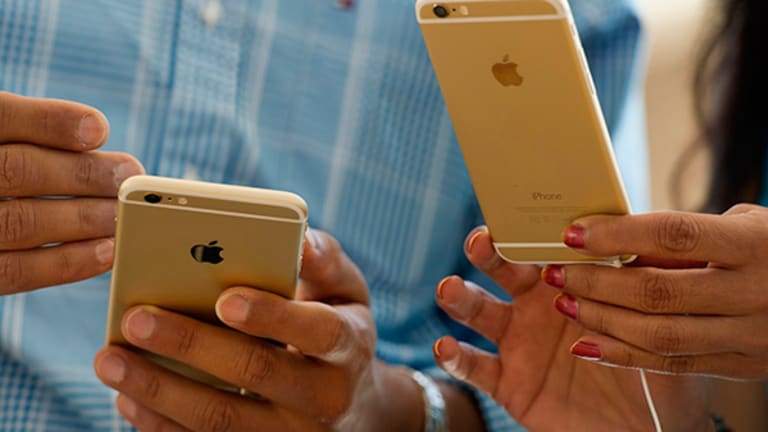 Is It Time to Cut Bait on Banks Excluded from Apple Pay?
Around 12,500 financial institutions are not in Apple Pay. Are they toast?
NEW YORK (TheStreet) -- The brutal fact is that Apple (AAPL) - Get Apple Inc. Report enrolled 15 goliath financial institutions in Apple Pay -- and now Apple may have little incentive to add many more institutions to the mobile payments system. That has experts wondering about the possible impact on the excluded banks.
When Apple Pay launched on Oct. 20, it had just six credit card issuers signed up. With that count, the company claimed it opened access to a possible 83% of credit card transactions. There is no official count with a new institutions added in but, sources said, the figure is approaching 90%.
Current Apple Pay entities are American Express (AXP) - Get American Express Company Report , Bank of America (BAC) - Get Bank of America Corp Report , Barclaycard (BCS) - Get Barclays Plc Report , Capital One (COF) - Get Capital One Financial Corporation Report , J.P. Morgan and Chase (JPM) - Get JPMorgan Chase & Co. Report , Citi (C) - Get Citigroup Inc. Report , M&T Bank (MTB) - Get M&T Bank Corporation Report , BofA's Merrill Lynch, Navy Federal Credit Union, PNC (PNC) - Get PNC Financial Services Group, Inc. Report , Regions Bank (RF) - Get Regions Financial Corporation Report , US Bank (USB) - Get U.S. Bancorp Report , BofA's US Trust, USAA and Wells Fargo (WFC) - Get Wells Fargo & Company Report .
The books are not closed on Apple Pay. Apple itself has said it has 500 institutions in its queue. Some will come aboard in 2014, probably in the next four weeks, several sources said. But those sources -- executives in credit card processors who are working to get customers enrolled -- have controlled optimism. Some figure just a few dozen will be added before the year closes.
Apple, in response to a question from this reporter, indicated that it did not comment on pending Apple Pay institutions.
Large financial institutions are presently on the excluded list -- for instance, EastWest Bancorp (EWBC) - Get East West Bancorp, Inc. Report in Pasadena, Calif., Key (KEY) - Get KeyCorp Report in Cleveland and Zions Bancorp (ZION) - Get Zions Bancorporation, N.A. Report in Salt Lake City.
There are many more. The Federal Deposit Insurance Corp. says there are 6,578 insured banks. There's a like number of credit unions.
That means roughly 12,500 institutions are excluded from Apple Pay. Such institutions may be in trouble.
Chris Stulpin, a senior vice president at Pennsylvania-based Capital Markets Group, wrote in a recent research report, "Apple Inc. has potentially handed a major competitive advantage to the largest U.S. banks at the expense of their smaller counterparts."
Others are more guarded. Tommy Marshall, a partner in the banking group at consulting company Capco, said, "Being presently left out of Apple Pay is not devastating to financial institutions. It will be a novelty for the next year or two. Most consumers carry multiple payment instruments. I don't see this hitting community bank payment volume."
Marshall added, "The size of the iPhone 6 user base also dilutes any concern I might have."
Apple has not issued updated sales volumes but present guesstimates figure around 20 million units sold, inclusive of both iPhone 6 and iPhone 6 Plus. That is something of a blip in terms of total U.S. cell phones. That count is well over 300 million, according to CTIA, the cellular trade association.
Marshall also said that the thin Apple Pay merchant network -- the company claims over 200,000 locations, but many experts say the true count may be half that -- diminishes any concern he might have about excluded institutions.
"In the short term, nothing will happen to excluded financial institutions," agreed Michele Orndorff, a payments expert with consulting firm Kurt Salmon.
Orndorff said she expected mobile payments to gel in 2015 as many retailers upgrade terminals to be compliant with new standards from Visa (V) - Get Visa Inc. Class A Report and MasterCard (MA) - Get Mastercard Incorporated Class A Report regarding EMV -- that is, chip-and-PIN or chip-and-signature cards. At least some retailers will use that opportunity to also upgrade to NFC capable terminals, letting them accept Apple Pay, Google (GOOG) - Get Alphabet Inc. Class C Report (GOOGL) - Get Alphabet Inc. Class A Report Wallet, Softcard and any other near field communication-driven payment. But that timeline gives financial institutions breathing room, by her reckoning.
Mary Monahan, an executive vice president at Javelin Strategy + Research, said likewise: "There is no need for panic just yet."
At least one banker currently excluded from Apple Pay said exclusion was not a matter of concern. John Oxford, director of external affairs at Tupelo, Miss.-based Renasant Bank (RNST) - Get Renasant Corporation Report , said, "There are not enough retailers accepting the service; nor is the [consumer] adoption to the point that any bank's fate is in jeopardy."
Oxford admitted that Renasant is working with its card processor to get in the Apple Pay queue, but there's no anxiety about delay. He elaborated: "Over the next 12 to 18 months, there may be enough adoption that banks will have to buy into Apple Pay and other forms of NFC payments or they will risk clients leaving for banks that can provide them with them."
But, for now, Oxford said, "We have only gotten two inquiries about Apple Pay. That's not enough to raise concern."
In saying that Oxford probably speaks for the many thousands of community banks and credit unions that are not in Apple Pay, or even in the queue. There just is not enough demand from consumers to care.
For now.
At the time of publication, the author held no positions in any of the stocks mentioned.
This article is commentary by an independent contributor, separate from TheStreet's regular news coverage.