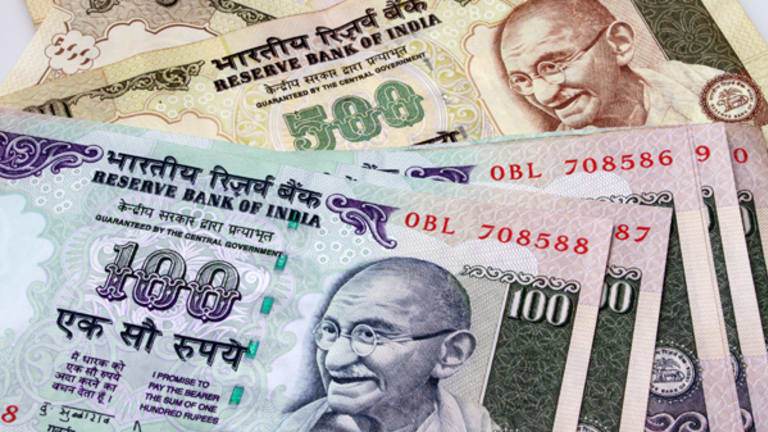 Is It Time To Buy India?
Maybe it is time to invest in India but beware, it's complicated and volatile.
NEW YORK (TheStreet) -- At the end of last month we looked at whether it made sense to buy Indonesia as a contrarian tradeafter months of declining prices and deteriorating sentiment. Since then the Market Vectors Indonesia Equity Index ETFundefined has had a bumpy ride to an almost 10% gain, along with many other emerging markets, even after dropping 11% in the last week.
An even bigger investing basket case has been India which has had problems with relatively high inflation and the Indian rupee. India's currency has declined 13% against the US dollar in 2013; a huge move for a currency. Last week India's central bank raised rates to 7.5% from 7.25% to try to contain inflation, a move that is putting political pressure on Prime Minister Manmohan Singh who is up for reelection in April 2014.
There are of course many ETFs providing access to India. The largest two funds are the
WisdomTree India Earnings Fund
(EPI) - Get WisdomTree India Earnings Fund Report
which has $900 million in assets and the
iShares India 50 ETF
(INDY) - Get iShares India 50 ETF Report
with $400 million in assets.
Read: Android's Ease-of-Use Advantage Over iPhone
EPI as the name implies weights its constituents by earnings over the prior fiscal year. Energy is the largest sector at 20% of the fund followed by banks at 19% and software and services at 14%. There will be many unfamiliar stocks in the fund but investors may recognize some names including
infosys
(INFY) - Get Infosys Ltd. Report
and
Tata Motors
(TTM) - Get Tata Motors Ltd. Report
.
INDY looks a lot different than EPI at the sector level. Energy related companies only have an 11% weighting. Banks and finance related companies have a combined 24% weighting. The two funds have seven of their respective top 10 holdings in common but the largest stock in INDY is tobacco company ITC Limited with a 10% weighting but it only has a 1.75% weight in EPI.
Read: Who is the Richest Comedian?
Both funds are broad proxies for the India market and have traded in line with each other and are very volatile. iShares reports that INDY's beta is 1.46 which means that for every one percent that the
S&P 500
moves, INDY can be expected to move 1.46%. EPI's beta is not reported on the fund's webpage it is it obvious from a chart comparing the two that the volatility profiles are very similar.
Neither fund offers much yield to help investors endure volatility. EPI reports a distribution yield of 1.63% and INDY comes in at 0.56%.
Another way in to India is through the
EG Shares India Consumer ETF
(INCO) - Get Columbia India Consumer ETF Report
. Consumer spending accounts for 70% of UD GDP but only 60% in India. Per capita income in India is slightly greater than $1200 per year with estimates that it will grow to $4200 by 2020. The combination of increasing as a percentage of GDP and income growth would be a powerful long term catalyst in INCO's favor but there are a lot of variables between here and a more prosperous Indian consumer.
Read: Bankrupt Morals In Bankrupt Stocks
For the trailing 12 months the prospects for India consumers have rewarded INCO with a 7% gain compared to an 8% decline for EPI and an 11% decline for INDY.
Read: 3 Big Dividend Payers With Rising Share Prices
A time of heightened uncertainty and skepticism often make for a good entry point into a stock or fund and while there is reason for long term hope for India the nearer term is less certain. An investor interested in India right here needs to understand they will be in for a lot of volatility and need to be ready to take a large gain if it comes or remain disciplined to their preferred exit strategy.
At the time of publication the author held no positions in any of the stocks mentioned.
This article is commentary by an independent contributor, separate from TheStreet's regular news coverage.
This contributor reads:
On Twitter, this contributor follows: