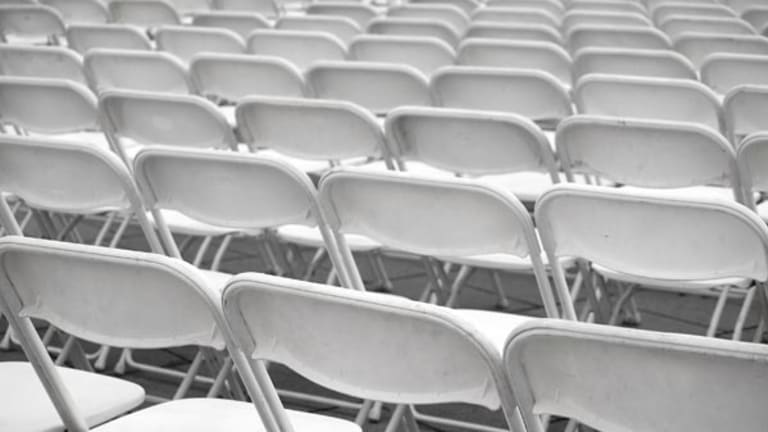 Is It Time to Break Up Big Banks?: Poll
JPMorgan's trading fiasco has renewed calls for tighter regulation, but some say that breaking up the big banks is the only answer.
Updated with additional information, analyst commentary.
NEW YORK (
) --
JPMorgan Chase's
(JPM) - Get JPMorgan Chase & Co. Report
$2 billion- trading fiasco has renewed the calls for tighter regulation of banks.
But some argue that the answer lies not in tighter regulation, but in breaking up the big banks.
JPMorgan said two weeks ago that its chief investment office had racked up over $2 billion in losses since the end of the first quarter, weeks after CEO Jamie Dimon had dismissed reports about the division's market-disrupting trading activities as a "tempest in a teapot."
Lawmakers have been demanding that the nation's biggest bank share more information about the nature of the trades that caused the massive loss.
The Commodities Futures Trading Commission has opened up
an investigation into the trading loss .
A lot of the analysis is focusing on whether the bank's trades may have been in violation of the Volcker Rule, which has yet to be passed and is likely to be at least two years away from being implemented.
The Volcker Rule seeks to prohibit banks from proprietary trading, wherein they bet their own capital for profit. But the rule, in its current draft, makes exemptions for activities that banks describe as "legitimate hedging."
However, JPMorgan's recent loss, which it says stemmed from a botched attempt to hedge against a stressed credit environment, has critics arguing that there is a very thin, blurry line between hedging and speculation.
JPMorgan CEO Jamie Dimon himself admitted as much in the company's annual meeting. "We do continue to believe in the importance of being able to hedge risk as an institution," he said. "However, we also understand the need for rules and practices to ensure that hedging doesn't morph into something different. What this hedge morphed into violates our own principles."
Now, democrats and proponents of tighter regulation on Wall Street are calling on lawmakers to toughen the Volcker rule and do away with the loopholes.
Banks who have been lobbying Washington to rewrite rules to make them less stringent and buy more time for their implementation might find themselves on the losing end.
Republicans who have been arguing that Washington is over-regulating the banking system continue to push back on such ideas, arguing that the business is inherently volatile.
"We are again hearing from some of our colleagues that we need a law which will essentially prevent a business from losing money or taking risk," Republican Representative Spencer Bachus said recently, according to a
Bloomberg
report. "No law can do that, nor should a law prevent a company from taking risks."
While the familiar back and forth on the need for more regulation is likely to continue through the elections, one other argument that does not look like it is fading away is the call to break up the big banks.
Even before JPMorgan's shocking disclosure, policymakers and regulators from former FDIC chief Sheila Bair to Dallas Fed President Richard Fisher have been arguing that the only way to prevent a repeat of 2008 was to end too-big-to-fail by forcing banks to split their operations.
In a recent presentation, Fisher noted that "complacency, complicity, exuberance and greed" are in our DNA and that these "human traits and weaknesses result in market disruptions that are generally occasional and manageable." But "more severe crisis occurs if implicit government support undermines market discipline" he argued.
Some have used the incident to highlight the importance of capital buffers that have been put in place for too big to fail banks.
JPMorgan's loss "reminds us that even very well managed institutions with very sophisticated systems can make very large mistakes," Larry Summers, who served as Treasury Secretary under the Clinton Administration and was director of President Obama's National Economic Council till late 2010 said in an interview to
Reuters
. "Whatever one thought about how large a safety buffer was necessary 10 days ago, in light of what has happened one would tend to have a bias towards larger safety buffers, larger capital requirements, larger liquidity requirements so that events such as these can be managed."
Indeed, JPMorgan's fortress balance sheet has helped it swallow a $2 billion loss, which bolsters the argument for higher capital, something that Dimon once said was causing banks to reduce lending and inadvertently hurting the economy.
However, the biggest argument for breaking up the big banks appears to be that you can't regulate stupidity. Banks will continue to take risks and make mistakes that regulators will not be able to foresee and the only way to stop taxpayers from paying for those mistakes is to ensure that no bank is so big that it can bring down the entire system.
Still, CEO Jamie Dimon argued at the bank's investor day in February this year that the bank still benefited from being a conglomerate rather than a monoline business and that over time, the whole will be greater than the sum of its parts.
But the market does not seem to think so, which might be an entirely separate argument in favor of breaking up the big banks.
CLSA analyst Mike Mayo has frequently argued that JPMorgan might be worth more broken up, because it was not necessarily the best in class in every business and its shares were suffering unduly from a "conglomerate discount."
On Wednesday, KBW analyst also joined Mayo in arguing that the bank may have to consider breaking up. "We believe, contrary to public opinion, that JPM provides less regulatory risk to the system as a consolidated company than broken up," the analyst wrote. "That said, should the market continue to depress the multiples of universal banks regardless of underlying values, we believe the Board may explore options to unlock value. After analyzing several scenarios, we believe that spinning out Retail Financial Services (RFS) and Cards into an independent Chase brand may create approximately 50% in shareholder value from current price."
Readers, what do you think is the appropriate response to JPMorgan's trading fiasco? Vote in our poll and find out what others at TheStreet think.
-- Written by Shanthi Bharatwaj from New York
Disclosure: TheStreet's editorial policy prohibits staff editors and reporters from holding positions in any individual stocks.