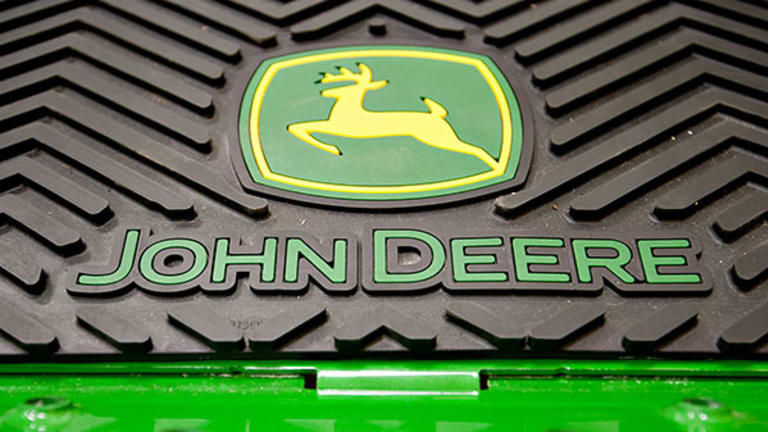 Is It Finally Deere Season?
Approaching long term resistance, 50% upside waits for John Deere on the other side.
NEW YORK (TheStreet) -- Don't call it a comeback, we've been here before. Such is the sentiment of John Deere (DE) - Get Deere & Company Report bulls currently as they've watched their stock trade in the $80's for much of this decade. Here it is teasing $90 for what seems like the 100th time. In late morning trading, shares traded hands at $88.63.
Will it hold above $90? Who knows, regardless, it's time to buy, like today, and hope it falls back to the mid-$80's where you can buy more. But don't count on that pullback this time.
Despite its $30 billion market cap, Deere rarely gets mentioned on any financial news network. It's boring, pays a half decent but not spectacular dividend and no big money manager is short it so it's largely forgotten by the masses.
But boring can bring big money if you're willing to have some patience. There could be 50% of upside in Deere from here in in the next two years and no one seems to care.
Consider that their new dividend strategy, announced in 2010, has yielded quarterly per share growth from 30 cents in 2010 to 51 cents today (70%). Not bad.
Buybacks, management likes them too, purchasing $11.2 billion ($5.4 million YTD) in shares in the the past 10 years at an average price of $60.67. That's better than a sharp corn stalk in the eye.
Despite sharing its ample cash flow with shareholders, Deere has never spent more on research and development than last year's 5.5% net sales or $1.5 billion.
Deere is growing too, not just corn, but sales. The U.S. and Canada remain its largest and most established market, yet the compound annual rate growth is still 8%. That's not awful considering that near $90 a share, the company trades at roughly 10 times earnings.
Oversees is where the opportunity lies. Asia, Africa, the Middle East, Central and South America are growing close to 20% from a year earlier.
The company continues to gain share in construction and forestry. It contributed $5.9 billion to the coffers in fiscal year 2013, but still only represents 17% of sales. Seems like there is room to grow there as well.
It won't be easy for Deere to break and hold this $90 level, it failed several times before. The stock price often trades with corn prices so if they fall so too could Deere's stock price. It's a game long term watchers of Deere know well.
As U.S. farm equity sits at all-time highs, the debt-to-asset ratio for farm owners makes now seem like a good time to buy new equipment.
Corn farmers are also some of the best at hedging their crop prices and managing finances. If they want a new tractor, they will get one.... and it will be a Deere. Few global brands enjoy the same customer loyalty as John Deere.
The downside? Management is notorious for sandbagging the earnings call. Perhaps fortunately the next one doesn't arrive until mid-May when a breakout could have already occurred.
Typically, Deere earnings surprise to the upside and stock trades higher before the conference call, then management rains on the parade and shares fall. That ended with the most recent earnings report.
Record earnings finally meant something which means finally, Deere is ready to run.... and nothing runs like a Deere. 

At the time of publication the author is long DE calls.
This article represents the opinion of a contributor and not necessarily that of TheStreet or its editorial staff.