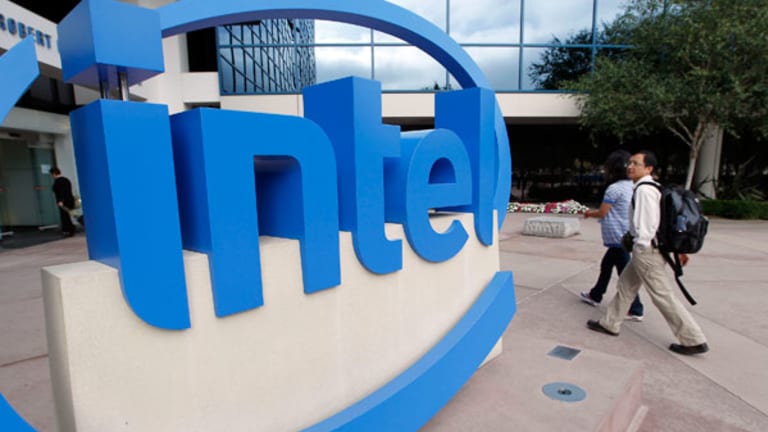 Is Intel Silicon Valley's Latest Cold, Dead Corpse?
Blue chip Intel should take a cue from startup Intel Media as it selects a new CEO and, hopefully, resets corporate strategy and culture.
NEW YORK (TheStreet) -- Unless it acts fast, Microsoft (MSFT) - Get Microsoft Corporation Report will wind up Silicon Valley's latest casualty of slovenly ineptitude.
As the Windows ecosystem continues to implode and
Steve Ballmer treats Xbox like a red-headed stepchild
, Microsoft will be left with loads of innovation sitting on shelves instead of in consumer's hands. They'll burn through $68 billion in cash like a heroin-addicted rock star splitting time between a $20,000 a month SoHo loft and an eight-bed, 10-bath oceanside mansion in Malibu.
Opposite
the resurgence happening at BlackBerryundefined
, there's just no sign of life at Microsoft. Same goes for other firms at death's doorstep such as
Dell
(DELL) - Get Dell Technologies Inc Class C Report
and
Hewlett-Packard
.
For good reason, I included
Intel
(INTC) - Get Intel Corporation Report
in this pack of carcasses. Given
the company's abhorrent mobile miss
and stagnant stock price, there was no other choice. Things were setting up to be just as bad as
the artist formerly known as RIM's
death spiral.
But now there's something happening at Intel that could change the course of the entire company.
I was skeptical of Intel's living room ambitions until it became clear that old guard Intel doesn't have much to do with the plans. It's all in the hands of Intel Media -- a startup operating within the blue chip beast -- and its impressive leader Erik Huggers, whom
I praised after a recent All Things D interview
:
He's a confident guy. Clearly smart. And I like him, in part, because he made it a point to say that Intel Media is completely separate from the Intel we know. A separate building, plenty of new outside hires and a totally different culture. But then, as to not offend or send a message contrary to the company line, he threw in but we're really proud to be part of this great Silicon Valley beast with so much history. I read you loud and clear, brother.
I expect to sit down with Huggers -- in
TheStreet's
plush new studios at some point in the next month or two -- to not only discuss Intel's plans to enter television via some sort of set-top box, but also to talk about the idea of leading a startup within a blue chip. It's all incredibly exciting stuff that prompts a pause, at least from me, vis-à-vis Intel's prospects.
First, if anybody can make inroads against (or, euphemistically, in conjunction with) the old guard establishment that controls content and its delivery, it's a guy like Huggers. He comes from the media-entertainment world -- via Microsoft and the
BBC
-- and aims to address many of the practical challenges the industry faces.
Seems to me Huggers can approach big content owners with more than
How do we work out a deal for access?
Instead, he can say, we want to solve big problems that
Netflix
(NFLX) - Get Netflix, Inc. Report
, for example, talks about but has done little to address. Like how do you personalize one Netflix account for multiple users in one household across devices?
Second, setting aside how much revenue/profit Intel Media generates -- though, with a great product and even better marketing ahead of a presumed pre-holiday 2013 launch, it can likely be significant -- there's a better-than-zero chance that the Huggers' experience influences what the larger Intel does with regards to its ongoing CEO search.
If Intel Media lights a fire with a media-friendly outspoken head such as Huggers and hires from all the big names --
Apple
(AAPL) - Get Apple Inc. Report
,
Google
(GOOG) - Get Alphabet Inc. Class C Report
,
Disney
(DIS) - Get Walt Disney Company Report
and others -- why not permeate the rest of the operation with that type of spirit? It's exactly the lift Intel needs to extend its thinking as a technology company, not merely a silicon company caught in the crosshairs of that mobile miss and a weak PC-industry push it probably never should've gotten behind.
--
Written by Rocco Pendola in Santa Monica, Calif.
Rocco Pendola is
TheStreet's
Director of Social Media. Pendola's daily contributions to
TheStreet
frequently appear on
CNBC
and at various top online properties, such as
Forbes
.