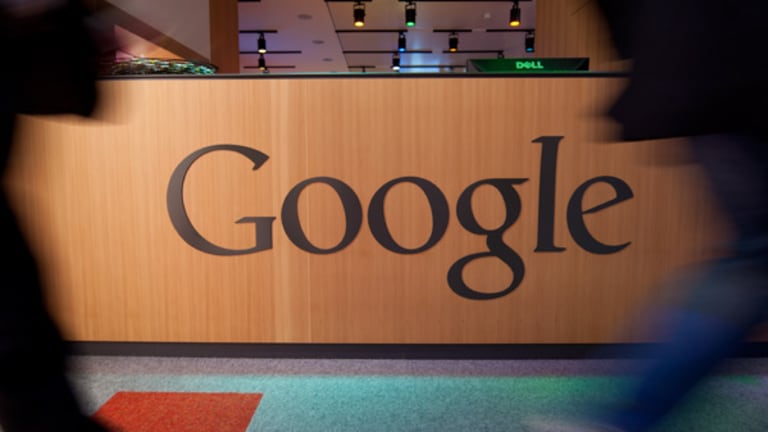 Is Google Another Enron, Facebook or Knight Capital?
People make mistakes, investors lose money and the wheels go round and round.
People make mistakes, investors lose money and the wheels go round and round.
NEW YORK (TheStreet) -- CNBC did a solid job covering the Google (GOOG) - Get Report mess. In case you missed the news, Google Crushed as Earnings Miss Badly
I single out
CNBC
because it often gets ripped for blowing stories out of proportion.
Don't shoot the messenger.
News breaks,
CNBC
covers it.
It's not the network's fault that some of its guests spew inane opinions. That's where the trouble starts, with people's opinions.
Some of the stuff I heard on
CNBC
yesterday made me laugh out loud.
Two opinions dominated.
First, the relatively sane one, offered by Jim Cramer as well as several guests. This is another thing that spooks individual investors; however the real story here is the earnings report.
Second, the completely insane one, offered by people whose names I cannot (or choose not to) recall.
Wait. Former SEC Chairman Harvey Pitt comes to mind as one. He's the guy who was at the helm at the commission when
Enron
blew up. But, I digress.
The insane opinion: The early release of Google's earnings was a debacle, a disaster, a damn shame that requires a swift response so people can trust markets again, so we can feel safe in our homes at night knowing that the tens and hundreds of shares of GOOG all us small investors own are under safe keeping, guarded by the watchful eyes of the brokerages and transfer agents who keep track of such matters.
Whenever something happens, this sense kicks in that it's everybody's job but our own to save ourselves -- the small investor -- from the likes of Enron,
Facebook
(FB) - Get Report
and
Knight Capital Group
(KCG)
.
I just can't get with that.
I fall more on the side of don't be bitter, don't blame external forces and learn from both your mistakes and history.
When Enron fell apart, we learned a lesson. Don't keep your 401(k) in one stock, even if it's the company you work for. Of course, this was a tough lesson for many Enron employees. While I do sympathize, that's life. Live and learn, right?
When the Facebook IPO flopped, we all learned something we probably should have known. Don't buy an IPO, particularly a social media one that warns about the desktop-to-mobile transition in the public filings most people never read on its first day or even its first week or first month. Allow some dust to settle.
I'm not sure what we, as smallish individual investors, could have hoped to learn from Knight. For one reason or another, from time to time, we actually experience this roller coaster that is the stock market. Go figure.
From all four of these "debacles" (Enron was, Facebook not so much, Knight gets an "I don't think so" and Google an "um, definitely not"), we learned two primary things, relevant to life and investing.
People make mistakes. Sometimes they're criminal. Sometimes they're negligent in some other way. Sometimes they're just crappy decisions that hurt lots of people. Sometimes a machine "makes" a person do something dumb. Sometimes good old, completely innocent human error comes into play.
Clearly, based on Larry Page's comment that somebody hit send early, we can assume human error deserves responsibility for the leak. That should put most of the hysteria to rest. Somebody made a freaking mistake.
Pardon this small aside. Please don't yelp because Google didn't act fast enough to explain what happened or because they might have possibly
though we're not really sure
given analysts a heads up on earnings. That never happens (picture that little emoticon where the yellow guy rolls his eyes).
And, while I'm at it, I won't mention his name, but somebody on television (bald guy with a cool pony tail) needs sensitivity training for ripping Page's lack of "enthusiasm" on the conference call. We have no idea what's wrong the guy, but it doesn't sound good. We should laud him for even showing up.
We also learned that there's risk in investing, particularly in stocks. Big time.
It absolutely stuns me that we're not desensitized by that reality by now.
Given all of the atrocities we accept on a daily basis -- gang murders, war in the Middle East -- it's somewhat shocking that we can't live with risk in the stock market.
For decades, we fell into the sleepy assumption that real estate investment carries no risk. That dream died hard.
Stocks are no different than real estate. Or any other inherently risky endeavor.
Part of that risk -- like it or not, fair or not, for better or worse -- includes unnatural, unexpected or sometimes nefarious occurrences.
Somebody hits send too early. People lose money.
Knight Capital's computers go haywire. Somebody has a heart attack after logging into their
E-Trade
account.
Facebook's IPO doesn't go to $100. Rip Mark Zuckerberg a new rear end because he wears a hoodie and honeymooned with his new wife.
Enron collapses. Ban 401(k)s.
Where does it end? Where do we draw the line? What's "preventable?" What can we regulate? What can't we regulate? It's all a big mess. Always has been.
It's nobody's job to hold our hands, as humans making our way through this thing called life or investors navigating the stock market.
As with most of life's pleasures, you're going to get screwed from time to time.
I don't see the sense in complaining about it, demanding more laws or regulation from bloated entities who clearly have no idea how to regulate.
Learn from your mistakes. That's key. And do whatever it is that you do to protect yourself (diversify, use options, buy bonds, get an emergency fund, put it all on Sloopy in the 7th at Belmont, pray). That might even mean staying out of the stock market completely. That's extreme, but, for some folks, it's probably the choice that brings the least anxiety and most sanity.
At the time of publication, the author was long FB
.
This article is commentary by an independent contributor, separate from TheStreet's regular news coverage.
Rocco Pendola is a private investor with nearly 20 years experience in various forms of media, ranging from radio to print. His work has appeared in academic journals as well as dozens of online and offline publications. He uses his broad experience to help inform his coverage of the stock market, primarily in the technology, Internet and new media spaces. He has taken a long-term approach to investing, focusing on dividend-paying stocks, since he opened his first account as a teenager. Pendola, 37, is based in Santa Monica, Calif., where he lives with his wife and child.