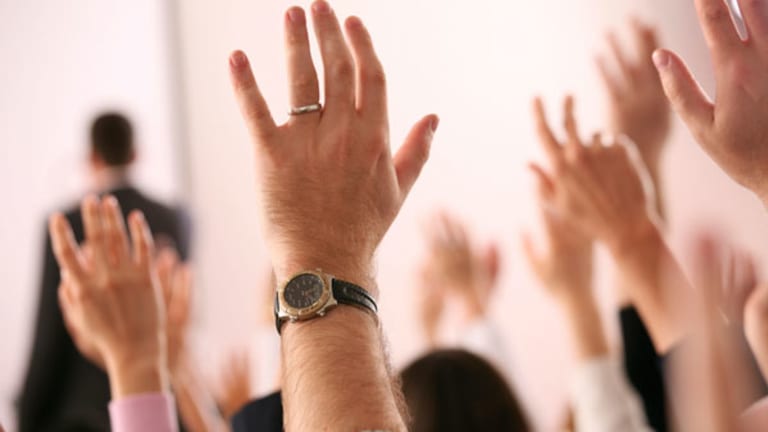 Is Goldman Sachs Dragging Down Warren Buffett?
Berkshire Hathaway directors are vocally supporting Goldman Sachs' integrity. Is it because Goldman's negative press runs the risk of hurting Warren Buffett's brand, or just his investment?
(Berkshire Hathaway poll updated for Goldman Sachs, financial reform news)
NEW YORK (TheStreet) --
Goldman Sachs is like the negative reputational gift that keeps on giving to
and
Berkshire Hathaway
(BRK.B) - Get Berkshire Hathaway Inc. Class B Report
.
Over the weekend, the Senate released emails showing that Goldman Sachs had profited from shorting subprime investments in which some big institutional investors lost a bundle. The Goldman Sachs' emails run counter to claims loudly voiced by Goldman Sachs executives that the bank lost money due to the subprime mortage meltdown.
The latest dent in Goldman's armor hit just days after negative Goldman news that sent sparks flying in the direction of Omaha. Last Friday, allegation surfaced that a Goldman director who is on his way out of the board room, director Rajat Gupta, allegedly passed on insider trading information to already ethically challenged Galleon Group hedge fund founder Raj Rajaratnam, about Buffett's then-impending $5 billion investment in Goldman.
Buffett and Berkshire Hathaway have plenty of reason to stand behind Goldman Sachs, given the $5 billion investment Buffett made in Goldman at the height of the financial crisis.
There was also news on Sunday night that
Buffett's investment in Goldman Sachs was leading to some closed door Berkshire Hathaway lobbying in Washington D.C.
The
Wall Street Journal
reported that Buffett has sent one of his top lieutenants to the Capital Hill to lobby for an exemption for Berkshire Hathaway from the pending derivatives reform that might require Berkshire Hathaway to post collateral on derivatives contracts it owns.
The Goldman Sachs bad press and its influence on Berkshire Hathaway came full circle in the report of Berkshire Hathaway's lobbying effort. The SEC fraud charges against Goldman Sachs provided the biggest boost to President Obama's financial reform agenda, and the derivatives reform portion of that agenda has now forced Buffett to press his personal derivatives case in the Capitol.
In another respect,
Buffett's investment in Goldman has raised questions about the businessman with the world's most sterling reputation potentially suffering a reputational stain.
In fact, Buffett has been busy issuing smoke signals about Goldman's integrity as negative events unfold. The Oracle of Omaha has not come forward himself and said in his own words that he stands by Goldman Sachs, but Berkshire Hathaway directors have been busy serving as public relations ballasts for Goldman Sachs.
Just days before the Goldman fraud charges, a Berkshire Hathaway director gave an interview to
Bloomberg TV
reiterating that Berkshire Hathaway stood behind Goldman and its integrity.
As news of the Goldman Sachs and Galleon Group insider trading scandal surfaced on Thursday, another Berkshire Hathaway director took to the airwaves, granting another interview to
Bloomberg TV
.
The second Berkshire Hathaway director was provided even more leeway by Omaha to extend the "We Stand by Goldman" line, notably referencing a phone conversation he had just had with Buffett, and the words of support Buffett had provided for Goldman Sachs in the private phone conversation.
It's a bit of irony that the same Goldman investment made by Buffett that has now forced the Oracle of Omaha to send out his board room minions in defense of Goldman, has also linked him back to Goldman by way of insider trading charges.
Of course, there is not a thing that Warren Buffett could have done about insider trading between a Goldman director and a hedge fund manager -- but it does again raise the question of Goldman's ethics and how it ties back to Berkshire Hathaway, even if in this case those ties are tangential, at best.
The mere mention of the word "Buffett" often seems like a currency to restore confidence in the markets. When it was a $5 billion investment in Goldman Sachs at the height of the financial crisis, the "Buffett" invocation had some real economic value.
President Barack Obama has sought to use "Buffett" almost every time he speaks on the economy.
In fact, when President Obama gave his speech on financial reform at Cooper Union in New York City on Thursday, he noted a phone conversation with Buffett about the markets and financial reform. As much as market cynics like to claim that all it takes is a speech from President Obama to send the markets into a tailspin, it also seems that a President Obama speech on the markets can't pass without a reference to "Buffett."
With Berkshire Hathaway's big annual meeting in Omaha coming up in a week's time, will the grandfather of the markets himself stand up and defend Goldman's integrity?
Buffett has never been one to mince words.
Buffett had no qualms about calling the Obama administration's bank tax plan "stupid" on
CNBC
some months back. When Berkshire Hathaway holding
Kraft
( KFT) was considering share dilution as a way to acquire
Cadbury
(CBT) - Get Cabot Corporation Report
, Buffett again took to the air waves to chastise Kraft management.
Buffett has also made a cottage industry out of deriding the excesses of Wall Street, and has issued successive rhetorical mandates to return the U.S. to some lost "halcyon" days of good old Main Street capitalism. He's certainly the Henry Ford of our times in at least one primary respect: operating far from Wall Street while he has built his Main Street empire.
has put no stop to its attacks against the federal government for bailing out the big banks; in retrospect, would Main Street have preferred if Buffett had left Goldman Sachs to its own rescue devices?
One of Buffett's quips against Wall Street bankers in his annual letter was, "Don't ask the barber whether you need a haircut."
Main Street may be increasingly asking itself if the Barber of Wall Street has managed to shave a little off the Berkshire Hathaway brand, even if Berkshire is no more than guilty by association.
Indeed, it all begs the question:
Do you think Buffett's reputation has taken a hit as a result of his association with Goldman Sachs?
Take our poll below to learn the consensus of
TheStreet
, and feel free to leave a comment below to defend -- or bash -- the reputation of the little old man from Omaha.
-- Reported by Eric Rosenbaum in New York.
RELATED STORIES:
>>Will Buffett's Ties to Goldman Stain Berkshire's Stellar Brand?
>>Berkshire Owns Best Business Brand
>>A Rare Moment of Bad Press for Buffett
Follow TheStreet.com on
and become a fan on
Copyright 2009 TheStreet.com Inc. All rights reserved. This material may not be published, broadcast, rewritten, or redistributed.