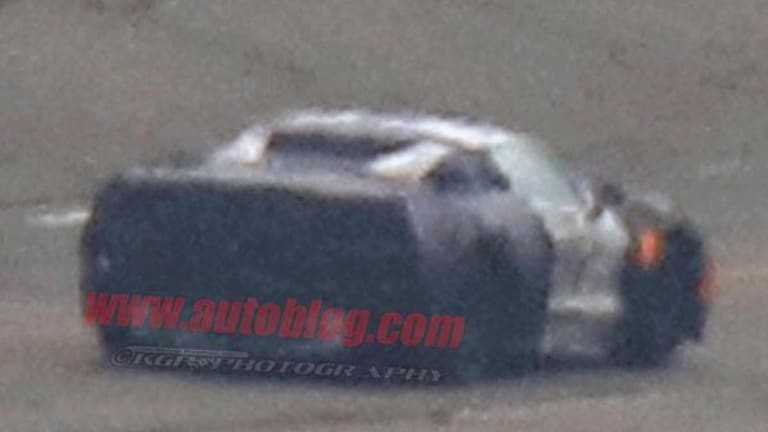 Is GM Nearing a Decision to Build a High-Powered Mid-Engine Sports Car?
The automaker could be nearing a decision to build a mid-engine sports car, possibly a new version of the Chevrolet Corvette.
The automaker could be nearing a decision to build a mid-engine sports car, possibly a new version of the Chevrolet Corvette.
General Motors (GM) - Get Report could be nearing a decision to build a mid-engine sports car, possibly a new version of the Chevrolet Corvette, that would help the automaker compete with a spate of new entries in the category and appeal to younger buyers.
The long-rumored GM project, reportedly shelved several times for various reasons including financial ones, took on new seriousness this week when the automaker announced a $290 million upgrade for its plant in Bowling Green, Ky., where the front-engine model is built.
A GM spokesman declined to confirm the new model. Last year, GM said it would spend $490 million on a new paint shop for the plant, to be completed in 2017. Car and Driver, an enthusiast magazine, published spy photos of GM engineering "mules" -- versions used for testing -- in 2015 that it said proved the project is proceeding.
"We are making technology investments that will continue to improve our manufacturing processes and ultimately the quality of our vehicles," Arvin Jones, GM North American Manufacturing Manager, said in a statement about Bowling Green.
A new mid-engine, high-powered sports car would contend against Honda's Acura NSX, Volkswagen's Audi A8, BMW's i8 and Ford's (F) - Get ReportGT, as well as models by Ferrari. The NSX and i8 are gas-electric hybrids.
Since such models are costly, priced high and sell in small numbers, the business case for building them often is seen as illusory by company accountants. Engineers and marketers usually are enthusiastic, arguing that high-powered, low-slung, sexy two-seat sports cars create excitement and -- besides being lots of fun to work on -- help sell the mass-market cars that carry the same brand name.
GM, having been reorganized with taxpayer funds following its 2009 bankruptcy, no doubt will be at pains to present an airtight case to the public that such a vehicle can fetch a return for investors. Executives of GM's Cadillac division, whose top-end models are the CT6 large sedan and Escalade SUV, have said they want to offer more prestigious models -- possibly including a two-seater -- that are priced even higher.
Corvette, first built by GM in 1953, has been through seven generations, the latest introduced to widespread praise in 2014. The latest redesign was seen as an attempt to transform what had been an "old man's toy" into an aspirational vehicle for young affluent customers.
As more top-end sports cars move to mid-engine, in keeping with F1 and similar open-wheel racecars, the body design inevitably reflects the layout, with a shorter front end and longer rear.
There is little doubt that Ford's new, $450,000 Ford GT mid-engine supercar, soon to be delivered to its first customers, serves as additional incentive for GM. The two automakers, bitter crosstown rivals, are loath to fall behind one another. For the moment, Ford leads GM in the supercar category following Ford GT's first-place finish earlier this month at the 24 Hours of LeMans in France. Ford has said it will build only 500 copies of the car and already has accepted about 7,000 applications from potential buyers.
Spy photos courtesy of KGP Photography/autoblog
Doron Levin is the host of "In the Driver Seat," broadcast on SiriusXM Insight 121, Saturday at noon, encore Sunday at 9 a.m.
This article is commentary by an independent contributor. At the time of publication, the author held no positions in the stocks mentioned.