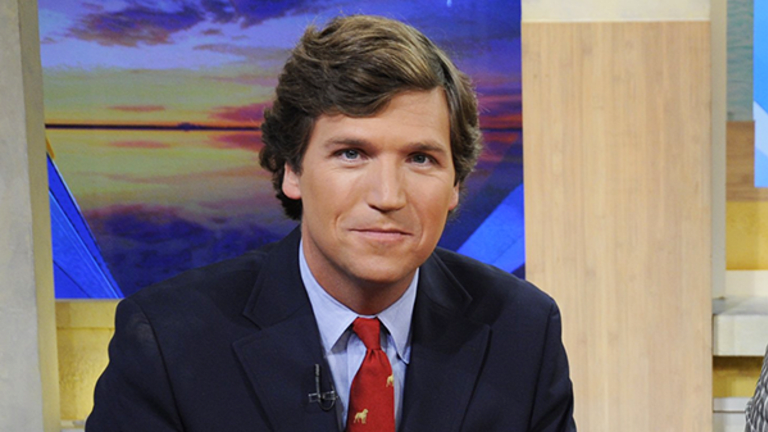 Fox News Dismisses Bill O'Reilly, With Tucker Carlson Moving Into Time Slot
Replacing the popular anchor, caught up in sexual harassment allegations, carries risks, though Fox News' loyal audience may ultimately transcend any one news anchor.
Bill O'Reilly, the bellicose conservative commentator whose show has been the highest rated in cable TV news for 17 years, has been dismissed from the Fox News Channel amid multiple allegations of sexual harassment.
O'Reilly departure comes nine months after longtime Fox News chairman Roger Ailes, for decades one of the most powerful men in politics, was also forced to leave the company after a former network anchor filed a lawsuit alleging years of sexual harassment. 
"After a thorough and careful review of the allegations, the company and Bill O'Reilly have agreed that Bill O'Reilly will not be returning to the Fox News Channel," the network's parent, 21st Century Fox (FOXA) - Get Free Report , wrote in a statement Wednesday.
Fox shares were down 0.5% to $30.51 in afternoon trading.
Later on Wednesday, O'Reilly released his own statement, remaining defiant in the face of multiple allegations of sexual harassment along with the revelation, reported April 1 by The New York Times, that $13 million had been paid by O'Reilly and Fox News since 2004 to women in exchange for agreeing not to sue or talk publicly about the charges. 
"It is tremendously disheartening that we part ways due to completely unfounded claims," O'Reilly said. "But that is the unfortunate reality many of us in the public eye must live with today. I will always look back on my time at Fox with great pride in the unprecedented success we achieved and with my deepest gratitude to all my dedicated viewers. I wish only the best for Fox News Channel."
Fox News separately announced that beginning April 29, Tucker Carlson Tonight will move into O'Reilly's 8 p.m. Eastern time slot from 9 p.m. Continuing the shuffle, Carlson's former slot will be filled by a roundtable of commentators on The Five, which had been airing at 5 p.m. That show will beco-hosted by Kimberly Guilfoyle, Dana Perino, Bob Beckel, Greg Gutfeld, Juan Williams and new addition Jesse Watters.
Martha MacCallum will continue to host the 7 p.m. hour, while Sean Hannity retains his spot at 10 p.m. Eric Bolling, currently a co-host on The Five, will debut a new show beginning May 1 at 5 p.m.
O'Reilly's importance to Fox News, and by extension to Rupert Murdoch's global media conglomerate, can't be overstated. Relentlessly pugnacious, O'Reilly's attacks on what he sees as "political correctness" made him the top-rated news anchor on cable TV for 68 consecutive quarters. 
Though Rupert Murdoch reportedly had resisted pressure from his sons -- James, Fox's CEO, and Lachlan, its co-executive chairman -- to dismiss O'Reilly, the younger family members apparently persevered. While James had pushed early-on for O'Reilly's exit, Lachlan wasn't swayed it was the right move until his wife convinced him, according to New York's Gabriel Sherman.
In a statement, signed by all three, the Murdochs said they expect that network will continue to dominate cable-TV news despite O'Reilly's departure. The decision that O'Reilly leave Fox News, they said, was made in an effort to improve the company's workplace.
"Fox News has demonstrated again and again the strength of its talent bench," the statement read. "We have full confidence that the network will continue to be a powerhouse in cable news. Lastly, and most importantly, we want to underscore our consistent commitment to fostering a work environment built on the values of trust and respect."
The O'Reilly Factor has been Fox News' financial linchpin for years. In 2016, Fox News posted more than $1.67 billion in gross profit, according to media research firm SNL Kagan. Fox's cable TV network group, of which Fox News is the largest piece, is expected to account for more than 72% of the company's profit for its current fiscal year, which ends in June, according to Douglas Arthur, media analyst at Huber Research Partners.
"They lost Megyn Kelly, and she was a big ratings producer though nothing like O'Reilly, and they haven't missed a beat," Arthur told TheStreet. "Replacing O'Reilly is a completely different animal because he sort of is the Fox News network."
Indeed, since January when Carlson took over Kelly's 9 p.m. anchor slot, ratings for the conservative cable TV network have remained strong.
In the first quarter, the audience for Tucker Carlson Tonight was the highest for that hour on Fox News of any quarter in its history, attracting 3.3 million average total viewers. Importantly, Carlson's show attracted 689,000 viewers in the key 25-to-54-year-old demographic, an increase of 40% from the same period a year earlier, according to Nielsen Media research data provided by Fox News.
Arguably, Carlson was already well-known to Fox viewers, having worked the 7 p.m. hour since November along with previous stints at CNN and MSNBC. But when Kelly left, some observers questioned whether she would be easily replaced.
Kelly left the network for Comcast's (CMCSA) - Get Free Report NBC News amid reports that she had told Fox executives about allegedly being sexually harassed by former Fox News Chairman Ailes. 
Ailes, whom O'Reilly firmly backed even as more women came forward last summer to describe instances of sexual harassment, was dismissed in July with a $40 million exit package.
Ultimately, O'Reilly's dismissal raises the question as to whether Fox News is bigger than its most popular anchor. For the first time in more than two decades, the Murdochs will find out the answer to that most vexing question.
"Bill O'Reilly is Fox News," said Christopher Ruddy, founder of conservative website and cable TV channel Newsmax, via email. "It is difficult to imagine they could replace his unparalleled and unchallenged talent anytime soon."
Comcast is a holding in Jim Cramer'sAction Alerts PLUS Charitable Trust Portfolio. Want to be alerted before Cramer and the AAP team buy or sell CMCSA? Learn more now.