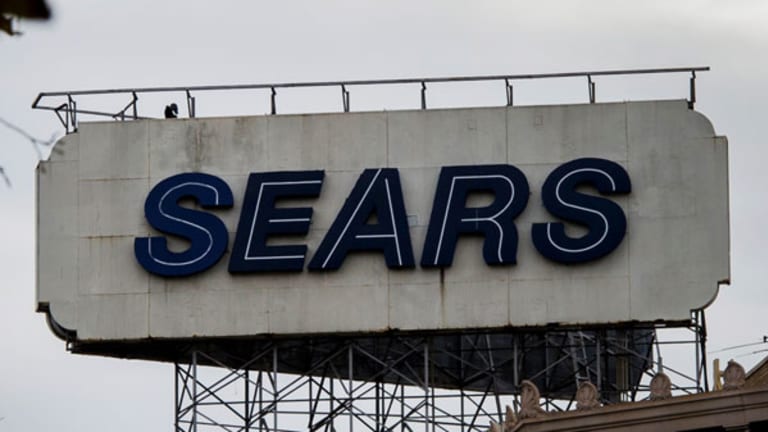 Publish date:
Is Famous Retailer Sears Trapped in a Death Spiral?
The news keeps getting worse for this once-revered retail brand, as rival J.C. Penney invades the appliance niche. Does Sears (SHLD) face doom in 2016, or can it come back?
The news keeps getting worse for this once-revered retail brand, as rival J.C. Penney invades the appliance niche. Does Sears (SHLD) face doom in 2016, or can it come back?
After a miserable 2015, in which retailer Sears Holdings  (SHLD) saw its share price shrink 37%, the new year doesn't bode well for the well-known retailer.
Sears is facing major obstacles, not least of which is shoppers' continuing shift to buying everything from jackets to phones to kitchenware at Web sites such as Amazon. 
While all retailers who have a bricks-and-mortar presence are facing the heat, Sears seems to be in a particularly tough spot. It can't seem to generate consumer excitement around its Sears and Kmart stores, its move to monetize valuable real estate assets doesn't seem to have cheered investors sufficiently and it faces renewed competition in the appliance space from J.C. Penney (JCP) - Get Report . Sears just can't seem to get its act together, and it's likely that it will be part of a group of fundamentally weak stocks that have a terrible year.
Despite all its troubles, Sears remains the top appliance retailer in the U.S., according to this article in The Wall Street Journal. But this position is under threat now from J.C. Penney, which, after three decades, is returning to selling appliances in its stores. 
Come February, J.C. Penney will test the waters by introducing these items in 22 stores in San Diego, San Antonio and Tampa, Fla. If all goes as planned, J.C. Penney will extend the reintroduction to its stores in other locations.
J.C. Penney planned the move after receiving intelligence that appliances were the top items that shoppers searched for on its Web site, The Wall Street Journal said. The 22 stores will sell appliances from companies such as General Electric, LG Electronics and Samsung.
What's more, even before J.C. Penney decided to return to appliances, Sears' market share in the space was on the decline, to 25.5% in September 2015 from 33.3% in 2006, the Journal reported.
In other product categories, Sears is flailing. According to this commentary in Forbes, Sears' shopper share has fallen 40% over the past decade in softlines including clothing and shoes and hardlines including sporting goods, linens/bedding, home improvement products and electronics. And in women's clothing, the shopper preference share fell by more than half over the last 10 years.
Sears did manage to reduce its net loss year over year in its fiscal third quarter, which ended on Oct. 31, 2015, but the loss was still a whopping $454 million (down from $548 million a year earlier). Revenue fell about 20% year over year to $5.75 billion. Revenue at stores open for at least a year, which is a gauge of the company's performance, fell 8.6% overall.
All this is forcing the retailer to cut costs, and thereby shut some of its Kmart and Sears stores. 
Sears did give itself more time, and raise a significant amount of cash, with last year's spinoff of a chunk of its quality real estate properties in the form of Seritage Growth Properties (SRG) - Get Report , a real estate investment trust that leases the properties back to the retailer. The deal generated $2.7 billion in cash, which helped Sears pay back debt and absorb losses. However, this cash infusion is expected to cover Sears only until mid-2017. Then what?
To truly adapt to the current dynamic retail environment, Sears wil need to strengthen its retail core, rather than relying on the monetization of its real estate assets. With Fairholme Capitalrecently increasing its stake to become Sears' second-largest shareholder, expect some activist investor drama in the company this year.
But with Sears' continuing losses and fresh competition in the appliance space from J.C. Penney, it seems best to stay away from its shares for the foreseeable future. 
As we've just explained, Sears is a precarious stock, especially in this down market. If you want to see a complete list of the absolute worst stocks you can own right now, I urge you to take a look at this report called 29 Dangerous Stocks: Sell Now! Inside, you'll see a full list of the market's most overvalued stocks, and learn the process you can use to keep avoiding them in the future. Click here now for a copy. Make sure there aren't any Sears-type landmines in your portfolio!
This article is commentary by an independent contributor. At the time of publication, the author held no positions in the stocks mentioned.