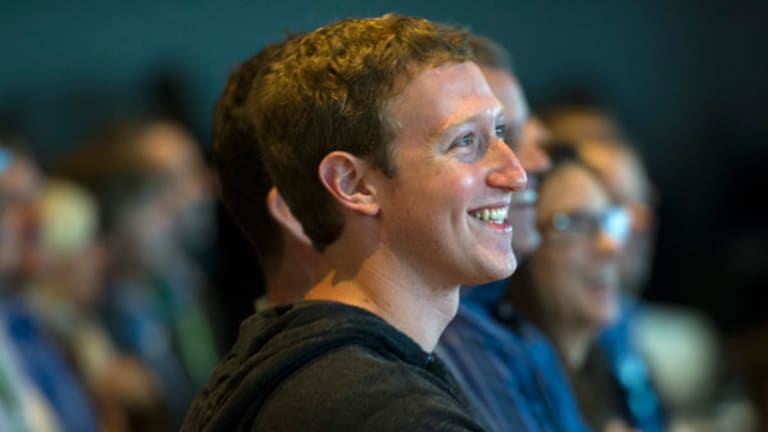 Is Facebook a Helping Hand for News Media or Has It Become a Crutch?
Why is Facebook hosting content on its site and will it help or hurt news media? The social network has become critically important for online media companies.
NEW YORK (TheStreet) -- When Facebook (FB) - Get Facebook, Inc. Class A Report was new, I used to describe it to people by saying, "It's like a newspaper to see what's going on with people you actually know." This week, Facebook is becoming more like an actual newspaper than ever before -- and taking the rest of the news media along for the ride. The question is, how wary should established media brands be?
Its new offering, "Instant Articles," means Facebook hosts articles from some of the best news organizations around (including the New York Times, BuzzFeed, and National Geographic) on its own site, rather than linking back to news organizations' Web sites. What this means mechanically is that readers will see some, special stories a few seconds faster than they would have otherwise -- and on Facebook's site. Facebook is testing out the feature now, but I've yet to see one of these stories in my news feed.
Print media has been under pressure since the birth of the Web; and the pressure has intensified significantly since the introduction of the iPad in 2010. While it has been flailing about trying to figure out how to either develop or better monetize digital, social media has surged in popularity with platforms like Facebook attracting 1.4 billion monthly active users. Social media has been more than just a valuable tool that news sites have used to promote their content, it has actually been a channel that directs a lot of traffic that can be monetized. The downside to that is that Facebook uses algorithms to determine what people either see or don't see, and news sites, whose livelihood depends on building an audience, are at the mercy of those algorithms.
Meanwhile, social media sites are also vying to keep eyeballs on their own sites so they can serve up ads. As such, they have little incentive to send people away to other sites like the New York Times, and also no legal obligation to explain algorithm changes to anyone. According to a Pew Research Center report, people visiting news sites via a link on Facebook spent an average of one minute and 41 seconds; it's about the same when that site is reached via a search engine. Facebook looks at that as 1:41 seconds that they miss out on serving ads to those folks. The solution for Facebook? Host the content on its site and cut down on time people spend browsing around those other news sites. It's a big win for Facebook, even if it has to share some of the ad revenue with the news outlet.
Is it a solution for the news sites though? While a significantly higher percentage of younger folks came to news sites through a Facebook link than directly through a bookmark or URL, they don't stay very long nor do they return all that often. So news sites seem to be willing to trade some site traffic for assurances that their stories are seen by a younger demographic.

This is hardly the first time social media has started to generate its own content. SnapChat has been offering a similar feature called "Discover" where it features news and other content from brands like CNN, Daily Mail, ESPN, People and the Food Network while serving ads. Snapchat went as far as to actually hire CNN reporter Peter Hamby late last month to chaperon its news offerings. So far Discover is one of only two of SnapChat's revenue drivers (through advertising) -- and it is prohibitively expensive, up to $100,000 per day.
For news media, it has to be difficult to draw conclusions about the best way forward when new technology and social media apps are constantly introduced and the way we use them to interact with both content and each other is constantly in flux. But for now reputable news outlets seem to be willing to take the calculated risk that they will be able to operate truly autonomously while renting space on Facebook's property.
This article is commentary by an independent contributor. At the time of publication, the author held no positions in the stocks mentioned.