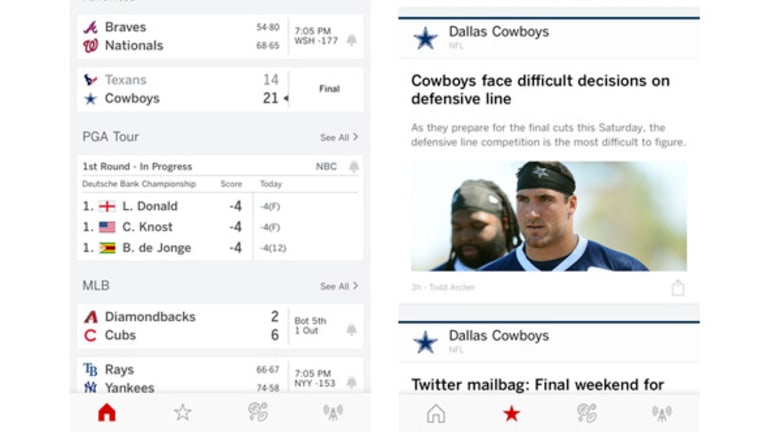 Is ESPN Missing Out on Talent?
Who is sitting around the table during high-level discussions on how to 'fix' SportsCenter? A majority that's 45- to 60-year-old white men. That's a problem.
The story was originally published Monday in Eric Jackson's Tech & Media newsletter.
Last week I discussed how ESPN had dropped in two years from 99 million to 92 million subscribers. I received confirmation thanks to a late Thanksgiving eve dump of the Disney (DIS) - Get Walt Disney Company Report 10-K filing with the Securities and Exchange Commission.
In it, Disney confirmed the Neilsen numbers that came out in the summer. While it wasn't a surprise, it still caused the stock to sell off on Friday as investors grappled with the same question I posed last week:
"Where do these numbers bottom for ESPN and when?"
Earlier, before the Thanksgiving break, I wrote a piece in Real Money titled Can Twitter Moments Replace SportsCenter? I discussed how the concept of a late night sports highlight show -- of which SportsCenter was the epitome -- has now become passe. We can get sports highlights any time of day that we want on our phones. The highlights exist on Vine, in updates on Twitter itself, and now in a more curated way on Twitter Moments.
The ratings for SportsCenter have been in decline for a while, which is why ESPN put a big push behind Scott Van Pelt in September for a relaunch/rebranding of the program. We don't know how the ratings are doing two months later. Eventually, we will see them. I suspect the ratings will continue to show the franchise continues to come under pressure.
Why? Because the late night sports highlights model is dead. It got replaced (or "disrupted" if you want to sound fancy). Maybe if you had Dan Patrick and Keith Olbermann in their prime doing SportsCenter now it would be appealing. Maybe if it was Stuart Scott talking about someone being as cool as the other side of the pillow. But, even with those giants of sports broadcasting, the question would always be: Why is waiting to tune into SportsCenter better than the scores or highlights that are in my hand right now from any numbers of apps?
It's interesting to think about the decline of SportsCenter relative to the relative continued popularity of the late night talk shows such as Jimmy Kimmel and Jimmy Fallon. Those entertainment shows have embraced the web and mobile. They've realized their shows do better when they create clips that can be easily shared across the Internet. They've embraced YouTube as a distribution and promotion platform. Their comedy is unique. I can't see it anywhere else if it's good, unlike sports highlights.
Is SportsCenter dead as the buggy whip? Or does it just need a refresh?
That is the sort of debate that should be going on right now in Bristol, Conn., the worldwide headquarters of ESPN. But is it? And who is having that debate? And who is the ultimate decision maker of what should be done to SportsCenter?

All these questions bring us to the location of Bristol and how that affects who is answering all of those prior questions.
Having a corporate headquarters has been good for ESPN in a few ways:
It's a two-and-a-half-hour drive northeast of New York in the middle of nowhere. Therefore, the cost of living is cheaper. Therefore, ESPN has been able to keep its costs lower relative to other sports media conglomerates where all their people are in New York or LA.
You could argue that being outside of a big area means people working there are less likely to leave, especially when working for the Worldwide Leader. Once you put your roots down, why leave?
But here's where having a corporate headquarters in Bristol is a bad thing: iI's more difficult to attract young talent who isn't interested in putting down roots and their kids playing soccer and good local schools.
I'm talking about the millennials. If they're talented -- either on the tech side or on the business side -- where are they going to want to work? In New York, Silicon Valley, Venice Beach, or Bristol? The answer is obvious.
So being in Bristol for ESPN means, I assume, that it will be harder to attract and retain the best and brightest millennials from the business and tech side. If that is true, then who is sitting around the table during high-level discussions in Bristol on how to "fix" SportsCenter? I assume it's a majority of 45- to 60-year-old white men. I think that's a problem, if it's true.
Why? Because does that group of ESPN execs use Twitter Moments? Do they use Snapchat Discover? Both of those products are built by a bunch of millennials in San Francisco and Venice Beach respectively. What are the millennials building in Bristol?
If you don't have a diverse group of people sitting around the table trying to figure out the solution to a problem, your solution is unlikely to be optimal.
Another way of saying this is: The people who built SportsCenter and made it into the successful cash cow that it has been are unlikely to be the best people to "fix" it. After all, those people who built SportsCenter aren't even that likely to think SportsCenter needs to be fixed in the first place. This is just human nature.
Finding the next SportsCenter likely has to be dreamed up by people outside of SportsCenter. That means that ESPN would face this type of challenge if they were based in New York or LA, but the challenge gets accentuated for them by being based in Bristol.
It's likely that there's a technical component to this Bristol location as well. For years, I've been amazed that, despite years of bad management and general neglect, Yahoo Sports stayed ahead of ESPN.com in traffic. This changed in the last 18 months but Yahoo!'s (YHOO) platform is still second. ESPN should be 10 times bigger than any competitor. It should be way bigger than it is in Fantasy Sports. Why isn't it? I think its Bristol location plays a part.
This past week, ESPN put out an inforgraphic saying how the company is first in sports on a digital platform -- and it is. But the company should be 10 times bigger than Yahoo!'s, given what's gone on there for the last decade. Instead, they're marginally ahead.
For any big organization facing disruption the way ESPN is, the question is who at the top is prepared to meet those challenges. Does ESPN have the best and brightest millennials on the tech and business sides based in Bristol to meet that challenge?
This article is commentary by an independent contributor. At the time of publication, the author held TK positions in the stocks mentioned.