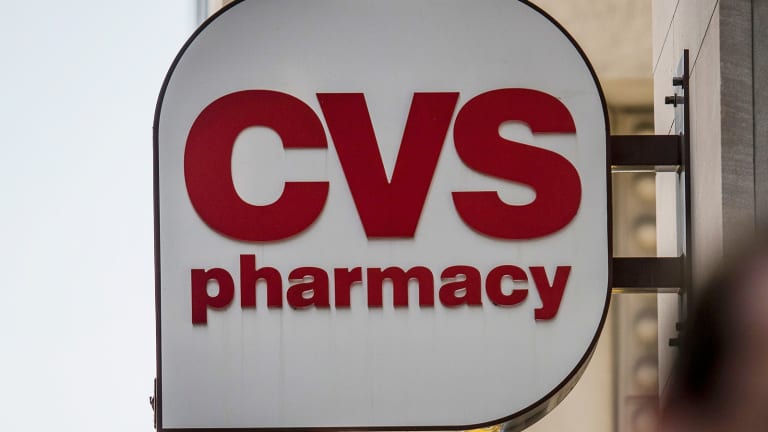 Is CVS Health Getting Healthy?
CVS Health stock is down 15% over the past year, but it could move higher based on favorable trends in the industry.
Over the last year, shares of CVS Health (CVS) - Get CVS Health Corporation Report are down 15%, but the stock could move higher based on favorable trends in the industry.
CVS Health reports second-quarter earnings results on Tuesday, Aug. 2. Sales are expected to be up 19% to $44.3 billion and the consensus is looking for earnings of $1.30 per share.
CVS has been on an acquisition spree over the last few years. In 2015, the company acquired Target's (TGT) - Get Target Corporation Report pharmacy business consisting of over 1,600 locations. CVS also acquired Omnicare, a prescription drug and services provider, for $12.7 billion.
Through these deals and others, CVS has gone from one of the largest drug store operators to one of the largest pharmacy benefit managers in the U.S. The company has over 9,000 retail locations in 49 states. Last year, the retail pharmacies alone filled over 800 million prescriptions. Approximately 47% of revenue comes from the retail (CVS Pharmacy) and the rest comes from the CVS Caremark PBM.
In 2015, sales grew as the company won new pharmacy benefit management contracts. Last year, pharmacy services had revenue of $100.3 billion, up 13.5%.
In the first quarter of this year, the company won $13.2 billion in net new deals and retained 97% of its customers. Pharmacy benefit revenue was $28.7 billion, and the retail stores generated $20.1 billion in revenue, up 16.5%.
Analysts are forecasting second-quarter PBM sales to be $30 billion, up 22%. Although the PBM business is large, it is not very profitable. Gross margins are expected to be just 4.6% vs. the retail stores' margin of 29%.
A PBM negotiates with payers, like employers and managed care organizations, to design cost-saving strategies for health plan members around prescription drug pricing. As one of the largest PBMs in the U.S., CVS negotiates with drug manufacturers for volume discounts on drugs and passes a portion of the savings on to the payers. PBMs have tremendous bargaining power with drug makers.
PBMs benefit when drugs lose patent protection and go generic. Over $22 billion worth of drugs are expected to go generic this year and $25 billion next year.
CVS should be able to expand its margins as more branded drugs go generic. In fact, the FDA has a backlog of over 3,000 applications to change branded drugs to generic. It could take the FDA until 2018 to catch up with these filings, which means there should be a steady flow of high-margin generic drugs coming on the market. CVS is perfectly positioned to capture this incremental opportunity over the next few years.
CVS should be able to increase revenue 18% to 19% this year and 10% next year. With so many generic applications backlogged, revenue could jump another 10% in 2018.
Investors are looking for 2016 sales of $181.3 billion, up 18%, and earnings of $5.82 per share. Next year earnings are forecast to be $6.56.
Using a forward multiple of 18 times, next year's estimate, I think CVS shares could trade up to $120. CVS is looking healthy.
This article is commentary by an independent contributor. At the time of publication, the author held no positions in the stocks mentioned.