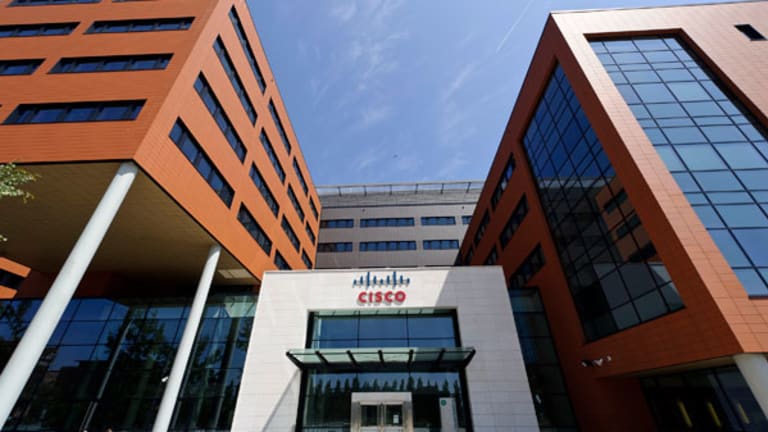 Is Cisco a Growth Stock or a Dividend Stock?
Here's what's behind the rise in Cisco stock.
NEW YORK (F.A.S.T. Graphs) -- Cisco (CSCO) reported earnings and revenue that slightly exceeded analyst estimates while simultaneously offered guidance which was a little lighter than previous expectations.
Nevertheless, the stock is up by double-digits, which hardly seems justified by the news. Therefore, my logical mind tells me that the rise in Cisco's stock price has something other than a mild earnings and revenue beat behind it. Simple fundamental analysis of the company and its current valuation reveal what I believe to be the primary driving force behind today's price increase.
Let's start by looking at a
, which plots earnings and dividends since calendar year 2003, the past decade. The orange line represents a PE ratio of 19.1, which is equal to the company's operating earnings growth rate. Moreover, it represents the earnings justified valuation based on applying a P/E ratio that is equal to the company's growth rate. The light blue shaded area shows dividends, which Cisco has been paying since 2011. Although there is some cyclicality in this record, long-term average defined Cisco as a growth stock.
Next, let's bring in monthly closing stock prices (the black line on the following graph) and analyze how the market has treated Cisco's earnings growth since 2003.
In theory, fair value exists when the black monthly closing stock price line is touching the orange earnings justified valuation line.
Notice how, from 2003 up to the great recession of 2008, Cisco's stock price became overvalued as the stock pricerose above the orange line only to promptly fall back into alignment. Conversely, notice how the stock price moved back to the orange line after it initially fell during the great recession.
However, since fiscal year-end July 31, 2010, Cisco's stock price has fallen below its earnings justified valuation level based on growth since 2003. Interestingly, this is approximately one year before the company started paying their dividend as is expressed by the light blue shaded area on the graph.
A closer analysis reflects that Cisco's lower valuation since fiscal year-end July 31, 2010, can be attributed to a significant reduction or shift in the company's operating earnings growth rate over that period of time. Since the great recession of 2008, Cisco's operating earnings growth rate has averaged 7.2%.
This lower rate of growth implies a fair value PE ratio of 15, which is now represented by the orange line on this more recent history, which is below the PE of 19 that was justified when growth was much stronger.
However, the important takeaway is the market is applying an unjustifiably low valuation on Cisco shares. Consequently, I believe there was pent-up performance in the stock that the market is beginning to recognize today as the share price is up by double digits.
Moreover, I would argue Cisco remains undervalued, especially when future earnings growth is expected to ratchet back up to double-digit levels. Cisco is a very widely followed technology bellwether. Currently, 41 analysts reporting to Standard & Poor's Capital IQ forecast Cisco's five-year estimated earnings growth rate at 9%.
Considering today's earnings beat, these estimates may increase, perhaps even into double-digit territory. Nevertheless, even after today's strong performance, Cisco offers shareholders great value, growth and a dividend yield exceeding 3% and growing.
This recently announced upcoming event highlights some of the long-term growth opportunity that Cisco sees:
Cisco VNI Global IP Traffic Forecast (2012-2017) (Live Webcast May 29, 2013, at 8:00 a.m. Pacific/11:00 a.m. Eastern)Networks are an essential part of business, education, government, and home communications...Highlights include the following projections:By 2017, there will be 3.6 billion global Internet users, up from 2.3 billion global Internet users in 2012.By 2017, there will be 19 billion networked devices globally, up from 12 billion networked devices in 2012.By 2017, average global broadband speed will grow 3.5-fold from 2012 to 2017, from 11.3 Mbps to 39 Mbps.By 2017, global IP traffic will reach an annual run rate of 1.4 zettabytes, up from 523 exabytes in 2012.
Conclusion
I believe Cisco is a high-quality, undervalued technology blue-chip that is morphing from a pure growth stock into an above-average dividend growth stock. Consequently, I believe its low valuation greatly mitigates risk and that Cisco offers above-average capital appreciation coupled with an above-average and growing dividend yield.
Consequently, I believe it is both a growth stock and a dividend stock that is attractively valued in today's overheated market.
At the time of publication the author was long CSCO.
This article was written by an independent contributor, separate from TheStreet's regular news coverage.
Charles (Chuck) C. Carnevale is the creator of
.
Chuck has over 43 years of financial experience and is the co-founder of the earnings and price correlated, powerful fundamentals analyzer software tool - FAST Graphs. Chuck holds a Bachelor of Science in Economics and Finance from the University of Tampa. Chuck's work stressing sound valuation has been widely published on numerous financial sites and blogs. Chuck is passionate about spreading the critical message of valuation and prudence in fundamental investing. So much so that regular readers have dubbed him "Mr. Valuation". Chuck is a Veteran of the Vietnam War and was awarded both the Bronze Star and the Vietnam Honor Medal.
Chuck believes that correctly assessing fair value is one of the primary keys of successful stock investing, and he has dedicated his more than 40 years of experience in finance to its pursuit. Chuck agrees with legendary investors such as Warren Buffett, who recognize how important it is for investors in common stocks to possess an intelligent framework for making sound decisions that can keep emotions out of the equation. With making smart stock selections, there is no room for fear and greed.
Chuck was fortunate to learn at an early age that earnings drive long-term stock prices, and that dividends, if any, will be paid out of a company's earnings. This led him to develop FAST Graphs, the fundamentals analyzer software tool that reveals the long-term relationship between a company's earnings and its stock price and dividends over time. Chuck is most interested in the business behind the stock.