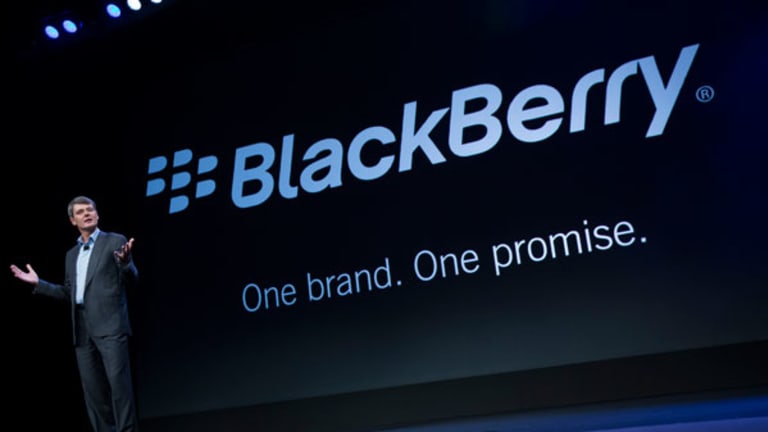 Publish date:
Is BlackBerry a Buy Yet?
How much lower can shares of BlackBerry go? Perhaps not much, but why take a chance.
How much lower can shares of BlackBerry go? Perhaps not much, but why take a chance.
NEW YORK (TheStreet) -- I've largely remained quiet as handheld device maker BlackBerryundefined began to slip deeper and deeper into the market's abyss. 
I've been bearish on the company and would have saved investors anywhere between 30% to 50% by suggesting to avoid the stock. Here are just a few of the headlines: 
Don't Answer BlackBerry's Call; Nobody Else Is
BlackBerry Smartphones on Same Path as Its PlayBook
Those were months ago. Back when the stock was hovering in the double digits, depending on which article you go back to. But the point isn't to gloat or brag. 
Even I've considered buying the stock lately. Trading a few pennies north of $6 seems like a bargain, right?
Wrong.
I was pondering the idea from a trading perspective -- because no way does it make sense from an investing perspective -- of buying a stock this beaten and this battered. 
Admittedly, for as much hate as I tossed on BlackBerry and its recently ousted CEO Thorsten Heins, the company does have value. It carries no debt and has $2.34 billion in cash on hand. The software side of things also has value. 
But the first thing that should come to most investors' mind is the cash level. Many are asking themselves, at what point does the stock trade at cash levels? 
In BlackBerry's case however, that might be the wrong question to ask. Several months ago, that level was here, near $6 and change. 
It was also before the company burned through nearly $500 million last quarter, which was revealed in its most recent earnings report. What a ridiculous amount, roughly equivalent to 20% of its cash on hand. 
Adding to the cash burn, an additional $400 million is expected to go toward restructuring efforts. 
Like what happened with its PlayBook tablet, the company wrote down nearly $1 billion in inventory, mainly attributed to the Z10 smartphone. You remember, the Z10 that was supposedly going to save the company. 
When news surfaced several months ago that Fairfax Financial would be willing to take BlackBerry private at $9 per share, it was obvious the market didn't believe it. Why? Simple, the stock traded well below that $9 mark.
Although the company was accepting buyout bids until Nov. 5, no one stepped up to the plate.
As the deadline approached, Fairfax's bid fizzled into dust and suddenly BlackBerry was left with no buyers. It responded by launching a $1 billion convertible debt offering. 
I'm not breaking any news. This is all public information. However, I am serving as a public bulletin of sorts, to remind investors to be wary. 
Sure, selling some puts or taking a small stab on the common stock at these levels might pay off decently.
But is the risk justified? For some people, maybe it is. But for me, personally, I don't like it.
Shares of BlackBerry have continued to go lower every time investors thought they had bottomed. Presently, it can't sell a damn thing and is burning through cash like it's the company's heating system. 
I'm not suggesting the company is going bankrupt and the stock is headed to zero. But nor am I suggesting the stock will double because it's now so cheap and undervalued. 
If no other big-name tech company or private-equity firm wants it, then neither do I. 
If I have to buy stocks, I'd rather add to some of my quality long-term holdings or even stay in cash to await a better situation.
Has BlackBerry bottomed? It very well might have, or might be soon. But in my opinion, let the others find out for themselves. As tempting as it may be, don't be the one trying to catch the falling knife.
At the time of publication, the author had no position in any stock mentioned.

-- Written by Bret Kenwell in Petoskey, Mich.
Bret Kenwell currently writes, blogs and also contributes to Robert Weinstein's Weekly Options Newsletter. Focuses on short-to-intermediate-term trading opportunities that can be exposed via options. He prefers to use debit trades on momentum setups and credit trades on support/resistance setups. He also focuses on building long-term wealth by searching for consistent, quality dividend paying companies and long-term growth companies. He considers himself the surfer, not the wave, in relation to the market and himself. He has no allegiance to either the bull side or the bear side.