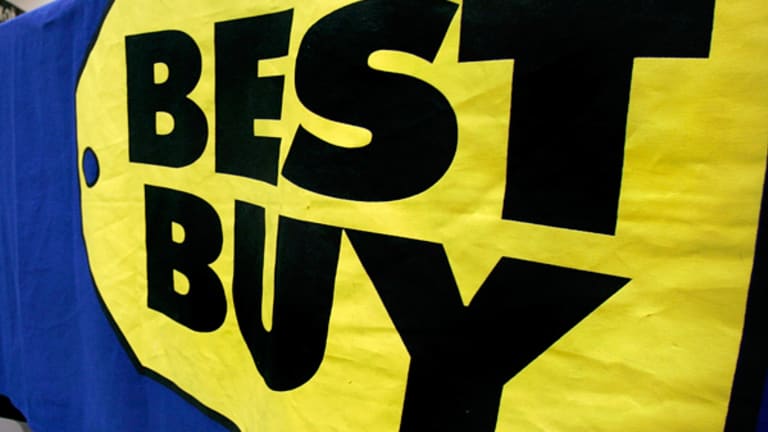 Is Best Buy About to Surprise Wall Street?
Best Buy reports second-quarter earnings on Tuesday. The electronics retailer's numbers could surprise the investment community.
NEW YORK (TheStreet) -- Best Buy (BBY) - Get Best Buy Co., Inc. Report  set a cautious tone for its second-quarter earnings in May, blaming a lack of innovation in mobile technology and continued investments to keep its prices competitive to online and physical store rivals.
But there is reason to believe Best Buy could positively surprise Wall Street again with its earnings (it beat Wall Street's first-quarter estimates), primarily from a combination of low expectations, strong demand outside of the mobile technology category, and savings from its "Renew Blue" ongoing restructuring plan.
A stronger-than-expected quarter is likely to fuel bullishness on the stock, which my firm Belus Capital Advisors rates a hold, in front of a series of new product introductions from Apple (AAPL) - Get Apple Inc. (AAPL) Report  next month, triggering fresh demand momentum going into the critical holiday shopping season.
Exec Exclusive:How DineEquity's CEO is Transforming IHOP and Applebee's
Best Buy is scheduled to issue second-quarter earnings on Tuesday ahead of the market open. Wall Street anticipates the retailer will deliver its fifth-consecutive quarter of falling gross profit margins due to investments in more competitive pricing and price deflation in mobile technology, such as tablets and smartphones. The company's guidance calls for comparable sales to have declined by a low-single digit percentage in the second quarter, which would follow a 1.9% drop in the first quarter, and would mark three consecutive quarters of waning sales at stores open longer than a year.
On the first-quarter earnings call in May, Best Buy Chief Financial Officer Sharon McCollam said, "As we look forward to the second and third quarters, we are expecting to see ongoing industry-wide sales declines in many of the consumer electronics categories in which we compete. We are also expecting ongoing softness in the mobile phone category as consumers eagerly await highly anticipated new product launches." 

A likely area of weakness for Best Buy was in tablets, a category that CEO Hubert Joly characterized as having "crashed" in an interview with ReCode last month. According to research firm WitsView, shipments of LCDs for 7-inch to 8-inch tablets have declined 24% since November, underscoring the softening demand for devices that took off with the introduction of Apple's iPad and more recently cheaper alternatives from Lenovo.
See More:
12 Photos That Show How Macy's Is Dismantling Sears
Where investors may be underestimating Best Buy's sales potential in the second quarter are in the TV, gaming, and appliance departments, a notion supported by industry data and comments from the likes of Walmart (WMT) - Get Walmart Inc. Report , Target (TGT) - Get Target Corporation Report   and GameStop (GME) - Get GameStop Corp. Class A Report  in the past few weeks.
TV LCD shipments increased 25% year over year in July amid surging demand for larger screen sets, according to WitsView. Shipments for TVs with screens above 50 inches rose an impressive 69%, though fell 11% for those sized 30-inches to 39-inches.
On Target's second-quarter earnings call, the company said in its U.S. business "second-quarter comparable sales were strongest in hardlines driven by both toys and electronics. Most of that was driven by higher dollar items that we were selling, things in electronics and in entertainment." Walmart noted it had "several favorable results in Q2, including TV comp sales, which were up low single-digits."
Best Buy gets about 30% of its annual sales from consumer electronics, which include TVs.
Another possible strong sales department for Best Buy was appliances, reflecting the continued U.S. housing recovery and ongoing replacement of older models by consumers with new energy-efficient versions.
According to Bloomberg, U.S. retail sales for household appliances increased 13.1% in June from January. Appliance sales were a standout area for Home Depot (HD) - Get Home Depot, Inc. (HD) Report , with the home-improvement retailer saying that "appliances also had another quarter of outperformance, posting double-digit comps.  We have our expanded assortment in over 800 of our stores, and appliances contributed 50 basis points of our comp growth in the second quarter." The comments echoed those made by Whirlpool (WHR) - Get Whirlpool Corporation (WHR) Report  in July. Reviewing the company's second-quarter performance, a Whirlpool spokesman said that "new housing starts and existing home sales are improving and live in ranges of our expectations for the year. And finally we believe strong replacement demand will continue as consumers replace older appliances for our innovative energy efficient product."
Appliances account for roughly 6% of Best Buy's annual sales.
Another area that could lead to a potential sales surprise for Best Buy is in gaming, a category enjoying a demand renaissance with the release of new hardware consoles from Sony (SNE) - Get SONY GROUP CORPORATION SPONSORED ADR Report  (Playstation 4) and Microsoft (MSFT) - Get Microsoft Corporation (MSFT) Report  (Xbox One). "Our comps were up 21.9%, up 19.7% in the U.S., and up 26.2% internationally. Software sales were up 15.6%, compared to an 8.5% increase in the U.S. market," detailed GameStop (GME) - Get GameStop Corp. Class A Report  on its second-quarter earnings call.
U.S. retail sales of consoles, hardware, and game accessories surged 16% in July, according to research firm NPD Group. Sales of hardware, including the Sony Playstation 4 and Microsoft Xbox One, doubled in the month, with software sales declining 15%, said NPD.
Gaming, falling under the segment "entertainment" for Best Buy, represents about 8% of the company's annual sales.
Any better-than-expected top line from Best Buy due to strength in appliances, gaming, and TVs could have caused a jolt to second-quarter earnings as the company continues to restructure. In the first quarter, Best Buy found an additional $95 million in previously announced cost savings from its "Renew Blue" restructuring plan. Since the company's fiscal fourth quarter of 2014, total Renew Blue annualized cost reductions have amounted to $860 million.
Watch More:
Walmart's Financial Problems Explained in 5 Photos and One Vine Video
At the time of publication, the author held no positions in any of the stocks mentioned.
This article is commentary by an independent contributor, separate from TheStreet's regular news coverage.