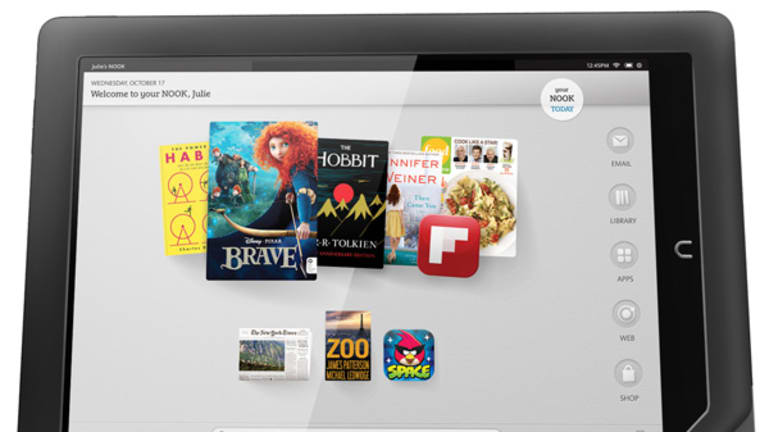 Is Barnes & Noble Nook Partnership With Samsung a Bestseller?
Although the Nook tablet has been unprofitable for Barnes & Noble so far, the company remains committed to its success
NEW YORK (TheStreet) -- One day after announcing it is teaming up with Samsung Electronics (SSNLF) to release a Nook tablet to battle industry heavyweights Amazon.com's (AMZN) - Get Free Report Kindle and Apple's (AAPL) - Get Free Report iPad, Barnes & Noble (BKS) - Get Free Report is mum on how successful it thinks it will be.
Asked Thursday by TheStreet about the future of the Nook/ Samsung joint venture and how much market share and potential revenue the venture could grab, spokesperson Mary Ellen Keating wouldn't give a forecast.
"We have not provided any sales forecast for the new device and have not commented on tablet market share," she said via email. Barnes & Noble shares recently traded at $23, up 54% for the year to date, thanks in part to the spinoff announcement.
The book retailer announced Wednesday its plans to spin off the Nook unit and the Samsung joint venture on a co-branded tablet in August that will carry Nook software and content.
"We will support the new Samsung Galaxy Tab 4 Nook with premier real estate within the store that will put the new devices front and center," said Mitchell Klipper, chief executive of Barnes & Noble's retail group.
The move became necessary due to the current saturation of the tablet market, which is capping the standalone Nook's tablet sales.
According to a study done last August by the Book Industry Study Group, Nook tablet ownership lags industry leaders such as Amazon.com's Kindle and Apple's iPad by a wide margin.
Source: BISG survey of 1,048 Americans aged 13 and up, August 2013.
Among those surveyed, only about 10% owned Nooks and even fewer planned to buy a Nook in the future.
The overwhelming leadership of both Kindles and iPads, with Microsoft (MSFT) - Get Free Report making a big push for its new Surface tablet, was the writing on the wall for standalone Nook tablets.
To this point, the Nook's lack of success has been a burden on the rest of the company's operations.
Barnes & Noble's total revenue rose 3.5% to $1.32 billion in the fourth quarter, lifted by growth at its college business and retail chain, while Nook sales accounted for less than 10% of the total.
Barnes & Noble's plans to separate its Nook digital business from its consumer bookstores is expected to be completed by the first quarter of 2015.

BKS data by YCharts

At the time of publication, the author had no position in stocks mentioned.
This article represents the opinion of a contributor and not necessarily that of TheStreet or its editorial staff.
>>Google Still Searching for Right Mix of Innovation and Application