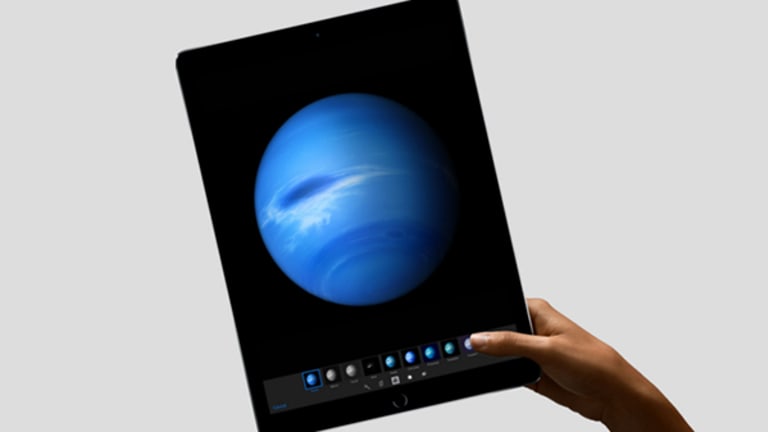 Is Apple Becoming Too Dependent on iPhone Sales?
Apple is a Goliath on the way down. Apple needs to innovate away from iPhone dependency or it could fall.
As the race for OS supremacy heats up, and android smartphones catch up to the premium feel and functionality of the iPhone, a worrying trend has emerged. Apple (AAPL) - Get Apple Inc. (AAPL) Report  revenue figures are becoming increasingly dependent on the iPhone's commercial success.
iPhone sales accounted for an astounding 62.54% of Apple's total revenue in the fourth quarter of 2015.
The iPhone 6s range enjoyed record-breaking sales during the launch period. In fact, in fiscal 2015, Apple moved 37% more iPhones than in fiscal 2014. However, in an increasingly competitive smartphone market, such dependency could end up being a curse.
All this means risk: If Apple isn't able to maintain the breakneck pace of iPhone sales, its other products have to step up, and that hasn't happened recently. 
Take the iPad. It has suffered a decline in sales, and this is due to three main reasons:
1. An arguable lack of innovation as compared to the period when Steve Jobs was CEO. Consumers don't seem to be as motivated to upgrade to get Apple's cool, new toy. Apple gave us a different take on the tablet with the iPad Pro but due to its high cost and the fact that it is little more than an enlarged iPad Air 2 with a stylus, it has struggled to gain mass appeal. Additionally, the large size practically relegates it to the confines of an office.
2. Undercutting from manufacturers such as Amazon and Samsung has affected iPad sales. For roughly one-third the price of an iPad, Amazon promises a tablet with similar functionality.
3. 2015 was the year of the hybrid laptop. Lenovo, Asus. and HP have flooded the market with devices which promise to be both a tablet and laptop. Interestingly, some are cheaper than an iPad Air. And let's not forget Microsoft's premium offerings of the Surface book and Surface Pro 4. Quite simply, people want their portable devices to do more.
For approximately the same price as an iPad Pro, one can purchase a Surface Pro 4 which comes with a full desktop OS. With consumers being more careful about how they spend their money, perceived value is now more important than ever.
Arguably, Apple should direct its focus towards moving more products from its Mac line so that the impact of a future drop in iPhone sales is diminished.
There is an argument for a more affordable Macbook in order to gain market share from manufacturers such as HP and Lenovo. With Apple's brand image for creating beautiful devices, the company will have to get the pricing and quality just right or risk cheapening its image.
Given those two things, it's possible that Apple will be forced to release an iPad-Mac hybrid in the next 18-to-20 months. It's possible that the iPad Pro was Apple's way of testing the viability of such a device.
Stock performance
Due to the huge impact China had to play in the iPhone's record-breaking sales, some analysts are bearish on Apple. When we couple this with the fact that Apple's stock price has endured a rollercoaster ride over the past 12 months, there is cause for concern.
data by
Apple's stock price peaked at $133 in February of 2015 and is currently at around $101. Moreover, it recently dipped below the $100 mark, albeit briefly.
Apple's net income growth stands at 31.4% vs. the fourth quarter of 2015. This is well ahead of the S&P 500. On the other hand, Apple has under-performed the "Computers & Peripherals" industry with regard to net income growth. Therefore, there is certainly room for improvement here.
Apple's earnings per share is also up by an impressive 38% in the fourth quarter of 2015 vs. the same period in 2014.
Notably, Apple has been able to increase its earnings-per-share over the preceding 24 months. This exemplifies its consistency in growth.
Apple's dependency on the iPhone could become one of its biggest mistakes. Competitors such as Samsung continue to launch desirable smartphones. Moreover, iOS is losing market share to Android in key markets such as North America and Europe.
In 2016, Apple needs to give consumers jaw-dropping moments akin to the launch of the first iPhone or Macbook air or Apple risks being a follower rather than leader of consumer-tech-innovation.
You see Jim Cramer on TV. Now, see where he invests his money and why Apple is a core holding of his multi-million dollar portfolio. Want to be alerted before Jim Cramer buys or sells AAPL? Learn more now.
This article is commentary by an independent contributor. At the time of publication, the author held no positions in the stocks mentioned.