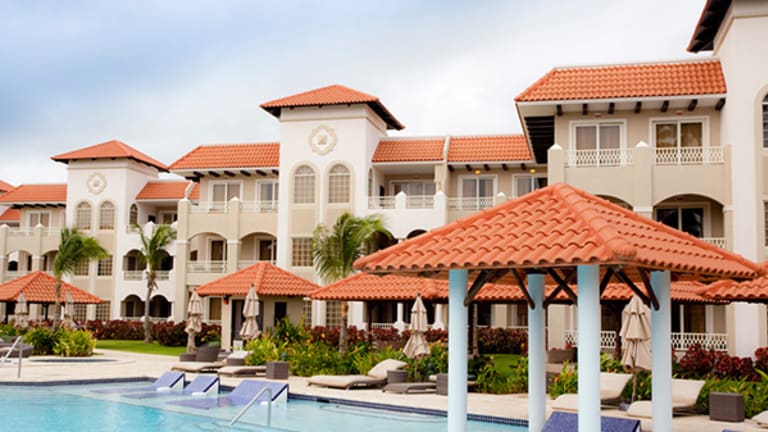 Is Apollo Returning to Its 'Junk' Roots With Its Acquisition of Diamond Resorts?
Apollo Global Management's deal to acquire Diamond Resorts for $2.2 billion should remind investors of Apollo's roots -- and Diamond's issues.
Apollo Global Management's deal to acquire Diamond Resorts for $2.2 billion should remind investors of Apollo's roots -- and Diamond's issues.
UPDATE: This story has been updated with a response from the company and an updated chart.
Diamond Resorts (DRII) has been acquired by Apollo Global Management for $2.2 billion and the stock is surging on the news. But is this just Apollo hearkening back to its "junk" roots? Let me explain. 
Private-equity firm Apollo Global Management was founded in 1990 by former Drexel Burnham Lambert banker Leon Black. Drexel had closed earlier that year so, in a way, you could say that Apollo rose out of its ashes. Drexel fell under the weight of a securities scandal for the ages which resulted in the bank paying $650 million in fines. Early the following year, unable to pay a $100 million debt, it folded. 
Bloomberg has called Drexel Burnham Lambert "Renegades of Junk" for its role in the creation of a massive junk bond market that ultimately brought down the firm, but now, with its acquisition of Diamond Resorts, perhaps it's a more fitting name for Apollo Global Management.
I am a Diamond Resorts timeshare owner and since July 2015, when I was subjected to a pathetically aggressive Diamond sales presentation, I have been working with 16 industry insiders and attorneys to expose the company for its roll in driving the ill, the elderly and the duped into bankruptcy with deceptive sales practices and eternal contracts, which are sadly commonplace in the timeshare industry.
Don't get me wrong: I love timeshares. I bought my first in 1984 in Hawaii. Back then, the choice was between a hotel room or a timeshare with a kitchen and I wanted to cook. I bought another in 1985 in the Ozark mountains. It was in 2006, when I bought a timeshare in Arizona when the problems started. The company, ILX, went bankrupt and was acquired by Diamond in 2010. 
First, fees went up precipitously. When you own a timeshare, you pay up front for a deed or, in the case of Diamond and other companies, points, that gives you the right to occupy a space that you own part of for a certain time of year. You also pay fees that go toward taxes and maintenance on the property. Those fees are disbursed by a management company that is often controlled by a board of timeshare owners. 
But when Diamond buys a bankrupt resort, the fees go up -- and fast -- as has been detailed in an excellent and long January 2016 article by Gretchen Morgenson in The New York Times. In the article, Morgenson details several of Diamond's tawdry sales and management practices that have resulted in several lawsuits, starting with the fee increases: 
Timeshare owners of the Grand Beach Resort, a 192-unit property in Orlando, Fla. ... learned in a letter in September that their annual maintenance fee would rise 14.9 percent this year.
Those fees are used by the property manager, Diamond in this case, to make improvements on the resort, build reserve funds and more. What owners don't often know is that a big chunk of that money goes directly into the pocket of the company. Here's how the CEO, David Palmer, described it to investors in 2014, per the Times article: 
"Anything that is put in the budget that gets expended on an annual basis, we get our 15 percent fee," Mr. Palmer explained to investors at a September 2014 conference, according to a transcript. "That is basically a 100 percent profit business."
That gives the company incentives to raise fees even if upgrades aren't needed -- or wanted -- to the consternation of timeshare owners. 
While obviously a boon for investors, how long is that really sustainable? 
And it's not just fees. The company has come under fire for its aggressive sales practices. The New York Times article opens with a shocking story of how Diamond representatives tried to pressure then 77-year-old Mary Ann Gutierrez to upgrade her timeshare for a steep up front fee and wouldn't let her leave the presentation until after five hours and a series of firm "nos." 
"They weren't going to let me out that door," Ms. Gutierrez said. "I was shaking, I was so nervous."
And if you have bought a timeshare and want out, the company doesn't help. The Times article tells the story of Rubén Peña, a Diamond timeshare owner who tried to sell his property and got no response or help from Diamond. It then goes on to detail how Diamond is not interested in any kind of liquidity existing in the market for timeshares because that would make selling them outright harder. And, besides, the industry practice of reclaiming defaulted-on timeshare deeds and then reselling them is incredibly lucrative (the Times article has that Diamond says it typically buys back the property for $1,500 and resells it for an average of $27,434). 
Diamond isn't alone in these practices, but neither is the industry without its honest brokers. When I wanted out of the timeshare that I had purchased in 1985 in the Ozarks, it meant a phone call, some quickly signed and notarized papers and it was done in a day. The timeshare I own in Hawaii has created a market for reselling that splits the proceeds between the owner and the management company. 
If you're an investor, you might read the above and think, "this is good for me -- this company knows how to make money." But ask yourself, how long can it last? 
Right now, Diamond is battling two lawsuits in connection with its business practices and consumers are becoming more educated so as to avoid the traps that Diamond lays. A widely read industry blog, RedWeek.com, now keeps tabs on industry practices and, with the rise of travel websites that offer fairly transparent pricing like Expedia (EXPE) - Get Report , Air bnb and other easy ways that people can now book vacations -- yes, even rooms with kitchens -- there are pressures on the industry that should make investors wary. 
As for Apollo, this acquisition makes me wonder if it has read the fine print on any deal it signs getting into bed with Diamond -- it's evidently easy to mistake a good timeshare deal with a bad one. Or perhaps Apollo is returning to its "junk" roots. 
After the publication of this story, the company sent TheStreet a response. TheStreet stands by the facts in this story and those reported by The New York Times. Here is the response: 
Diamond Resorts disagrees with many of the points raised in Ms. Parker's column and believes the facts are incorrect. To set the record straight, for instance, maintenance fees increased moderately at the former ILX Resorts, which Diamond Resorts acquired out of bankruptcy in 2010, not "precipitously". It is not uncommon for Diamond Resorts to increase maintenance fees at a reasonable rate to compensate for the lack of upkeep by prior management, and to ensure the resorts are operated and maintained at the appropriate standard for the benefit of users. It is also incorrect to state that Diamond Resorts is "not interested" in liquidity in the resale market for timeshares because the company profits from "reclaiming" vacation ownership interests that are defaulted on by the customer. To the contrary, Diamond Resorts understands that customers experience life events that change the circumstances from when they originally purchased vacation ownership interests. That is why the company not only permits resales, but we also recently announced a new "Transitions Program" to launch soon, and will allow those in good standing to relinquish their points to the company in a simple, safe and respectful manner. It is true that there are transfer restrictions, but these are designed to protect other owners and home owners associations by requiring a valid purchaser has the ability to pay maintenance fees. It would be unfair to burden existing customers with others who don't pay for the product they purchased. Neither this nor any company in the industry sells timeshare interests with a view toward resale. These are not investment products, they are a product to be used and enjoyed by the consumer.
This article is commentary by an independent contributor. At the time of publication, the author held no positions in the stocks mentioned.