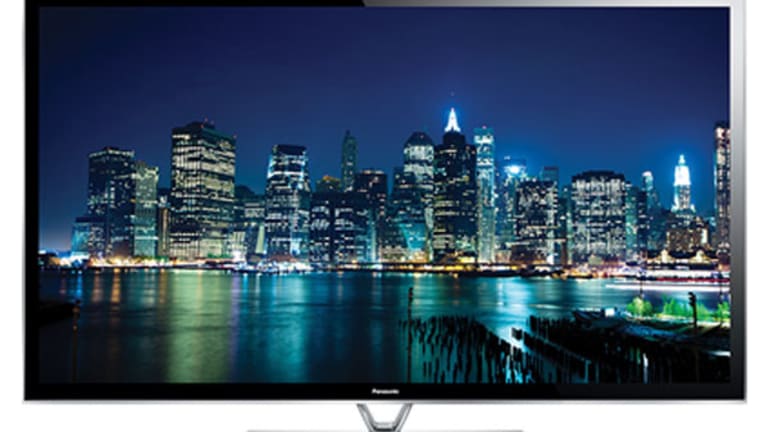 Is Anyone Still Buying Flat-Screen TVs?
Panasonic halts plasma screen production. Sony TV division posts a loss. TVs are now so 20th Century.
NEW YORK (TheStreet) -- Panasonic announced it will no longer make flat-screen plasma TVs. Sonyundefined said its TV business wound up hurting its bottom line. The reality is that fewer people need to buy new TVs these days because fewer people are watching TV shows on their television sets.
Panasonic on Thursday killed off its line of plasma television sets. The official press release stated:
"...in order to create a business structure that can respond to changes in the business environment and to accelerate the growth strategy of the company, the company will end the production of plasma display panels (PDP) in December 2014 ..."
For months, Panasonic had been rumored to be halting its plasma screen production. It officially announced plans Thursday to end business operations at all of its plasma factories by March 2014.
Panasonic blamed a number of factors including one you might not have thought of:
"...with the rapid development of larger-screen LCDs, and facing the severe price competition in the global market brought on by Lehman Shock in September 2008, the company ... made a shift towards commercial applications and worked to improve the earnings of the business."
Forget about the Lehman Brothers bankruptcy five years ago. The reality is customers have stopped buying new TVs because they don't need new TVs.
The paradigm has shifted. Consumers don't watch TV the same way they did years ago. Ask anyone under the age of 30. Yes, they still watch TV shows but they watch them on their computers, and their tablets, and their game consoles, and their smartphones. Plus, they watch those TV shows when they want, not when they're first aired.
Why do viewers need to buy new flat-screen TV set which cost hundreds or thousands of dollars when they can watch the same programming on a sub-$200 tablet? And many are now thinking why buy a tablet when a show can be watched anytime on the smartphone they already own? It's the real reason why Panasonic has to close down its plasma TV business.
In Thursday's earnings call, Sony announced some of its divisions are doing very well. It's smartphone business was up nearly 40% over the third quarter last year. The movie and music divisions did well too. Gaming posted a 5% gain. Imaging/digital camera sales were down nearly 7%. More people now use their smartphones instead of carrying separate cameras.
And while Sony's Home Entertainment and Sound division posted a nearly 12% increase, the TV sector actually lost money. Despite all sorts of cost reductions and restructuring, the television division took a $123 million hit during the third quarter. TV sales increased slightly but the company still lost money. That's not a good sign.
Both Panasonic and Sony will continue to make LCD and LED screens. The latest high-priced, high-tech designs are called OLED (Organics Light Emitting Diodes) which allow for amazingly thin and lightweight TV sets. Companies are hoping consumers will reach for their cash when they see these new marvels -- unlike what happened during the 3D TV debacle.
Of course, the situation could change at any time. TV sales could flourish once again if and when the world finally gets to see the long rumored Apple (AAPL) - Get Apple Inc. Report TV.
Written by Gary Krakow in New York.
To submit a news tip, send an email to tips@thestreet.com.