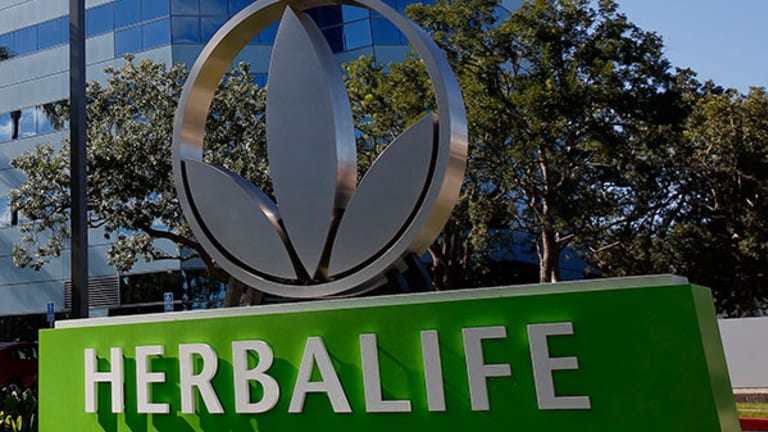 Did Bill Ackman Make the Right Decision Shorting Herbalife?
Amid the circus surrounding, Herbalife, how should investors play this controversial stock?
CORRECTION: In the third paragraph, we mistakenly call out Ackman's position in Valeant as "short." It was not and this has been removed. In the fourth paragraph this story incorrectly stated that shorting $1 billion of Herbalife stock cost $100 million a year in carrying costs. The number, according to Ackman, is $20 million. This has been corrected. 
The Herbalife (HLF) - Get Report saga has become more confusing, leaving many investors wondering whether they should long or short on the controversial stock.
Each side has its supporters, but one thing seems certain: The Herbalife trade isn't as easy as some, such as activist Bill Ackman, make it out to be. 
It all started in December 2012, when Ackman, also known for his position in Valeant Pharmaceuticals, presented a PowerPoint presentation on why he thinks Herbalife is a pyramid scheme and contended that the stock would go to zero.
At the time, he had a $1 billion short position in Herbalife stock, which he has held over the past three and a half years. The cost of that short position is about $20 million a year in carrying costs.
So even if the stock hadn't gone up in price since Ackman placed the trade, he would still be in the hole by about 35%. But since Dec. 1, 2012, Herbalife stock has risen 46%, meaning that his Pershing Square hedge fund is really upside down on his short position, to the tune of about $500 million, as of last week.
However, despite the losses that Ackman has suffered and the more than 18% decline in publicly traded Pershing Square, he remains convinced that Herbalife will fail and he will make money on the position.
Just last week he said, "Herbalife actually has been shut down by the [Federal Trade Commission]; they just haven't realized it yet."
The situation underscores the fact that there are safer and more profitable investments than Herbalife.
Ackman was referring to the announcement made by the FTC this month that a resolution pertaining to its investigation into Herbalife had been agreed upon.
The FTC's complaint accused Herbalife of falsifying its business opportunities to distributors. It also said that the company violated section 5(a) of the FTC Act related to deceptive and unfair practices affecting commerce.
In addition, the FTC said that Herbalife used misleading documents and advertisements to increase its distributor network.
Ackman's original short position was built on these same ideas.
Some say that the full FTC report clearly points to Herbalife being a pyramid scheme without actually using those words.
But another activist, Carl Icahn, who has sided with Herbalife, said that the FTC findings don't imply that the company is a pyramid scheme.
The FTC added more confusion by saying that Herbalife was "not determined not to be a pyramid."
The Herbalife story has turned into somewhat of a circus.
During Pershing Square's conference call Ackman said, "We're short the stock, not for emotion, not for anything else other than we believe this is a massively overvalued company. We believe a fraudulent business will not survive."
The FTC is fining Herbalife $200 million and making it change some of its business practices, but Herbalife isn't being shut down. So, if the company changes itself perhaps it will survive, as it has for more than three and a half years since Ackman originally called it out.
So should investors be long or short Herbalife's stock? The answer is neither.
Based on the FTC report, going long would be risky. But shorting the stock could cost investors a huge amount, as was the case for Ackman.
---
There are much easier ways to make money than investing in Herbalife, such as the system that this 85% accurate trader created. He even gives his personal guarantee that his process of finding winners will make investors money: "Give me nine minutes a week, and I guarantee you $67,548 a year." He turned $50,000 into $5 million trading this way, and for a limited time, he is guaranteeing investors at least $67,548 a year in profitable trades if they follow this simple step-by-step process. Click here to see how easy it is to collect thousands of dollars in free Money every month.
This article is commentary by an independent contributor. At the time of publication, the author held no positions in the stocks mentioned.