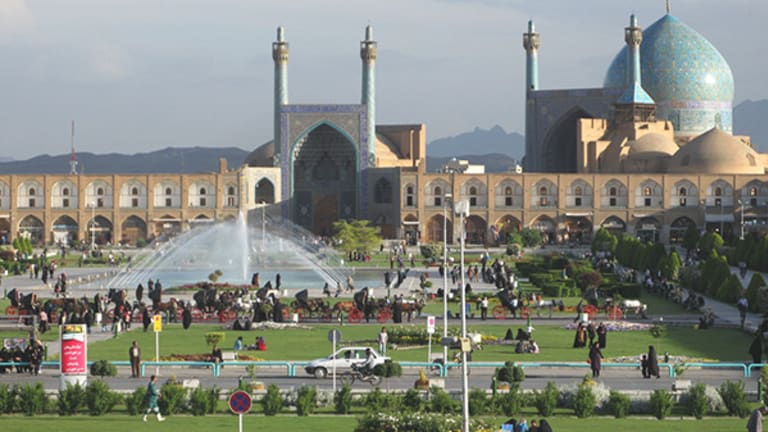 Iran May Be the Hottest Travel Ticket of 2016
Like Cuba, travel to Iran is now opening up in the wake of lifted sanctions and warming government relations.
The moments that defy stereotypes and preconceived notions are both big and small when it comes to a trip to Iran.
New York resident Kaja Olcott, for instance, recalls walking along the streets of a small Iranian town with her family and hearing chanting and singing.
The voices were coming from a tiny room in the basement of a nearby building, and Olcott's tour guide peeked in to get a closer look.
"I'm not sure what was being celebrated," says Olcott. "There was a group of maybe 50 people crowded into this small room...and they all came over and started hugging us and encouraging us to come in and clap and sing with them."
That moment became one of many vivid, impromptu cultural exchanges during her nearly two-week visit to Iran. "I was honestly driven to tears," she adds. "They didn't even know who we were and they just welcomed us in. They are so proud of their culture and so excited to share it with people."
Olcott's experience is by no means singular among American travelers who have recently visited Iran.
The stories being relayed by one traveler after another depict welcoming, humbling or heartwarming interactions between ordinary Iranians and Americans, despite the fact that the two countries have long had an icy relationship.
The United States' recent decision to lift economic sanctions against Iran seems to have opened a floodgate of pent up demand among Americans who'd been waiting for the opportunity to travel to the country.
Intrepid U.S. travelers, observing the slightest warming of relations, have wasted no time booking trips to Iran, overwhelming tour companies who say the demand has led to tours filling up immediately and new ones rapidly being added.
Iran, it seems, has suddenly become the next Cuba, a country opening up for American travelers in ways that in years past were largely unthinkable, making it one of 2016's hottest travel destinations.
"There's been a significant bump in the number of people inquiring about going in 2016, who are trying to jump on trips with last minute notice," says Annie Lucas, vice president at Mir Corporation, which offers train journeys through Iran, group tours and private tours. "We've had trips fill up and have added departures, offering more opportunities to travel there."

The increase in telephone calls about visiting Iran began before the nuclear deal was even inked, when there was a sense among the traveling public that there would be positive news forthcoming, says Lucas. And once the agreement was finalized, call volume dramatically spiked.
"Iran has dominated about 50% of the calls we've been taking," says Lucas.
Travelers are not the only ones showing renewed interest. Many airlines are also restarting service to Iran, or expanding existing service.
Turkish Air has increased the number of flights it offers to Iran, while Air France is preparing to resume direct flights from Paris's Charles de Gaulle airport to Tehran.
All of this activity however, takes place while a State Department warning remains in effect for Iran.
In its January 2016 warning, the State Department reiterated the risk of arrest and detention for U.S. citizens visiting Iran, particularly those with dual Iranian-American citizenship. The warning states that there are various elements in Iran who remain hostile to the United States. The notice goes on to say that even after the United States and Iran reached a Joint Comprehensive Plan of Action to address Iran's nuclear program, the country continued to harass, arrest and detain U.S. citizens.
The government warning however, seems a world away from the experiences many travelers have lately been having in the country.
Will Weber, co-founder and senior director of Journeys International, a Michigan-based company, led two back-to-back trips to Iran in 2015.
"There is so much fear and propaganda that has conditioned people to think it's a dangerous place for Americans," says Weber. "But that myth is immediately debunked by the educated Iranians who welcome Americans, they bring you in and want to serve you tea."
Weber spoke with Iranians from all walks of life during his two visits, ordinary people on the street, doctors, members of nomad groups, even imams at mosques.

During a visit to a mosque in Mashhad, Iran's holiest city, Weber spoke with an imam about Islam, Facebook and the country's strict censorship. (The imam revealed to Weber that he had a Facebook page, even though government censorship prohibits such a social media account.) It was a friendly, jovial conversation, that concluded with a warm parting.
"He said, 'I'm so glad you came to Iran -- this is the right thing to do, to have this exchange of people and ideas,'" Weber recalls.
With still other Iranians, Weber and his fellow travelers exchanged email addresses, with plans to keep in touch.
And repeatedly, wherever the group of Journeys International travelers went in the country, locals would ask to have their pictures taken with them.
"People really want to have their pictures with Americans," Weber explained, echoing an experience noted by many other American travelers. "In a way it's a small kind of defiance of the government. It's a mild kind of protest. And they also then have this reminder."
Beyond the interactions with Iranian people, the country can also be a richly rewarding historic, cultural and archeological experience. Iran is home to 19 UNESCO World Heritage sites and is a place where travelers can explore ancient ruins, historic cities, bazaars, nomadic camps and mountain landscapes.
"With some of the things happening in the Middle East, in places like Syria, it means the ancient sites in Iran are that much more important - sites like like Persepolis, are among the few remaining, well-preserved archaeological sites in the region," says Julie McCormack, director of Asia programs for Mountain Travel Sobek, which offers two trips each year to Iran.
Like others, Mountain Travel Sobek has seen exponential growth in interest tied to Iran. McCormack, however, is hesitant to attribute the swelling numbers of travelers entirely to the nuclear deal, noting that increased travel media coverage may also be playing a role, as well as positive reviews from those who have recently returned.
No matter what the cause, McCormack, who has visited Iran herself, says the the country deserves the increased interest and attention it's getting from Americans.
She easily relays several memorable moments involving exchanges with locals that occurred during her own visit to Iran. Many of the women in particular, that McCormack came in contact with while traveling through Iran were eager to talk, to share their thoughts about life, family, culture and the two countries.
"At one point I was in a restaurant bathroom washing my hands next to a young Iranian woman, and we looked at each other in the mirror," says McCormack, of a moment that illustrates what she describes as the warm and gracious behavior extended to American visitors. "We both had head scarves on and she tugged on hers and said, 'We hate this.' ...We kept talking and she invited me to her home in Tehran." 
"People would look us in the eye when they found out we were American and say, 'Special welcome to you,'" McCormack adds.
Ultimately, it seems, the average Iranian shares the same aspirations for peace, prosperity and friendship as their American counterparts, say those who have been to the country. And the opportunity to interact with the increasing tide of U.S. travelers may pay off for both east and west.

"It seems like both sides, the United States and Iran, are benefitting from this increase in travelers and the cultural exchange," says Weber. "And I think the Ayatollah (Ali Khamenei) and The Supreme Council realize that they have to provide a certain amount of opportunity for their people. Now that this door has been opened, it's going to be hard to close it."