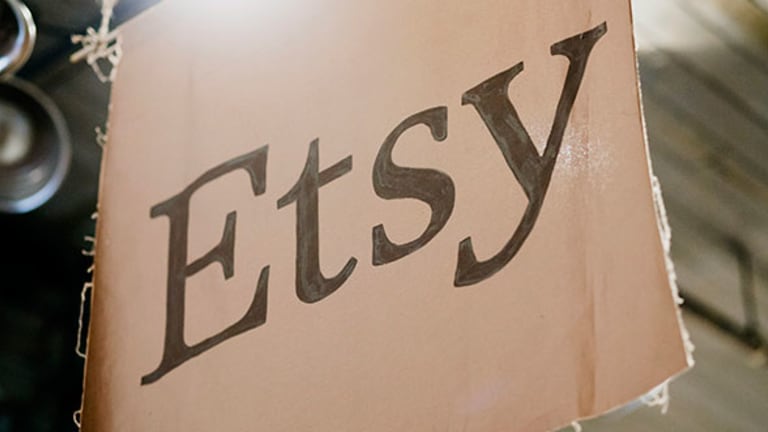 IPO Market 'Has Been a Lonely Place' but Pace Is Picking Up
Etsy and Virtu made a quite a splash with their Nasdaq debuts this week but is it enough to bring the U.S. IPO market out of its 2015 lull?
Etsy and Virtu made a quite a splash with their Nasdaq debuts this week but is it enough to bring the U.S. IPO market out of its 2015 lull?
NEW YORK (TheStreet) -- The number of companies going public got off to a slow start in the first quarter. But the pace of initial stock offerings, or IPOs, appears to be quickening.
Just this week, two tech companies -- Etsy (ETSY) - Get Report and Virtu (VIRT) - Get Report-- made a quite a splash with their debuts on the Nasdaq exchange. Both are very different companies. Etsy is online marketplace for homemade crafts while Virtu does ultra-fast computerized stock transactions known as high frequency trading, or HFT.
Even as equity indices hit all-time highs in the first quarter, there was a significant slowdown in initial public offerings -- a dramatic turnaround following a record 2014. The number of IPOs in the quarter dropped to roughly half the amount posted during the same period a year prior, as did the proceeds raised.
"The first quarter was relatively quiet compared to 2014's first quarter, but 2014's first quarter was a very high first quarter for IPOs," said Derek Thomson, capital markets director at PricewaterhouseCoopers U.S. "There was a lot of pent up demand for IPOs that had flowed over from the fourth quarter of 2013, because IPO markets were performing really well and making investors good returns in 2014. It's not surprising that spilled over into 2014."
Tom Taulli, author of High-Profit IPO Strategies and the IPO Playbook blog, was more succinct in his assessment.
"It's been a lonely place for anyone in the IPO market," he said.
According to PwC's IPO Watch, there were 41 IPOs in the first quarter of 2015, which raised $6.2 billion in total. This represents a 42% decrease from the 71 issuances recorded by PwC U.S. in the first quarter of 2014 and an equally significant dip from the 76 recorded in the fourth quarter.
Ernst & Young reports similar numbers, having recorded 38 IPO deals that raised $5.62 billion in the first quarter. Renaissance Capital tracked 34 first quarter IPOs totaling $5.4 billion.
The consensus: As IPOs go, the first quarter of 2015 was the slowest we've seen in a while.
Health Care High on Volume, Not Necessarily on Value
Health care is where it's at in 2015 for IPOs.
According to Renaissance Capital, the industry accounted for 47% of all IPOs during the first quarter of the year. Biotechs and small medical device companies were the most prominent, including Spark Therapeutics (ONCE) - Get Report, Nexvet Giopharma (NVET) and Summit Therapeutics (SMMT) - Get Report. The trend continues into this quarter, with Aduro Biotech (ADRO) - Get Report, CidaraTherapeutics (CDTX) - Get Report and Xbiotech (XBIT) - Get Report starting trading in April. "There really is a big boom in biotech and biopharma," Thomson said.
Interestingly enough, the high percentage of health care IPOs in the mix has contributed to a drop in deal size from a median $132.8 million in the fourth quarter of 2014 to $82.3 million in the first quarter of 2015 -- the lowest since 2008. Renaissance attributes the cut to the increased portion of small biotechs, medical device companies and regional banks going public.
The performance of the 2015 health care IPOs has been a mixed bag as well. Spark returned 237% from its IPO as of the end of the first quarter, while Presbia (LENS) , a development-stage ophthalmic device company, fell 26.1%.
Oil Pipelines Take Toll on Energy IPO Pipeline
Plunging oil prices have taken a major toll on publicly traded energy companies recently, and they've caused those that aren't yet public to think twice. This is a detriment to the IPO market as a whole, as energy offerings tend to be rather capital-intensive (30 deals raised $12.6 billion in 2014).
Ernst & Young points to a shrinking energy sector deal pipeline, particularly in energy and power. Oil and natural gas company Vantage Energy postponed its IPO last September, citing unfavorable market conditions, and chemicals distributor Univar pushed back its plans as tumbling oil prices threatened to hurt its business. Sol-Wind Renewable Power has delayed its offering as well, though the move is reported to be more closely tied to investor caution regarding an unknown sponsor and the company's master limited partnership structure.
The energy companies that have gone public in 2015, however, have packed quite a punch. Columbia Pipeline Partners (CPPL) marks the first quarter's biggest deal, raising $1.1 billion and setting an MLP IPO record. Renaissance suggests that its performance indicates that the IPO market is still receptive to energy deals -- as long as they don't have direct commodity price exposure.
Opportunity Remains
While there were fewer IPOs in the first quarter of 2015 than there have been in recent quarters, quantities were rather in line with first-quarter figures from 2011, 2012 and 2013. Moreover, newly public companies are generating solid returns.
First-quarter IPOs saw strong aftermarket performance. PwC U.S. reports a 16% return between IPO and quarter close, well above the S&P 500. The average first-day gain of the IPOs priced was 10% -- not bad, either.
Highly anticipated, big-name IPOs have fared well. Shake Shack (SHAK) - Get Reportproved the first-quarter standout, climbing 138% from IPO to first quarter end. Box (BOX) - Get Report impressed as well, gaining 41.1%. GoDaddy (GDDY) - Get Reportkicked off the second quarter with a 30% jump right out of the gate, and Etsy gained nearly 88% on day one.
IPOs on the Horizon
The IPO pipeline may have run bit dry for investors in the first quarter in terms of volume, and 2015 isn't likely to surpass the 304 deals made in 2014. However, there is plenty of opportunity ahead.
"We think the market is going to remain strong. The conditions that make IPOs attractive are still in place," Thomson said, pointing to a strong broader U.S. equity market and relatively low yields out of the marketplace as important factors.
Ernst & Young notes the quantity of private equity and venture capital-backed offerings as a positive sign as well. Venture capital-backed deals represented 42% of first quarter U.S. deals, and similar levels are expected in the coming quarters. What's more, it is estimated there are more than 4,000 U.S. companies that have been held by private equity firms for longer than five years that will be looking for an exit strategy sooner rather than later.
That being said, companies aren't necessarily in a rush to go public.
Venture capital is increasingly willing to provide more substantial funding at later points in development, and private valuations have increased enormously (Uber, Airbnb, anyone?). In turn, the drive to go public has been reduced. This is most evidenced in the tech sector, which saw 13 IPOs in the first quarter of 2014 and just five in the first quarter of this year.
"Private markets for tech are just out of control, and there's not a lot of impetus for these tech companies to go public," Taulli said.
The Takeaway for Investors
What's an investor to do in the face of what looks like a continued strong IPO market ahead but with slimmer pickings?
First, recognize that fewer IPOs may be a scenario of quality over quantity. "The bar to become public is really high, and that's good for investors," Taulli said.
Beyond that, consider the options, and look at each IPO independently.
"The fundamentals of good company performance in an IPO are the same as fundamentals for good company performance for a seasoned stock on the broader markets," said Thomson. "One of the difference is, with IPOs, because they're unseasoned, they can be slightly higher risk, because investors haven't been trading them and there's no liquidity in them. When they hit the markets, you can generate stronger returns in exchange for that risk."
This article is commentary by an independent contributor. At the time of publication, the author held no positions in the stocks mentioned.