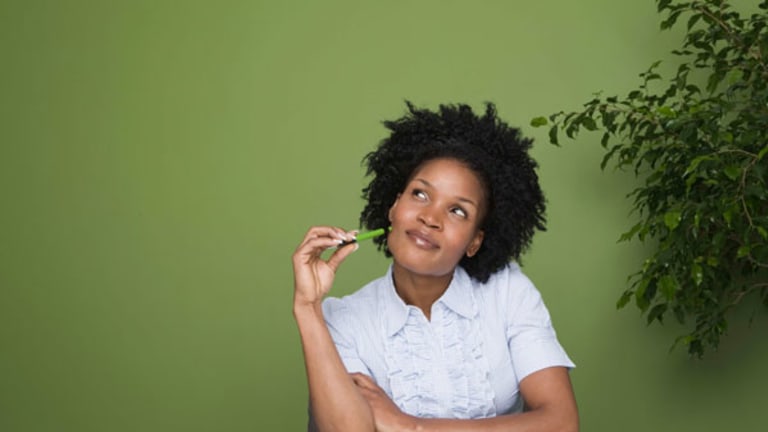 iPad to Spark Another Revolution, Poll Says
Apple's iPad may have its critics, but it is well on its way to sparking another technology revolution, a new poll from TheStreet indicates.
CUPERTINO, Calif. (
) -- It's a dangerous thing to take on the bushels and bushels of
Apple
(AAPL) - Get Apple Inc. Report
investors and technology addicts who believe every single product introduced by Apple will change the world in ways that not even President Obama can.
The mere suggestion that Apple may have missed the mark with the introduction of its hotly anticipated iPad tablet device sent the hard drives of Apple set spinning wildly with rage. To say the least, the armies of Apple faithful were really, really iMad.
The cult of Apple crazies can be downright rotten to the core when they are angry, and their cult-ish devotion to Jobs & Co. seems ripe for a
South Park-style
send-up.
Indeed,
The New York Times
gave Apple some flack for choosing a brand name that evoked for many women a feminine hygiene product, and
South Park
can certainly work with that. More significantly, Fujitsu challenged Apple over the legal rights to the name iPad, as it had marketed an older technology product under the same brand.
There was an interesting news development on Friday, also, related to Apple's strategy for the long-awaited iPad revolution.
It was reported by
New York
magazine that
Apple executives held a secret meeting with the same
New York Times
editors who Ok'd the article about the feminine hygiene branding misstep by Apple, and during the meeting, Apple CEO Steve Jobs even made a surprise appearance while the technology and newspaper giants formulated a plan for the future dissemination of news through e-reading devices.
TheStreet
readers may not care about saving the
New York Times
by bringing it into the 21st Century, but they will defend to the death -- and on the threat of death to journalists -- any nay-saying about the iPad.
The range of comments received by
TheStreet
when we asked our tech-savvy audience this week what they thought about the introduction of the iPad, did, however, bring out some disappointment, or at least confusion in terms of Apple's strategy.
One
TheStreet
reader wrote that Apple may have a problem distinguishing its iPad from existing e-readers like the Kindle and the smallest personal computers, or netbooks. This reader suggested, as other public commentators have also said, that those who want an e-reader first and foremost can save themselves hundreds of dollars by buying
Amazon's
(AMZN) - Get Amazon.com, Inc. Report
, and those who want a fully fledged personal computer of the smallest size will still opt for a netbook.
Another TheStreet.com reader dared to go even further in his negative outlook, writing, "I blame Apple's marketing (or lack of it) for allowing the Apple faithful to speculate the iPad out of all reality. When the crazies had it doing everything but bake muffins, Apple should have started to leak what the thing was, and not let everyone fantasize about what it would be capable of doing."
To be sure though, the general tone of responses from Apple commentators was the equivalent of placing an apple on the head of a
TheStreet
journalist, and forcing William Tell to down two fifths of vodka before taking aim at said journalist.
The most typical response was that iPad detractors are just trotting out the same old arguments that have been trotted out every time Apple introduces a new technology, and the detractors will be as wrong this time as they have been wrong at every critical product revolution juncture in the past, dating all the way back to the Mac in 1984.
One
TheStreet
reader who is an iPhone application developer and technology professional wrote that he expects the iPad to be a profit-maker for him personally, and more generally, developers should be gearing up for similar devices from
Google
(GOOG) - Get Alphabet Inc. Class C Report
and
Acer
. However, the iPhone developer said as opposed to making an argument for the iPad as a consumer product, he expects businesses to experiment with the iPad as a productivity tool.
Another survey respondent agreed, writing, "Every salesman who makes sales calls and presentations should want one of these to access the corporate database. Every realtor should want to take one of these along when they're showing houses or office space to a client."
From a consumer business perspective, the iPhone developer wrote, "the only way this device can add to the Apple bottom line, substantially, is if and only if Apple wedges the iPad into the space between colleges and college students as a mechanism to sell 'semester sets' of textbooks to students."
This reader and technology professional noted that the Amazon Kindle cannot do this currently and Apple has an online store ready for distribution, as well as the connections into the educational institutions. What's more, Apple has a device now that can display color charts and graphs that are essential for all medical/engineering/math and biology textbooks -- the highest profit book sales.
A lot of interesting points to consider while the iPad revolution begins, and make no mistake, the poll results indicate that revolution is coming.
Approximately 81% of survey respondents said that the iPad will revolutionize technology in the same way that every Apple product has done in the past.
Only 11% of survey respondents think that Apple missed the mark in its iPad launch -- and you can be sure, the Apple faithful will placing an apple on the head of each one of these nay-sayers and proceed to shoot blindfolded.
Only 8% of respondents claimed to be technology agnostic, saying that the Kindle, iPad and netbook will command equal market share.
So there you have it, the latest Apple revolution has begun, and don't you go doubting it.
-- Reported by Eric Rosenbaum in New York.
RELATED STORIES:
>>Should Apple Bulls be iMad or iGlad about the iPad?
>>Video: iPad Winners & Losers
>>See our new stock quote page.
Follow TheStreet.com on
and become a fan on
Copyright 2009 TheStreet.com Inc. All rights reserved. This material may not be published, broadcast, rewritten, or redistributed.