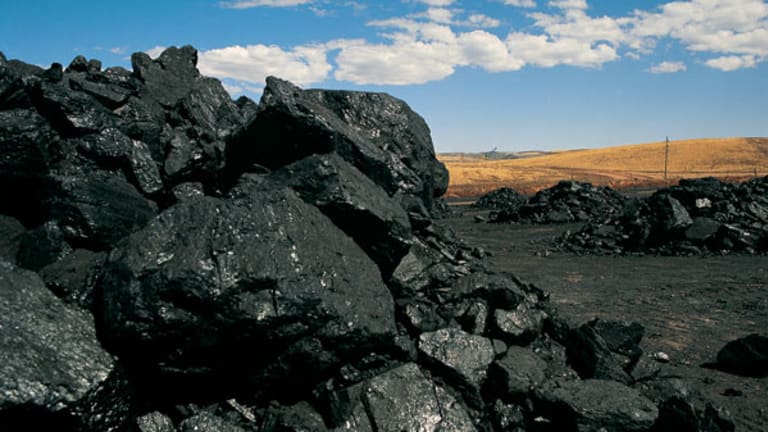 Investors Signal Now's the Time to Buy Coal
Coal stock investors gave a collective yawn at the EPA's announcement today.
NEW YORK (TheStreet) -- On Friday, U.S. Environmental Protection Agency Administrator Gina McCarthy announced new coal-burning electric plants will have limits on the amount of carbon dioxide they emit into the air. The announcement wasn't unexpected after President Obama announced plans to limit greenhouse gases.
However, the results on your portfolio and electric bill may be.
What happens when you mix a Boston Clean Air Task Force, EPA, Department of Energy, Sierra Club, Mississippi Public Service Commission, White House limits on greenhouse-gas emissions and a new carbon capturing electric power plant by
Southern Co
(KBR)
?
Read: iPhone 5S Teardown: What's Inside
Lawsuit after lawsuit, a billion dollars in cost overruns, taxpayer subsidies and the most expensive coal plant to operate causing electric rates to skyrocket, if this becomes the norm. The new project is called Plant Ratcliffe by Southern Co.
Plant Ratcliffe is quite the boondoggle, but proponents say it always costs more to build the first one and costs will come down as the technology improves. More plants are in the planning stages and may bring a needed shot in the arm to mining stocks.
Alpha Natural Resources
(ANR)
,
Walter Energy
(WLT)
,
Arch Coal
(ACI)
,
Cliffs Natural Resources
(CLF)
,
Peabody Energy
(BTU)
, and
James River Coal
(JRCC)
are companies that may benefit from increased demand for coal.
Not all coal or coal companies are equal, so it's crucial to discriminate based on your investment time-horizon goals. With that said, the announcement should have been followed by a deep sell-off in coal and utility related stocks. But something happened.
Or, rather, didn't happen.
The above coal stocks didn't sell off tremendously and are largely moving along with the rest of the market today. This is noteworthy because stocks don't bottom on good news, they reach a bottom on awful news.
Let me explain: When a stock chart continues trending lower, what you're witnessing is investors throwing in the towel and moving on.
Read: 5 Legal Ways to Cut the Cord on Sports
Leaving aside bankruptcies for a moment, almost all stocks have a core group of investors that are commonly known as the "strong hands." A stock is at the bottom when the weak hands are gone. At some point, distressing news (like an unfavorable EPA announcement regarding coal) hits the wire and the related stock or stocks react with little or no movement. This is what we are witnessing right now in coal-related companies.
The above companies are only marginally lower today. After adjusting for a drop in the
of over half a percent, as seen by the
SPDR S&P 500 ETF
(SPY)
, the coal-related stocks are essentially flat. This sets up a buying opportunity for long-term investors.
Because this is a long-term play, I especially like selling option premium, so we get paid for our time while lowering our risk. Here is one idea that you may consider.
Option activity for Cliffs Natural Resources has climbed recently, especially this week, and the stock is oversold technically. This sets Cliffs slightly ahead of the pack. But any of the above coal miners are viable candidates.
Read: DC Gridlock Good for Gold
We can currently sell a November $17 strike put option for about 38 cents. The $17 strike allows over $5 of downside before the writer experiences a decline in profitability. If Cliffs is trading above $17 at the expiration, the entire option premium is profit, a 2.2% gain in 56 days. The trade has an expected 90% chance of being profitable.
At the time of publication the author had no position in any of the stocks mentioned.
This article was written by an independent contributor, separate from TheStreet's regular news coverage.
Robert Weinstein is an active trader focusing on the psychological importance of risk mitigation, emotion and financial behavior of market participants. Robert co-founded the investing blog
, where he writes a journal about his trading activity and experiences.
In addition to
TheStreet
, Robert also contributes to
Real Money Pro
, providing real-time trading ideas for stocks, options and futures.