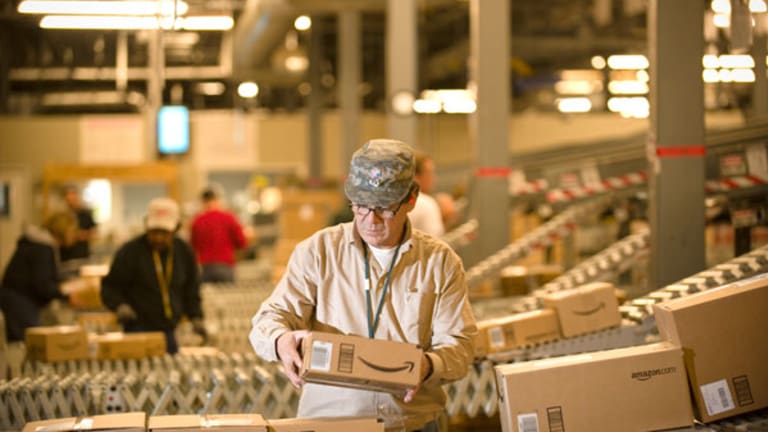 Investors Should Stand in Awe of Amazon, Facebook
Take the long view of companies such as Amazon and Facebook. That's the only way to appreciate the massive opportunity in front of them.
NEW YORK (TheStreet) -- As I explained Wednesday, too many people hang on to old and tired beliefs simply to maintain emotional comfort.
You (not
you!
, but
you
in general) have a view of how things ought to be.
In
Amazon.com's
(AMZN) - Get Amazon.com, Inc. Report
case, maybe you suffer from 1999-2000 related post-traumatic stress. When you look at a P/E ratio of 3,247, you can't think anything but conventional thoughts. Your head will not wrap around a bull case that includes a lofty valuation, thin margins and weak -- sometimes non-existent and certainly not consistent -- profits. There's no changing your mind; the situation simply should not exist and, over time, it's not possible for it to persist.
When challenged, a refusal to consider information contrary to your worldview kicks in. That leads to comfortable comparisons. Like the one a guy made
:
Point to one other company that has continued to rise in value without EPS growth AT SOME POINT.
Generalizations like that make intuitive sense. They sound good at first glance. But, as is inherent with a generalization, it ignores situational nuance. Often, this doesn't matter. However, in the most dynamic and specific cases, generalization portends ignorance. You (again, not
you!
) adhere to the comfortable view, rely on that lens to see the world and miss crucial points, such as why AMZN deserves a hyper-multiple and why
Facebook
(FB) - Get Meta Platforms Inc. Class A Report
will follow in its footsteps.
Pull one theme from Facebook's post-
movement (the stock dropped and recovered very much like AMZN does) and Q4 conference call: Investors have confidence in Facebook management (there might not be a better team than Mark Zuckerberg and Sheryl Sandberg) and its ability to seize the company's massive long-term opportunity.
If Amazon is in the seventh-inning stretch (of a game that's certain to go into extra innings) vis-a-vis e-commerce dominance, Facebook is batting around the order in the top of the second. Think of Facebook as where Amazon was in early 2002. To understand -- conceptually, theoretically and practically -- why you need to treat these types of companies (and there are not many of them) differently, it's best to focus on Amazon.
All I can chalk the persistent bearishness and repeated references to valuation-related bubbles up to is a lack of appreciation for Amazon's enormous opportunity. Skeptics just do not appreciate the magnitude; in fact, many lack basic understanding of it.
As I did in the article linked earlier, I often return to a 1999 Jeff Bezos interview where the Amazon CEO expressed, in so many words, his willingness to sacrifice short-term metrics in pursuit of long-term opportunity. As long as that opportunity exists, Amazon will spend aggressively. That's essentially what Facebook executives said Wednesday, telling the crowd that as they further ramp up the business in 2013, profits take a back seat to growth.
Back in the early 2000's into the middle part of the decade, Amazon focused squarely on creating the e-commerce space and cementing it as a, if not
the
major player in retail. It transformed book selling while it was at it. As these spaces continue to mature, new opportunities emerge with Amazon hyper-focused on extending market share and driving revenue.
To stop spending on fulfillment centers or slow down digital efforts would cede the market share that remains up for grabs and, quite possibly, open Amazon up to a loss of control in the broad e-commerce space.
Amazon, like Facebook, has no choice but to spend to further strengthen its hold. If these companies did anything but, investors should revolt. There will be a time to focus more intently on profitability, but that time simply cannot come during a period of rapid market expansion.
We -- us humans -- tend to measure everything in an instant. We expect most things to happen the way they go down on television, a medium that helped create and masterfully captures short attention spans. Now, we tap a touchscreen and get what we want instantly. That's great, but it clouds our view of how things sometimes shake out in the world.
Generational trends and once-in-a-lifetime transformations do not begin and end overnight. What we're seeing in spaces such as e-commerce and social media qualify as pretty damn big.
If you see irrationality in a stock such as AMZN (or, to a lesser extent, FB), try to trade the urge for instant gratification for something closer to the sensibility of a geologist who thinks in large chunks of time, such as centuries, not years or even decades.
--
Written by Rocco Pendola in Santa Monica, Calif.
Rocco Pendola is
TheStreet's
Director of Social Media. Pendola's daily contributions to
TheStreet
frequently appear on
CNBC
and at various top online properties, such as
Forbes
.