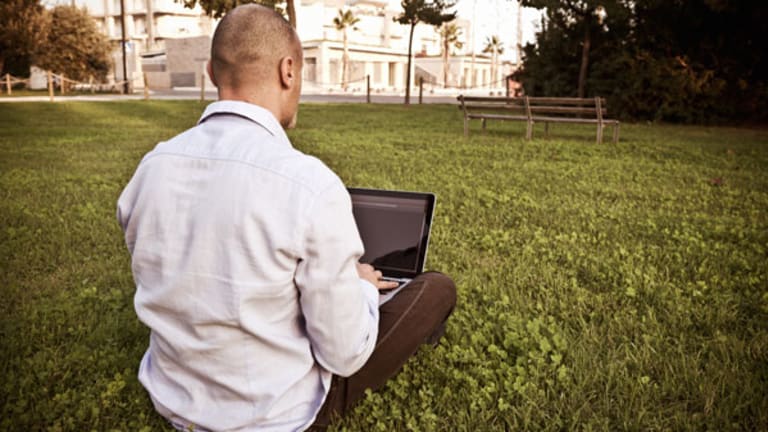 Investors Should School Themselves on Capella Education
Shares of this online education company have been on a tear.
Shares of this online education company have been on a tear.
NEW YORK (TheStreet) -- Having witnessed a close relative complete a master's degree and then a doctorate online, I'm a firm believer in the effectiveness of online education.
That's why I'm not surprised to see that shares of Capella Education Co.
Capella Education
(CPLA) - Get Report
trading close to its 52-week high of $47.42 set on June 10. The company's stock has had a phenomenal two-month run.
This Minneapolis-based online education company is focused on the real-world needs of its students. It offers various doctoral and master's degree programs in the fields of business, counseling, education, health administration, human resource management, human services, information technology, nonprofit management and leadership, nursing, psychology, public administration, public health, public safety and social work.
It also has bachelor's degree programs in the fields of business, information technology, nursing, psychology, public administration and public safety.
Capella University operates exclusively online and says it has more than 36,000 students enrolled from all 50 U.S. states and from 61 countries. Seventy-six percent are pursuing master's or doctoral degrees.
Also see: A Short Squeeze for ITT Educational? >>
You can learn just about all you need to know concerning CPLA and its brilliant success story by visiting
its elegantly informative Web site
. No pretentious presentations, just clear, factual statements and wording.
I was surprised to learn that as of March 31, the company had more than 1,670 courses, with 43 degree programs and 145 specializations.
On top of that, it has an amazing
start-up company consisting of an online platform called "Sophia,"
which was very exciting to this educator.
Sophia is a first-of-its-kind social education platform that offers students a wide variety of ways to learn by making free, credible, academic content available to anyone, anywhere, at any time. The site offers more than 32,000 educational tutorials created by hundreds of teachers and experts.
Sophia features a respectful awareness that students don't all learn in the same, one-size-fits-all way. It allows students to choose from a plethora of learning and teaching styles. The platform further enhances the learning process by offering quizzes, assessing learning preferences and providing learning paths. I enthusiastically encourage you to explore this cutting-edge approach to education.
Also see: 2 Offshore Rig Companies With a Lot to Like >>
In a June 4, 2013 press release, Capella announced that it's offering grants of up to $6,000 for new students. This reflects part of its ongoing effort to make higher education more affordable and available.
"Capella is committed to making earning a degree as affordable as possible. Our learner grants are an excellent example of how Capella is extending access to those seeking a high-quality education," said Scott Kinney, president of Capella University, in the press release.
Details and
a complete listing of the grants, financial aid and scholarship programs
as well as information about tuition is accessible from this link. CPLA knows it pays to attract motivated students.
Also see: Top Travel Apps for Summer 2013 >>
As of March 31, 2013 CPLA had no debt and had been using some of its profits to offer what I like to call a "tax-free dividend" by repurchasing shares of its stock. The Company announced its current share repurchase program in July 2008. Under its current program, it has authorized repurchases up to an aggregate amount of $235.7 million.
Of special interest to investors is that there is no expiration date on the repurchase authorizations and repurchases can occur at the company's discretion. CPLA as of the most recent quarter had total cash of $128 million, or $10.32 per share.
The following five-year chart illustrates how the share price has fared during one of America's most economically challenging periods. I included lines for trailing 12-month revenue per share and earnings before interest, taxes, depreciation and amortization. It reminds us how hot educations stocks were in 2010 as well as recently.
CPLA
data by
Since hitting an all-time high of $90, shares followed EBITDA and traded as low as $25.31. Since the intraday low on April 9, 2013 of $28.49, the share price skyrocketed over 66% to the high on June 10.
What kind of operating and profit margins does an education company have? The TTM operating margin was more than 13%, and the profit margin was a more reserved 8.13%.
CPLA's 21% Return on Equity (TTM) is an impressive reminder that the company is carefully managed and generates ample profits.
Of concern during my perusal of its Annual Report was the sharp decline in net income, from 2010's $61.179 million to 2012's $36.291 million. The mitigating circumstances of this decline are too complex to try to address in this article.
All I can say is that before you become a shareholder I'd highly encourage you to carefully read the latest Annual Report, which is easily accessed
at the company's Investor Relations Web page
.
With a price-to-earnings-to-growth (PEG) ratio (5-year expected) of 3.17, there's no way I'd call shares of CPLA a bargain. I'm very impressed by the company's track record and approach to higher education, but I'd prefer to wait till the next time the share price drops below $29 before I become an investor.
At the time of publication, the author had no positions in stocks mentioned.
This article is commentary by an independent contributor, separate from TheStreet's regular news coverage.