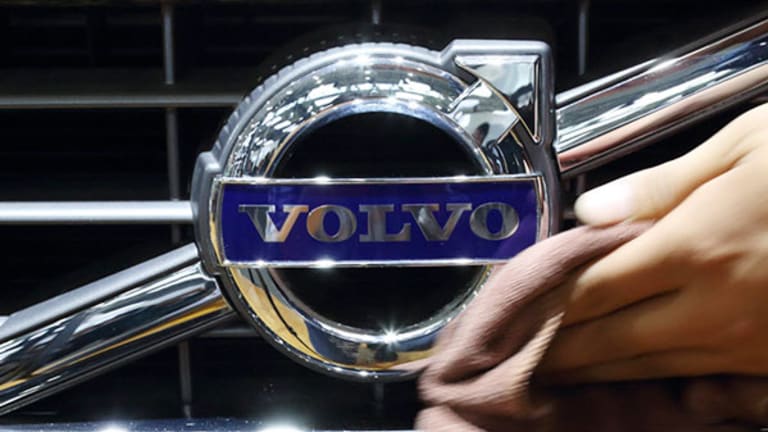 Investors Should Look to China to Grab a Piece of Volvo's Rebound
Two companies from China are controlled by billionaire Li Shu Fu, and may grow closer if Volvo continues to flourish.
Two companies from China are controlled by billionaire Li Shu Fu, and may grow closer if Volvo continues to flourish.
NEW YORK (TheStreet) -- Signs are promising that the comeback of Swedish car maker Volvo is on track, with the expected arrival in the U.S. this summer of the company's impressive new XC90 large crossover.
The stylish new model already has won strong reviews and is expected to compete with similar models from Volkswagen's (VLKAY) Audi, BMW, Toyota's (TM) - Get Report Lexus and other premium car makers.
After the debut of XC90, Volvo will introduce seven new car models during the next four years, according to CEO Hakan Samuelsson. The next new Volvos will be a large sedan and an "estate" or station wagon, Samuelsson said at the auto show press preview in Geneva.
Volvo's retail sales have floundered in the U.S. following the sale of the company by Ford (F) - Get Report in 2008.
Last week, Volvo Group said its operating earnings for 2014 rose 17.5% to 2.25 billion Swedish crowns ($302 million) from 1.92 billion crowns the previous year. Volvo sold just less than 466,000 cars globally last year, a record, and it aims to raise that figure to 800,000 by 2020
The immediate beneficiary of Volvo's rise is Zhejiang Geely Holding Group Co., the privately owned Chinese company controlled by billionaire Li Shu Fu. Zhejiang Geely bought Volvo from Ford for $1.8 billion. Volvo has said Zhejiang Geely is investing $13 billion to renew Volvo's model lineup.
Zhejiang Geely owns 51% of Volvo; the remainder is owned by the Daqing and Jiading regional governments in China, with stakes of 37% and 12%, respectively.
Also note that Volvo, the car maker, is separate from Volvo (VOLVY) , the truck maker, whose American depositary receipts trade in the U.S. on the over-the-counter market.
Meanwhile, in China, there is another Geely, and that is Geely Automobile Holdings Limited, whose shares are traded on the Hong Kong stock exchange. Geely Automobile, owned 42.6% at the end of last year by Li and family members, is one of China's largest non-state-owned auto makers.
During the past five years, Geely Automotive's shares have performed poorly, losing 14.8%, while the Hang Seng Index has gained about 23% during that time.
Investors seeking to capitalize on Volvo's rising status and sales should take care not to become confused and buy shares of Geely Automobile. But while Volvo's financials affect Zhejiang Geely -- and not Geely Automobile directly -- it's conceivable that the situation could change. For example, Li, who controls both entities, might see an advantage to merging them, though he's given no public indication that he intends to do so. Or he might award Volvo parts orders to Geely Automobile (if he's not already doing so).
On Feb. 17, Moody's Investors Service noted that approval by the China Banking Regulatory Commission for an auto-finance joint venture between Geely Automobile and BNP Paribas Personal Finance will have no immediate effect on Geely's Ba2 or stable credit rating. Moody's said the joint venture will provide financing to Geely and Volvo Car.
Volvo's long-term prospects aren't assured, of course, given the nature of intense competition in the auto industry. The brand is a strong one, and Chinese automotive manufacturing is growing more competitive, which ultimately could create the possibility of a substantial export platform.
One Volvo car model, the long wheelbase version of the S60, will arrive in the U.S. from China later this year. Volvo is the first mainstream brand to pull off the feat.
While investing in Geely Automobile isn't a direct bet on Volvo, the connections between the two companies could well grow closer and mutually more advantageous.
This article is commentary by an independent contributor. At the time of publication, the author held no positions in the stocks mentioned.