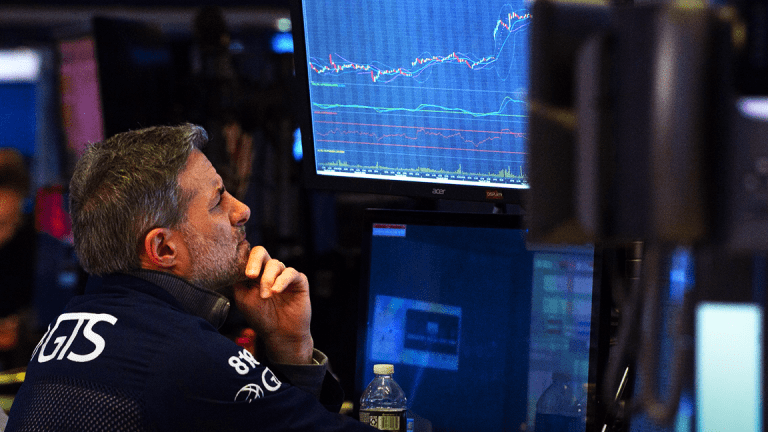 Investors Remain on Edge; FanDuel May Be Prepping for Backdoor IPO -- ICYMI
Here's what you need to know now for Wednesday, March 14.
Markets closed down across the board as investors continued to chew on potential impact from steel tariffs and more turnover in the White House after the departures of Rex Tillerson and Gary Cohn.
Investors seemed to be in limbo. Are buying opportunities abundant or are signs saying stay away and keep a larger pile of cash on hand? It's hard to tell. "There isn't any big rush for the exits, but there also doesn't seem to be much of an appetite for buying right now," writes James Deporre over on Real Money. "Breadth is running close to even and the number of stocks at new 12-month highs has collapsed to around 65 while that of new 12-month lows is up to 70." Deporre says his cash levels remain high, though "if the indices dipped again then the setups would develop" and "alternatively, if we had a rip higher then some momentum chasing would appear."
As we gear up to wager a little money on March Madness, one website at the forefront of spending money on sports could be headed to the public markets. Daily fantasy website FanDuel is reportedly headed toward an IPO as the Platinum Eagle Acquisition (EAGL)  , a special purpose acquisition vehicle that only went public in January, may have already found its merger partner. It's no secret that FanDuel has been on the block for a while, writes Bill Meagher on TheStreet's sister publication The Deal. A merger between FanDuel and rival DraftKings was called off last year after antitrust regulators raised concerns. Though FanDuel and Platinum Eagle did not respond to requests, FanDuel counts Time Warner (TWX)  , Comcast's (CMCSA) - Get Report  NBC Sports, Twenty-First Century Fox's (FOXA) - Get Report  Fox Networks and MSG Networks (MSG) - Get Report  among its investors, as well as KKR & Co. (KKR) - Get Report  , Shamrock Capital Advisors and Piton Capital. You've got to wonder if the deal is more for capital purposes or to help find its investors an exit from what has become a sticky situation, aligning sports team owners and what some view as pseudo gambling operations.
DropBox is gearing up to list later this week and investors have to be wondering if this is the next Facebook (FB) - Get Report  or the next Snap (SNAP) - Get Report  . According to Eric Jhonsa, the company could still have room to grow as it still has meaningful headroom to convert some 500 million active users of its free service to paid plans. "The numbers shared in its IPO filing suggest the company can reap healthy cash-flow margins (and eventually, profit margins, too) while doing so," he writes." Not to mention that DropBox has been perennially talked about as a takeover target for the likes of Salesforce (CRM) - Get Report  and Alphabet (GOOGL) - Get Report  , among others, and a listing might free up room for a deal once shareholders initially realize a liquidity event.
This is an excerpt from "In Case You Missed It," a daily newsletter brought to you by TheStreet. Sign up here.
Photo of the day: Stephen Hawking
The world lost one its brightest minds this week with the passing of legendary physicist and bestselling author Stephen Hawking. The man's contributions to science go without doubt but his contributions to society maybe even just as impactful. Hawking was key in giving people with disabilities hope, having been diagnosed with Lou Gehrig's disease in 1963 and defying the odds and living to the age of 79. He became a pop culture icon over the years with cameos in television shows, rock songs and advertisements. He would hold meetings with political leaders, celebrities and corporate leaders. Hawking's book, "A Brief History of Time," became an international bestseller, making him one of science's biggest celebrities since Albert Einstein. Hawking is picutred above on the red carpet at the EE British Academy Film Awards at The Royal Opera House in London in 2015. Read More from The New York Times
Read more from "In Case You Missed It." Sign up here.