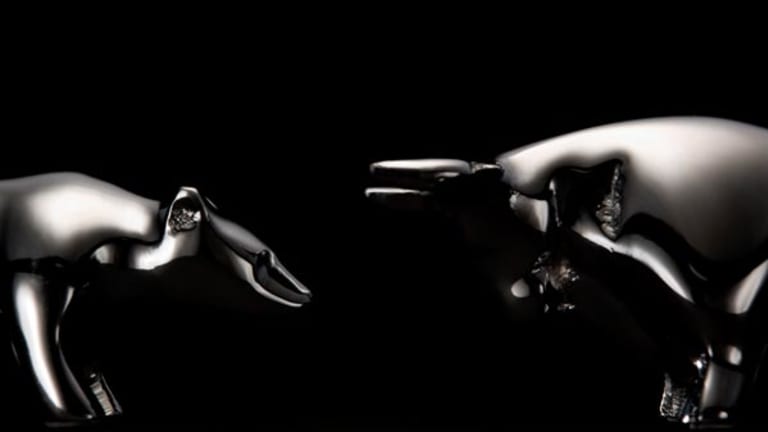 Investors Lose In Crowdfunding
It seems the biggest winners in crowdfunding are the companies.
NEW YORK (TheStreet) -- The crowd that crowdfunding helps is not the investor crowd, but the company crowd. The crowdfunding concept has always been first and foremost about business assistance -- not helping out newbie venture capitalists. It was born after all out of the Jumpstart Our Business Startups (JOBS) Act -- not the Let's Look Out For Small Investors Act.
The rules and regulations have yet to be determined by the
Securities and Exchange Commission
; however, some movement has been detected for crowdfunding guidelines with accredited investors.
The issuance of two no-action letters by the SEC for
and
gives the market an idea of
and how the companies plan to make money. Basically, the two companies submitted their business plans, and the SEC came back and approved those plans, essentially saying it would take "no action" if they proceeded with those plans.
AngelList says it already has 12,000 accredited investors and with a partnership with
could reach 20,000. AngelList also punts to Second Market for investor and company vetting. The SEC and
(Financial Industry Regulatory Authority) are ultimately responsible for the protection of investors.
Chance Barnett, CEO of
Crowdfunder
, believes that many of these websites like AngelList will eventually become broker-dealers themselves and reduce their dependence on companies like Second Market for their financial backbones.
Also see: Kickstarter Funders Aren't Angel Investors >>
FundersClub is a wholly owned subsidiary of a larger venture capital firm and does its own due diligence on the companies and investor status. The more interesting aspect of the no-action letter is how these companies plan to make any money out of this.
The SEC wrote, "Although the money invested bythe investors may include administrative fees, you represent that FundersClub and FC Management currently do not receive any compensation."
The company will earn money on management fees for an investment fund or carried interest, which is the profit of the investment fund but is limited to 30%.
It seems that the only investor protection discussed in these letters is that investors' money will pass through to an escrow account and that the site can't withdraw deposited funds. Investors will have to trust these companies that have little mechanisms to make money will not be tempted to touch theirs.
So, if little attention is being paid to investor protection in crowdfunding, what does the investor get for taking this risk?: the pure joy of investing in a business -- stock that can't be sold anywhere and essentially has no value. Also, there's ownership in a company without the owner perks.
The only way a shareholder can potentially place a value on the shares is if the company gets acquired or the primary owner buys them out.
The definition of investing is "participating in a business enterprise that offers the possibility of profit." That notion is turned upside down when it comes to crowdfunding. There is no talk of future return in crowdfunding -- merely the pleasure of helping your fellow capitalist.
"I love Title III," says Doug Ellenoff, a leading crowdfunding attorney. (Title III is the part of the JOBS Act for accredited investors.) "It's a mechanism to help entrepreneurs get access to capital," he says.
Ellenoff expects that many of the deals will be with community businesses, like maybe a restaurateur who owns several local locations. He believes community members will want to invest in a business they know.
"You have an interest in that business; maybe you get a discount there," he suggested. Ellison points out that large broker-dealers have no interest in getting involved in the offerings because the deals are too small.
However, isn't that what community banks are for? Of course, the catch is that when a bank lends money, it expects to get paid back with interest. Crowdfunding investors get nothing back. Companies have no obligations to their investors. None.
Ellenoff noted that investors will be protected through education, and that it won't be an easy click-through type of online button. You know the type -- multiple paragraphs followed by an "I Agree" button. He envisions an interactive education experience, whereby investors have to read paragraphs and answer specific questions. He believes that when investors are educated, they will be protected.
Ellenoff also notes that there will be limits on the amount that can be purchased during a 12-month period. Limits between $2,000 and $100,000 have been established. However, limiting losses doesn't necessarily protect shareholders.
Whenever the topic of fraud is mentioned, crowdfunding proponents immediately state that it already happens in the U.K. and that there hasn't been any fraud. They also insist that the power of the crowd will "out" any malfeasance.
Again, it goes back to what does the investor get out of this deal -- which carries a huge risk and very little chance to see any reward. Then who benefits from crowdfunding if it isn't investors?
Companies looking for capital get money from investors with no obligation
Crowdfunding portals that will earn money from listing companies, potential company profits and side revenue like job finders.
FINRA, which earns fees from crowdfunding portals registration -- a minimum of $15,000 for each firm
Of course, FINRA should be looking past fee-gathering and toward protecting investors, but that would require FINRA to hire more people to now police a whole new market. Unfortunately, FINRA is housed under the SEC, and the SEC is facing a funding cut of $108 million due to sequestration. The Investor Protection Fund will also be cut by $7 million. The SEC said it didn't expect furloughs or a reduction in force, but that the cuts would impact hiring and technology investment.
Also see: Does Financial Literacy Matter? >>
Other ways FINRA could protect investors would be by requiring portals to carry insurance in the event of fraud. So far, few insurance companies sound interested in providing this type of coverage.
Bob Sargen wrote in The Specialty Insurance Blog that, "We anticipate that underwriters will initially exclude capital raising activities via crowdfunding outright, or will charge an increased premium to cover this activity."
Some of the reasons they cite for not wanting to cover this activity?: claims from small investors, fraud from relaxed distribution controls and lack of knowledge leading to errors.
FINRA could provide for a marketplace of these shares after the one-year restriction. It should at least give these shareholders a chance to place some value on their investments.
FINRA could require the portals to hire supervisors just like regular broker-dealers. Of course, most websites are just now seeing their costs skyrocket -- welcome to the world of finance. FINRA could also require fraud-detection software. For now, these are just suggestions; there is currently little in the way of ideas for investor protection.
Investors need to be wary. Whenever there is a positive argument being made for an investor to crowdfund, it invariably comes from a crowdfunding company -- not a registered investment adviser and not from a registered broker-dealer. It tends to come from someone who will benefit more than the investor.
-- Written by Debra Borchardt in New York
>To contact the writer of this article, click here:
Debra Borchardt
.
Disclosure: TheStreet's editorial policy prohibits staff editors, reporters and analysts from holding positions in any individual stocks.