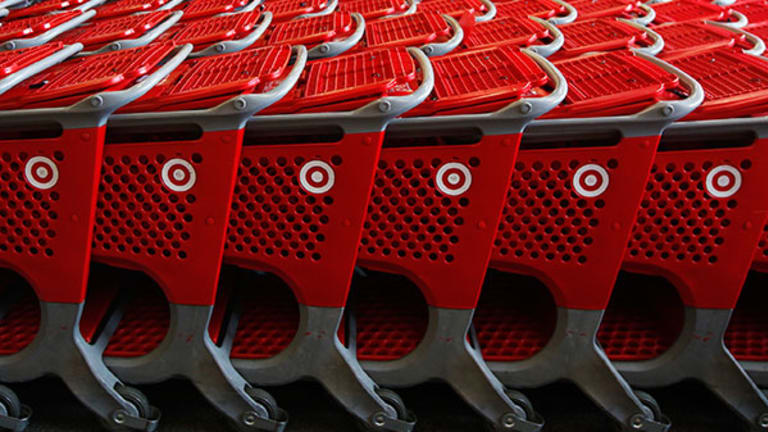 Investors Forgive Target Its Trespasses; What About Wal-Mart?
Investors forgive Target for its data breach but are not forgiving Wal-Mart for losing the loyalty of the middle class.
NEW YORK (TheStreet) -- If you saw the investor panic over the Target (TGT) - Get Free Report data breach last December as a chance to load up, your patience is being rewarded.
The retailer's stock jumped $3.50 Wednesday and is now changing hands at more than $60, after the company announced earnings of $520 million, or 81 cents per share, and revenue of $21.5 billion for its fiscal fourth quarter, ending in January.
That's just $3 short of where the stock was in mid-December, when the now notorious "Target data breach" was announced, and the stock's momentum could carry it over that mark fairly soon.
Investors had waited until Jan. 10 to start dumping Target shares, when the company announced that 70 million names, addresses and phone numbers may have been stolen. Earnings seem to have been a catalyst for investors to buy back in.
In reaction to the breach, Target offered fraud-protection monitoring and identity theft protection to its card holders and told analysts on its conference call it would accelerate its move to "chip and pin" cards that are more secure.
"Sales have started to recover," CEO Gregg Steinhafel told his conference call, and the "near-term financial impacts" won't slow the company's investments.
That seemed to be all some investors needed to hear. Twice as many analysts now rate Target a buy than a sell, with most calling it a hold.
The performance of Target stock, especially in the last month, stands in contrast with that of rival Wal-Mart (WMT) - Get Free Report, which mainly went sideways after it blamed food stamp cuts and payroll taxes for lowered guidance despite beating analyst estimates and raising the dividend.
Investors seem to see the Target problems as temporary, and the problems at Wal-Mart as more permanent.
This despite the fact that Wal-Mart is well ahead of Target in moving toward smaller stores. Target just opened its first "test" TargetExpress in its home market of Minneapolis last month while Wal-Mart plans to add up to 300 small stores in the next year.
The problem for Wal-Mart is the demographics of its customer base.
Target seems to be maintaining the loyalty of upper-middle class consumers despite its problems, while Wal-Mart continues to lose in that area, partly due to bad publicity over its worker policies. Its small-store effort seems to be an acceptance of this reality. It aims to challenge chains such as Family Dollar (FDO) , which serve less-affluent communities.
Wal-Mart's problems are also increasingly political.
When Dirty Jobs host Mike Rowe did the voiceover for a recent Wal-Mart ad on its investments in American products, 3,900 people responded negatively on his Facebook page, and he even claimed to have gotten death threats. 
If there is a sound reason to prefer Wal-Mart shares today, it's the company's return of money to shareholders in the form of dividends and stock buybacks. The company's dividend now represents a 2.57% yield, close to Target's 2.84%, and its $15 billion stock buyback, announced last June, means the founding Walton family now holds most of the stock.
But with Target winning the war for the upper middle class, despite its credit card troubles, its next five years could maintain the pattern of the last five, where its stock price has doubled and doubled-up on the gains in Wal-Mart.
At the time of publication the author owned no shares in the companies mentioned here.
This article represents the opinion of a contributor and not necessarily that of TheStreet or its editorial staff.