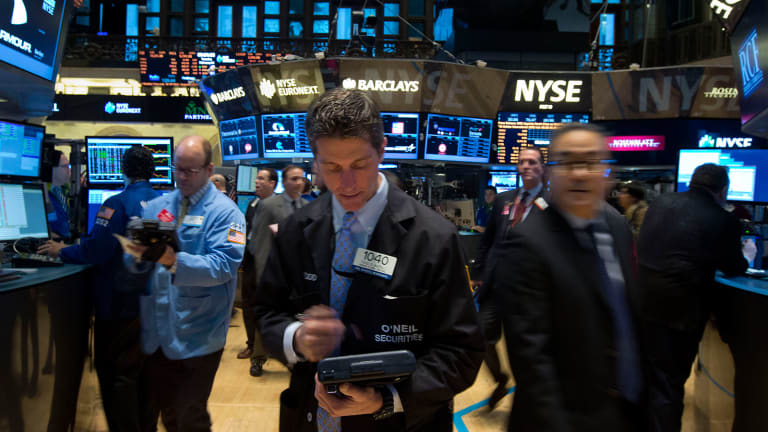 Publish date:
Investors Finally Get the Break They've Been Expecting for a Long Time
The steep drop in stocks this past week have made stocks better values -- to be approached cautiously.
The steep drop in stocks this past week have made stocks better values -- to be approached cautiously.
NEW YORK (TheStreet) -- Investing in stocks has not looked this good in months, if not years. When one of the longest bull runs in history came to a crashing end today -- down 11% from its high -- a lot of froth went out of the stock market with it.
That's not to say, investors should be splurging. By almost any traditional measure, stocks remain overvalued. The S&P 500 price to earnings ratio is still four points above its historical average of 15. Investors need to proceed carefully. However, compared to the alternatives -- cash, bonds, commodities and real estate -- which are generally seen as offering poor potential for gain, there's a good case for small, but regular dips into conservative equity investments.
For most investors, the first place to look will be low-cost index funds and exchange-traded funds that tend to invest in the market as a whole. A number of these funds have been hurt as badly as the S&P 500 Index, the traditional market benchmark, during the four-day plunge, but may offer a great deal more potential on the upside at very low cost in a market recovery.
A couple stand out as among the most inexpensive market index funds that have swamped the S&P 500 during the bull run. They are iShares Core S&P Small-Cap ETF (IJR) - Get Report and Vanguard Small-Cap Index Fund (VB) - Get Report.
Investors willing to accept a tad more risk and higher expenses but with good potential for bigger returns might want to look at index funds following particular sectors with good upside potential. In that case, they are likely to gravitate towards industries that provide goods and services that are considered consumer staples.
A standout throughout the market's rise has been health care index funds. Besides generally outperforming the total market funds during the bull market, they are likely to continue to do so with increasing demand for their products and services as the population ages.
An investment in this sector that may stand the best chance of calming investors' nerves and earning them better returns is the Vanguard Health Care Fund (VGHCX) - Get Report. It has beaten the S&P 500 throughout the bull market, albeit by a narrow margin, yet fell only half as much during the past four-day plunge. Moreover, its expense ratio of 0.34% is among the lowest of any index funds.
Far better returns over the long run at still reasonable costs (i.e. under 1%), but with greater volatility have come from T. Rowe Price Health Science Fund (PRHSC). It nearly doubled the S&P during the bull market, yet fell no more than the Index during the correction. A choice in between the other two is the Fidelity Select Biotechnology Portfolio (FBIOX) - Get Report.
This article is commentary by an independent contributor. At the time of publication, the author held no positions in the stocks mentioned.