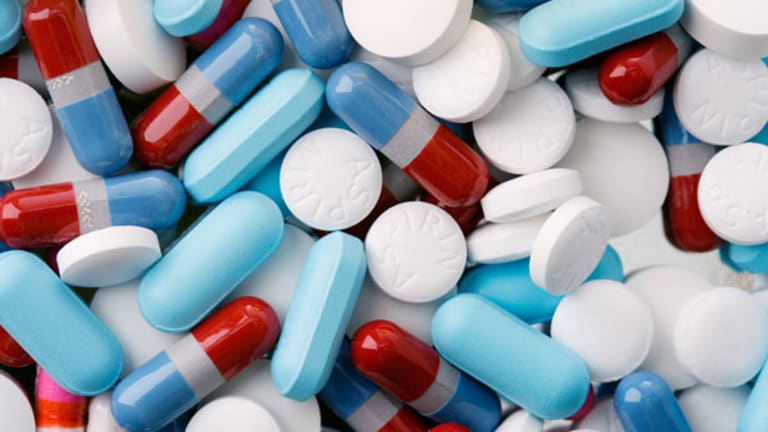 Investors Expect too Much of Salix
There are still too many unknowns about the pipeline to suggest there is further value here.
There are still too many unknowns about the pipeline to suggest there is further value here.
NEW YORK (TheStreet) -- It's become cliched to talk about Wall Street's hatred for uncertainty. But that's only when it's convenient. The Street also shamelessly discriminate with what it chooses to fear and/or ignore. In the case of specialty drug company Salix Pharmaceuticals (SLXP) , whose stock is up 115% in the trailing twelve months, there's no question the Street cares very little about the risks that still surrounds this company.
While Salix continues to be an incredible growth story, the company is marred in a battle with the Food and Drug Administration over a recent rejection of a subcutaneous form (injection) of key drug Relistor, which is used to treat constipation -- the type caused by pain medicines called opioids. While Salix has filed an appeal to the rejection, a response won't be issued by the FDA until March 2014.
Plus, there's also the risk associated with the company's rifamycin-based antibiotic drug Xifaxan, which is used to treat (among other things) irritable bowel syndrome and poor liver conditions. Although Xifaxan is posting some gaudy numbers, including 20% growth in the third quarter, the fact that this one drug accounts for 70% of Salix's total revenue is -- as I see it -- cause for some anxiety.
[Read: Digging Into the Dow; Buyable Oil Stocks: Jim Cramer's Best Blogs]
I will grant that Salix is not alone when it comes to this sort of "product overreliance." Although companies strive for better diversification, very rarely is it ever achieved in Big Pharma. AbbVie (ABBV) - Get Report, which I discussed recently, takes in 60% of its global revenue from rheumatoid arthritis drug Humira. The same goes for Johnson & Johnson (JNJ) - Get Report, whose cancer drug Zytiga does all of the heavy lifting -- growing in the recent quarter by 70% year over year.
But unlike Johnson & Johnson, which also has strong devices business, not to mention growing segments like nutrition and orthopedics, Salix still has to prove the lasting power of Xifaxan, which is still in Phase III research for IBS. What this means is that not only does Salix have to rely on positive data during the study, but that data has to be convincing enough for the FDA to grant approval. And this is while the company waits on appeal response for the Relistor.
Here's one of the interesting aspects to this story, if/when Xifaxan receives the green light by the FDA, which the Street already assumes will happen judging by the stock price, there is no guarantee Xifaxan will corner the IBS market. Data has shown that there are prescription and over-the-counter (OTC) alternatives that are just as effective in treating IBS.
[Read: 'Bum Bum Insurance'? The Craziest Things You Can Insure]
Now, I don't want to paint Salix as a bad company. Nor do I want to heighten any concerns about the company solely based on one FDA rejection letter. As I've said recently when discussing Wright Medical (WMGI) - Get Report, getting your wrist slapped by the FDA is sort of a rite of passage in this industry. The question, though, is how strong Salix can bounce back when the official response is given.
While I was more than impressed with Salix's third-quarter results, I nonetheless believe that the Street is setting the company up for future disappointment by completely ignoring the obstacles ahead. We saw the same sort of scenario unfold a couple of months ago with Achillion Pharmaceuticals (ACHN) - Get Report, whose stock lost 58% in one day after the FDA pulled the plug on key drug Sovaprevir. Investors were caught holding bag and trying to put the pieces back together. Analysts, meanwhile, were nowhere to be found.
It's certainly possible that all the chips may fall into place and Salix escapes these situations unscathed. With a P/E that is more than twice that of GlaxoSmithKline (GSK) - Get Report, the Street is already betting that this is what will happen. But even with Salix's recent $2.6 billion all-cash deal for Santarus (SNTS) , which should help the company better diversify its revenue stream, there are still too many unknowns about Salix's pipeline to suggest there is further value here.
At the time of publication, the author held no position in any of the stocks mentioned.
Follow @saintssense
This article was written by an independent contributor, separate from TheStreet's regular news coverage.