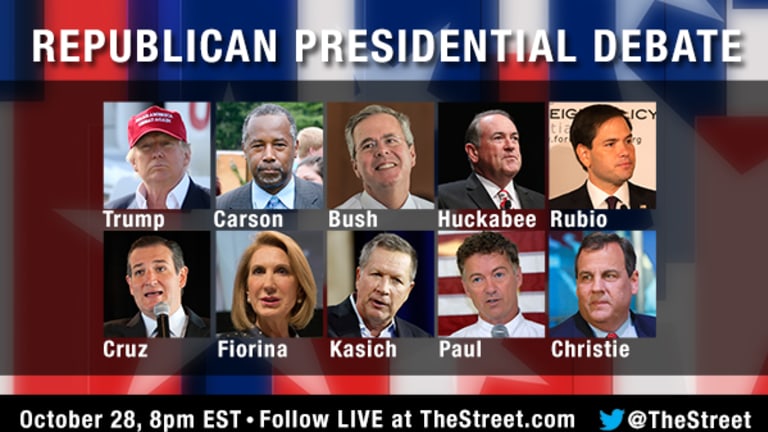 Investors: Don't Place Too Much Stock in Promises Made During Debates, Invest for the Long-Term
What is said in tonight's debate shouldn't shake voter's faith in investing for the long-term.
Regardless of what happens during tonight's Republican Presidential Debate and over the course of this next year, one thing is for certain: Americans will have a new president in January 2017.
It's perhaps the most predictable piece in our otherwise changing political system: Every four years we elect a president. And we can only elect the same one twice. Our current president is concluding his second term, so, whether we like it or not, change is coming.
Change often spooks the markets and the economy because American investors and businesses can be wary of the unknown. But when it comes to a change in the White House, that trend doesn't exactly hold true. The stock market typically rises during election years -- regardless of which party or candidate wins. In fact, during the last eleven presidential election years, the market (as measured by the Dow Jones Industrial Average) has been up nine times and down only twice.
A recent poll from my firm RBC Wealth Management found that one in three Americans thinks the economy will improve after the 2016 elections. Again, that is regardless of who wins.
I believe people often see opportunity in change. That's particularly true of millennials. Our survey found that 37% of millennials think the outcome of the presidential election will boost the economy compared with only 29% of those ages 55 and older.
What's interesting to me is that younger Americans are also far more hopeful that their personal financial situation will improve after the election, with 40% of Millennials and 37% of gen-exers indicating that they think the value of their investments will improve compared with only 23% of baby boomers. The more optimistic sentiment among younger Americans is also true when it comes to their ability to save for the future after the election, with 33% of millennials believing it will improve compared to 23% of gen-exers; and only 13% of baby boomers expressing the same degree of optimism.
I'll be curious to see whether that optimism persists tomorrow after the political pundits have weighed in and the public, namely investors, have had time to digest. I'm sure some of the promises and proposals candidates make during tonight's debate will create some ripples in the markets tomorrow. The same happens when the Democrats are on stage.
Over the course of my career I've seen many investors get jittery over how a candidate's promises or plans might affect particular sectors within the financial markets and want to pull out of those sectors as a result. I've also seen investors flock to a particular sector that seems poised to benefit from a leading candidate's ideas or agenda.
As we head into tonight's debates and as we emerge from them tomorrow, my take is this: Promises made on the campaign trail may change and any new president's priorities still have to be turned into legislation to have any real impact. While Americans can and should decide which candidate to vote for based on what they say tonight and throughout the election, investors can't be so fickle and must be careful to make good decisions about how they invest for the long term -- regardless of who takes office in 2017.
This article is commentary by an independent contributor. At the time of publication, the author held TK positions in the stocks mentioned.
John Taft is responsible for RBC's wealth management growth strategy in the U.S., focusing on helping clients achieve their financial objectives through full-service wealth management.
Taft has worked in financial services since 1981. He is Chair Emeritus of SIFMA, the leading securities industry trade group. An industry thought leader, Mr. Taft frequently speaks at government and industry events and is widely quoted in the media.
Taft is the author of two books. His latest book, A Force for Good: How Enlightened Finance Can Restore Faith in Capitalism, looks forward and offers innovative ideas on how the financial system needs to evolve to help secure a better future for everyone.