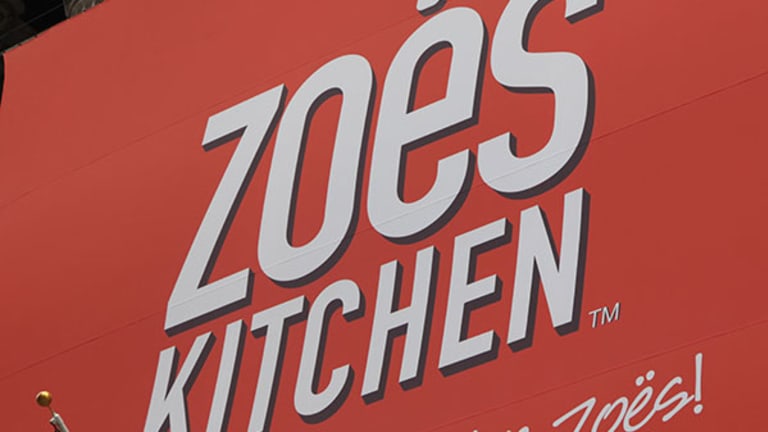 Investors Chow Down on Zoe's Kitchen IPO
Zoe's Kitchen has unique food in the fast casual dining space and aggressive growth plans.
NEW YORK (TheStreet) -- Zoe's Kitchen (ZOES) Thursday added its name to the list of recent restaurant initial public offerings. Its shares, priced at $15, will begin trading Friday.
The Mediterranean-style "fast casual" chain follows in the footsteps of restaurant chains such as Noodles (NDLS) - Get Free Report, and Potbelly (PBPB) - Get Free Report, which have gone public in the past year. Earlier this month, restaurant pick-up and delivery provider GrubHubundefinedmade its trading debut.
Zoe's currently has 111 locations in 15 states, with most of its stores concentrated in the south. There 29 in Texas, 14 in Alabama, 13 in Georgia, 11 in North Carolina, seven in South Carolina and seven in Virginia. All but six of the stores are company-operated, and there are plans to open another 28 to 30 locations this year. The company also expects to double its current locations over the next four years.
Although Zoe's is relatively unknown in the Northeast, one of the chain's three Pennsylvania locations is in our town. Ironically, it replaced one of the two area Cosiundefined locations.
Given the focus on Mediterranean food, it was not on short list of places I wanted to try. When the restaurant opened here last year, one of our daughters became a part-time employee. In support of her new employer, I gave it a try and was pleasantly surprised. In fact, we've been back at least a dozen times, and will be there tonight. The grilled potato salad (you read that right) is amazing, and is now a nearly constant craving.
Few industries are as competitive as the restaurant business, and differentiation is very important. Zoe's, in my view, is unique. The food is very fresh, the concept is different, and I believe this chain has a shot at great success.
Zoe's has also taken advantage of technology in terms of customer retention via the Zoe's mobile phone app. Among other things, it allows customers to submit receipts that result in free food items, a couple of which we'll be redeeming tonight.
Last year, Zoe's lost $3.7 million on revenue of $116 million. The challenge for this company in reaching profitability will be to keep its costs in line and its menu simple. Those are two things that Cosi, which is comparable in some respects, has been unable to do. As a result, Cosi has never had a profitable year since its own 2002 IPO. Zoe's could learn a great deal from Cosi's plight.
Proceeds from Zoe's IPO, $87.5 million, will be used to pay off the company's credit facility ($41 million as of the end of 2013), and support the company's expansion plans.
The $15 IPO price, which was at the upper end of the expected price range, puts the company's market cap in the $275 million price range.
With markets opening lower today, it should be an interesting first day of trading for what may be one of the more interesting restaurant concepts we've seen in recent years.
At the time of publication, the author held no positions in any of the stocks mentioned.
This article represents the opinion of a contributor and not necessarily that of TheStreet or its editorial staff.