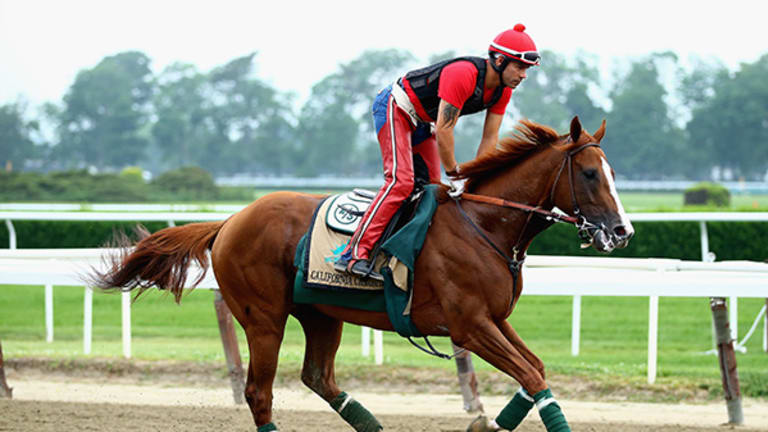 Investors Can Benefit From California Chrome's Historic Triple Crown Run
California Chrome's historic Triple Crown attempt puts these three investing storylines in the spotlight.
California Chrome's historic Triple Crown attempt puts these three investing storylines in the spotlight.
NEW YORK (TheStreet) -- On Saturday, horse California Chrome will try to accomplish something that hasn't been down since 1978. The highly anticipated Belmont Stakes offers a chance for California Chrome to win the Triple Crown of horse racing, after first winning the Kentucky Derby and Preakness Stakes. The suspense carries some opportunities for investors, including the sponsor Skechers (SKX) - Get Report and track facilities owner Churchill Downs (CHDN) - Get Report. Here are three storylines to follow that include companies involved with the Triple Crown.
Due to the increased interest of the Belmont Stakes, NBC Sports is capitalizing on the potential of more viewers. The cable sports network owned by Comcast (CMCSA) - Get Report has devoted 16 hours of programming to the race from Wednesday through Saturday, double the original amount it forecast. Saturday's coverage begins at 2:30 pm and will go through the 8 p.m. time slot, with a full amount of post-race commentary.
A Triple Crown win could increase interest in horse racing, which would likely boost ratings for NBC Sports' other televised horse races. The company has the rights to the Breeders Cup (Oct. 31, Nov. 1). This year, Comcast will air several pre-Breeders Cup races on NBC and NBC Sports throughout the summer and fall.
NBC Sports continues to post strong numbers in viewership. The cable channel doesn't have huge deals with popular sports like rival ESPN, owned by Disney (DIS) - Get Report. NBC Sports is seeing strong growth in soccer, hockey, and horse racing though.
The 2013-2014 season of the English Premier League soccer saw 31 million viewers, more than double the amount watched last year on ESPN, ESPN2 and Fox Soccer. NBC Sports has put key games on television and saw strong viewership from a tight title race that went down to the wire.
NBC Sportshas a 10-year television deal with the National Hockey League, which is paying off handsomely this season. The 2014 Stanley Cup Playoffs saw the key television markets of New York, Los Angeles and Chicago reach the semifinals. With New York and Los Angeles in the Stanley Cup Finals, viewership should continue to rise.
The seven game series between the Chicago Blackhawks and New York Rangers saw 4.1 million viewers, the highest game for NBC Sports. This ranked second for Sunday night, trailing only Game of Thrones, the hit HBO show.
Even though the last race isn't run at Churchill Downs, parent company of the same name has plenty at stake in the last leg of the Triple Crown. The company owns several racetracks that will throw huge watch parties and offer live betting on the Belmont Stakes.
Churchill Downs also owns Twin Spires, the country's leading online wagering platform. This platform will see a large handle in bets on Saturday, helping parent company Churchill Downs. On Kentucky Derby race day, Twin Spires saw volume hit $21.5 million, an increase of 6%. Twin Spires saw $11.3 million bet on the Kentucky Derby, an increase of 12%.
A strong take by Twin Spires will increase an already strong year for Churchill Downs. The Kentucky Derby, held annually at its namesake track, posted its second highest attendance with 164,906 fans. On track wagering for the Kentucky Derby was also up 4% for the race and 11% for the full day. The racetrack took in a total off $186.6 million in bets and returned 79% back to bettors for the Kentucky Derby.
The unique investment idea to watch for the Belmont Stakes is Skechers (SKX) - Get Report. In a rather odd move, Skechers announced it is sponsoring California Chrome. No, the horse isn't going to line up with sneakers on. His owner, trainer and jockey will, however, be outfitted in Skechers jackets, caps and apparel. California Chrome will also be seen with a Skechers blanket prior to the race. If the horse wins, expect him to be seen in future advertisements.
For Skechers, this represents a small move with possible big time results. If California Chrome wins, he will be covered in the media extensively for the weekend. This will get Skechers lots of airtime and marketing opportunities.
This sponsorship also shows how Skechers continues to sponsor major athletes in smaller sports, rather than shelling out the millions Nike (NKE) - Get Report, Adidas and Under Armour (UA) - Get Report do for sponsorships. Skechers made a splash at the Boston Marathon, where the winner of the race Meb Keflezighi wore Skechers shoes.
Skechers also signed golfer Matt Kuchar, ranked fifth in the world, to a new sponsorship deal to highlight the company's new GOgolf line of shoes. In the fall, the company will air commercials with former athletes Joe Namath and Pete Rose.
Skechers has been tearing it up in 2014, with reported sales up 25%. In April, the company saw a 50% gain in brand market share and had seen its market share increase.
All three of these stocks have sizable bets on the Belmont Stakes and more importantly, the potential for a Triple Crown. Horse racing is not a high followed sport, but the opportunity for California Chrome to do what was last done in 1978 will have viewers tuned into NBC Sports on Saturday. These three stocks will be in the spotlight Friday and Monday.
>>Read More:
10 Most Bikeable Cities in the U.S.
Watching the World Cup? Here's the Must-Have Gear for Soccer Fans
At the time of publication, the author held no positions in any of the stocks mentioned.
Follow Chris on Twitter @chriskatje
This article represents the opinion of a contributor and not necessarily that of TheStreet or its editorial staff.