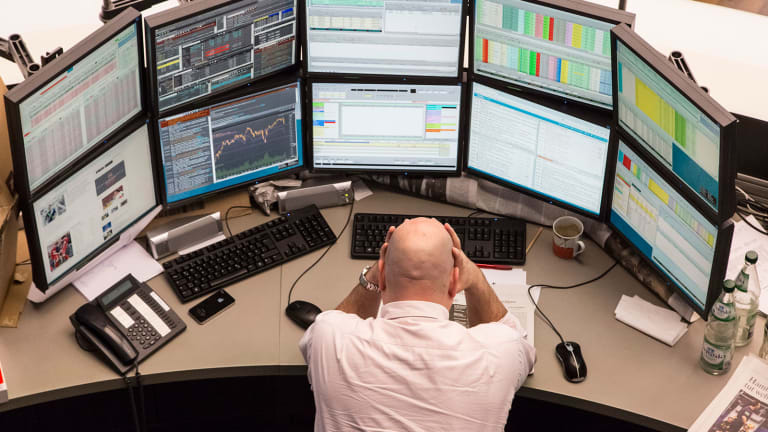 Investors Beware: This Rally Isn't a Rebound; 2 Stocks to Buy
While markets are rebounding sharply, a lot of questions remain unanswered.
NEW YORK (TheStreet) -- After the carnage of yesterday's session, investors are probably breathing a sigh of relief at all the green on their screens this morning. Major indexes and commodities are recovering from a brutal, China-driven selloff, but that doesn't mean the all-clear has been sounded -- many of the problems that have plagued markets of late remain, or at least remain uncertain. The fundamental story for U.S. stocks remains intact, but the short-term outlook promises a lot more dramatic swings.
Wall Street had its weakest day in years on Monday, so seeing a rebound isn't surprising; indeed, its almost expected in volatile times like this. While the buying pressure increased after the Chinese central bank announced new moves to stabilize its economy, investors shouldn't confuse a rally for a resolution. The People's Bank of China cut rates and allowed banks to lend more; these measures look more like a bandage than a cure.
Remember, this is the fifth time since November that rates in China have been cut, and there's little to indicate that the result this time will be markedly different. The main headwinds faced by China's economy involve slowing growth and waning demand, factors that won't be swayed by rates taking a quarter-step lower. Monday's session -- with took the S&P 500 into correction territory for the first time since 2011 -- may represent a temporary bottom, but it seems quite likely that there will be more downside volatility ahead. While this isn't a time to panic, things in China are not yet clear.
Things are also not clear in the United States, which is why investors should not try and time this market. If things were too confusing to trade yesterday, they're too confusing to trade today, regardless of market direction.
At the least, market participants should wait for guidance from the Federal Reserve, which is holding its annual meeting at Jackson Hole this week. Comments from Fed officials -- whether on China, global growth, or the timing of changes to U.S. interest rate policy -- could dictate market direction and tone over the coming weeks. There is also a read on second-quarter GDP that will be released on Thursday. Admittedly, this is a lagging indicator that won't factor in such issues as China's surprise yuan devaluation earlier this month, but it will provide some context for how the domestic economy is holding up despite the uncertainty abroad. 
While Wall Street will fluctuate all over the place in the short term, long-term investors should look at high-quality names to examine whether the market's recent weakness has created some strong discounts. Both
Apple
and
CVS Health Corp
have been dragged down by the market decline, but both remain great growth stories that should be a cornerstone to one's portfolio. Both of these will likely continue to see big swings in the sessions ahead, but today's prices should look very attractive in a few years time.
This article is commentary by an independent contributor. At the time of publication, the author held positions in the stocks mentioned.