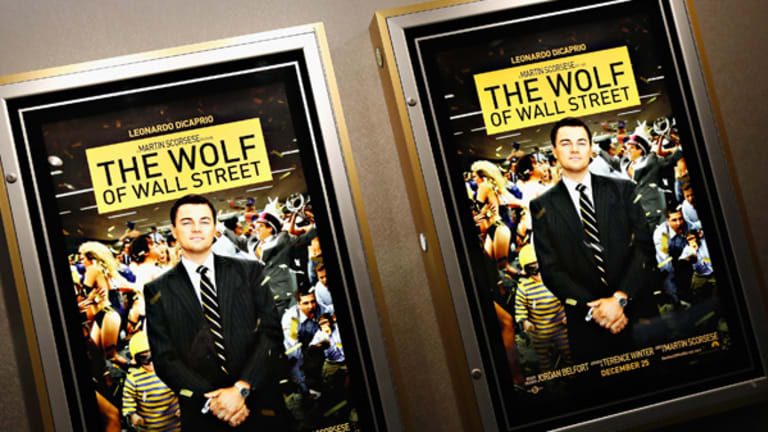 Investment Scams Endure as Human Nature Hasn't Changed
As long as people invest, there will be stories like 'The Wolf of Wall Street.'
NEW YORK (TheStreet) -- Here's some advice to anyone who is new to managing money or analyzing securities: Always hesitate to give investment advice to your friends and family.
Not only will they not value the advice, since it's free, they'll likely blame you if "something goes wrong," as happens at least half the time.  Many people will be more likely to give credence to a horse tip they hear at a bar than they will to your conclusions based on years of serious study.
This "tipster mentality" was the commodity that enabled the fraudulent "pump and dump" schemes executed by Stratton Oakmont during the 1980's and 1990's, as portrayed in the hit movie "The Wolf of Wall Street," by Martin Scorsese and starring Leonardo DiCaprio.  TheStreet early in its life was on the leading edge of reporting these events.
Do  you think Wall Street has really changed?
Years after Bernard Madoff's Ponzi scheme was uncovered, and years after the excesses of the real estate bubble handed us the Great Recession as well as the Dodd-Frank Wall Street Reform and Consumer Protection Act, there were ever more ponzi schemes. (To keep tabs on all of them, check out the Ponzitracker website.)
And if you think there was anything "innovative" in the efforts of former Stratton Oakmont partners Jordan Belfort and Daniel Porush to rip off gullible investors, think again.
In the glorious Reminiscences of a Stock Operator, by Edwin Lefevre, you can learn the dirty details of similar activity that occurred in the 1920s, and how gullible some investors were back then. Some things never change.
Many investors who have been very successful professionals refuse to apply any of the energy they brought to learning their professions to learning about how to make the right investment choices, depending on their goals.  To use an old cliche, some of these investors will focus more on choosing a home appliance, than they will on selecting an investment portfolio, or an investment advisor.
Getting back to the advice business, one thing you can say to a younger person is, "save your money and put it in the bank."  If you save a bit each week, your savings will probably grow faster than most investments you would pick.
RELATED STORIES:
How TheStreet Tracked the Wolf of Wall Street
This Insurance Stock has 'About 25% Upside'

Barclays' FINRA Fine Small Potatoes as Forex Investigation Looms
Many Banks Face Brutal Dec. 31 Volcker Deadline
American Express Settlement Is Small Bump in Road
Federal Reserve Gives Up Bailout Powers
Smaller Regional Banks are in a Sweet Spot
-- Written by Philip van Doorn in Jupiter, Fla.
>Contact by Email.
Philip W. van Doorn is a member of TheStreet's banking and finance team, commenting on industry and regulatory trends. He previously served as the senior analyst for TheStreet.com Ratings, responsible for assigning financial strength ratings to banks and savings and loan institutions. Mr. van Doorn previously served as a loan operations officer at Riverside National Bank in Fort Pierce, Fla., and as a credit analyst at the Federal Home Loan Bank of New York, where he monitored banks in New York, New Jersey and Puerto Rico. Mr. van Doorn has additional experience in the mutual fund and computer software industries. He holds a bachelor of science in business administration from Long Island University.