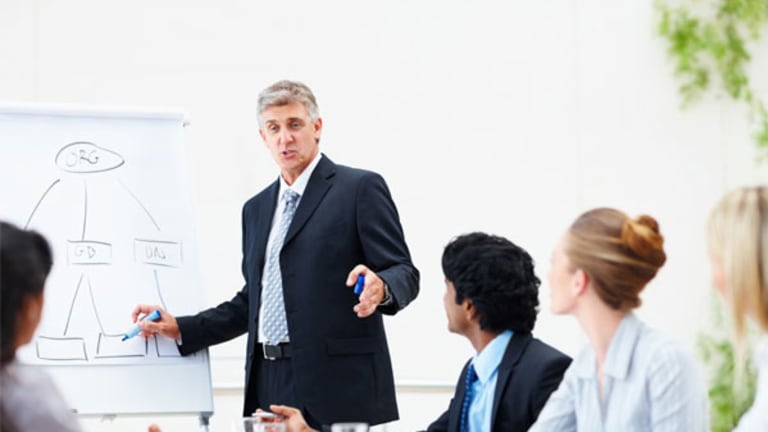 NEW YORK ( TheStreet) -- No one likes doing his taxes. That's why investing in companies that prepare tax returns for you might be a good way to profit off a disagreeable task.
Sales and earnings growth for tax preparers is expected beat the Standard & Poor's 500 Index in the coming years as more people file returns and tax rules become even more complicated.
H&R Block (HRB) - Get H&R Block, Inc. (HRB) Report is by far the biggest tax preparer. But there are less well-known companies to consider, including ADP (ADP) - Get Automatic Data Processing, Inc. Report , Equifax (EFX) - Get Equifax Inc. Report , Intuit (INTU) - Get Intuit Inc. (INTU) Report and Liberty Tax (TAX) .
H&R Block is virtually a proxy for the business. It's the market leader, helping to prepare about one out of every seven U.S. tax returns from its 12,000 offices.
Earnings are expected to rise by 18% in 2016 and by 27% in 2017 from an expected 7% this fiscal year, which ends in April. That would bring the company's price-to-earnings ratio down sharply from its current 19. The stock has a near unanimous buy rating among analysts.
Gil Luria, an analyst for Wedbush Securities, is one of them. What makes this year special for H&R Block, as well as other for tax preparers, is the improving economy and Obamacare, which he expects will affect a quarter of tax filers.
"It makes filing taxes more complicated and more people will go to H&R Block," he says. "They'll be able to charge more and book more of that money because they've been buying their franchisers." H&R Block has also been making progress in developing tax software.
If rising tides lift all boats, Liberty should do well, too -- on a much smaller scale. It serves the lower financial end of the tax-preparation market from two-third fewer outlets than what H&R Block has, and where H&R Block has offices, Liberty has kiosks in Wal-Mart (WMT) - Get Walmart Inc. Report . Still, it beats H&R Block's services on price, and its stock has buried H&R Block's and the S&P 500 for the past two years.
To be sure, Liberty picked up some baggage in December that may hold down its continued rise. That's when the company reported an earnings shortfall and the stock fell sharply.
Still, if Liberty has lost its pizzazz as a highflier, it's beginning to recover. Earnings growth rates during the next five years are expected to average a robust 18% annually and make for a tempting buy for patient investors with a high tolerance for risk.
Intuit is another story. With its TurboTax and Quicken software, Intuit is the leader in providing technical tax and personal-finance services. The company and its shares have doubled the S&P 500 since the economic recovery began.
Ironically, it was on the losing end of a software dust-up with H&R Block last month. A technical glitch in its TurboTax software line forced the company to offer customers a $25 refund, giving H&R Block's free online services a boost and Intuit's shares took an uncharacteristic tumble.
"It's a rocky tax year for Intuit," Luria said, though he thinks the software company's long-term prospects remain healthy. Earnings are expected to grow at an annual rate of 13% during the next five years, which is higher than any projections for the S&P 500, giving Intuit's shares time to regain their winning ways.
Equifax and ADP play different role in the tax process. Also, their involvement constitutes only one part of what they do and most of it is on the corporate level. Still, they are in the business of helping customers manage their tax liabilities and may benefit from the same climate as the other three companies. Their shares have also had upward trajectories like Intuit's.
This article is commentary by an independent contributor. At the time of publication, the author held no positions in the stocks mentioned.