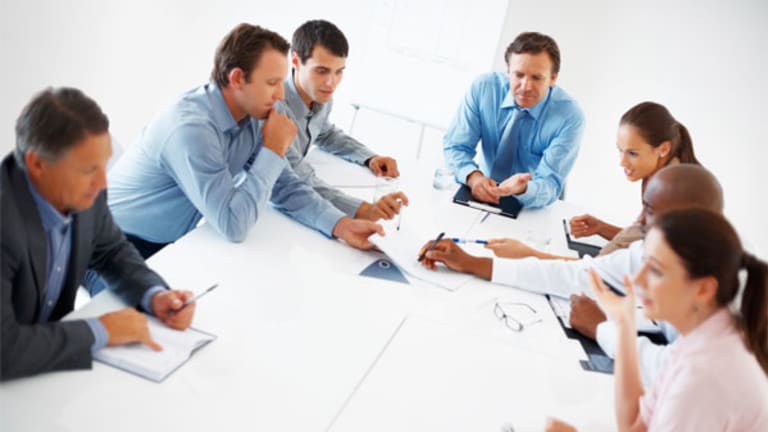 Invest Like Graham With This Infrastructure Stock
Want safety? Benjamin Graham's value methods are still valid today. Here's why, including a look at one stock that has a lot of upside.
Editor's note: This was originally published on RealMoney. It is being republished as a bonus for TheStreet.com readers.
These daily ranges in the market are enough to cause the most ADD-afflicted among us to blanch at the constant changes. The symbols flash across the screen in red and green like the most manic video game ever invented. At times it looks like a Christmas tree with those fast-blinking bulbs that my kids always want me to choose over my more staid selection of white lights.
It looks like it is going to take the stock market some time to find a level it is comfortable with, and until then, volatility is going to be the word of the day. Several of the smartest guys in the business have been hit hard by the current gyrations, with several knocked out of the game; my focus right now is on not joining that august list.
At times like this I try to focus on market history and the basics of investing. I find myself reading the old books and old stories to reinforce my thoughts and actions. Recently I have been reading the new Warren Buffett book, and the recollections and stories about Benjamin Graham sent me back to cluttered bookshelves to reread the thoughts of the Dean of Wall Street. Naturally I have several copies of
Security Analysis
lying around -- you can't own just one edition! -- and
The Intelligent Investor
.
This time, though, I reached all the way to the back and pulled out a copy of
The Undiscovered Benjamin Graham
by Janet Lowe. It is a great collection of Graham articles and interviews. In an article that seems particularly accurate today, a 1974 piece in
Institutional Investor
contains a comment from Graham from a time similar to where we find ourselves today. Upon attending an investment conference by DLJ, Graham described the money managers in attendance as prisoners of their operations. They were promising to make above-average returns regardless of market conditions on the large pools of capital they controlled, something Graham considered not practical to achieve. Seems like the hedge funds of today to me.
Another chapter contained comments Graham made to the
Medical Economist
in 1976. Graham told the interviewer that he had been testing a method for selecting cheap stocks that had a
margin of safety
as well as potential for gains. Apparently, Graham had a lot of time on his hands in retirement, as he had tested these methods over 20 years and found they doubled the market return. I did a quick and dirty backtest today and found similar results for the past 20 years.
The method was simple: He wanted an earnings yield twice that of the AAA bond but never more than 10 times earnings. As a financial test, the company should own twice what it owes. With AAA bond yields around 5.5%, this equates to a max P/E ratio of 9 times earnings. After adding the equity and debt constraints I found 205 stocks that fit the criteria.
I found some interesting stocks on the on the list that are worth the attention of long-term investors. I usually screen on asset-based criteria, so this was something of an eye-opener for me. I'll be adding this to my regular weekly screening runs.
One name that I found particularly appealing was
LB Foster
(FSTR) - Get Report
. The company is in a pretty good business. It provides products for infrastructure, primarily in railroads, highway and bridge construction and oil pipeline construction. These are all areas that should see significant spending in the years ahead -- I have already posited that
infra has the potential to be the next bubble sector
in the stock market over the next decade.
With this company you are getting in cheap with a nice margin of safety. LB Foster has 3 times as much cash as debt, to say nothing of assets. The stock trades at a P/E of 2, an EV-to-EBITDA ratio of 3.6 and just a hair above book value. Although revenues were down last quarter, profits beat Street expectations as margins and backlogs were up. If we do go to increased government infrastructure spending in a Keynesian fashion to spur the economy, LB Foster will be a huge beneficiary. The stock is heavily owned by Jeffrey Gendell at Tontine Partners and may have come under selling pressure amid the apparently false rumors of the fund's demise. There are no forms filed at the
SEC
to indicate he has been a seller of stock.
This market is still scary, and the underlying economic problems have not gone away. As always, even with those stocks too cheap not to own, I am buying slowly and leaving room to add on downdrafts in the stock market. From a long-term perspective, however, we are starting to see companies sell at valuations that should reward us handsomely over the next five years as long as the world does not end. I simply do not see that happening. We will recover and prosper in the future.
Benjamin Graham was not outdated in 1974, and he isn't today. Buying cheap stocks with a large margin of safety is still a good idea.
Please note that due to factors including low market capitalization and/or insufficient public float, we consider LB Foster to be a small-cap stock. You should be aware that such stocks are subject to more risk than stocks of larger companies, including greater volatility, lower liquidity and less publicly available information, and that postings such as this one can have an effect on their stock prices.
This was originally published on
RealMoney
on Oct. 15, 2008. For more information about subscribing to
RealMoney,
please click here.
At the time of publication, Melvin was long had no positions in the stocks mentioned, although positions may change at any time.
Tim Melvin is a writer from Stevensville, Maryland, who spent 20 years a stockbroker, the last 15 as a Vice President of Investments with a regional firm in the Mid Atlantic area. Under no circumstances does the information in this column represent a recommendation to buy or sell stocks. Melvin appreciates your feedback;
to send him an email.