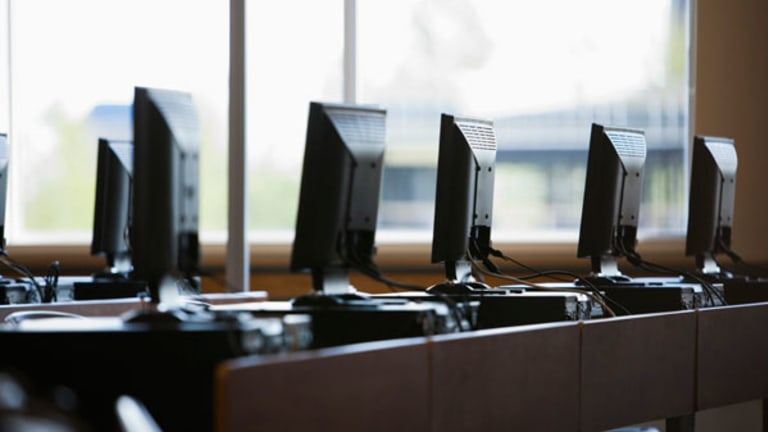 Intuit Says, Lettuce Help Run Your Small Business
Intuit is trying to make a big splash with its small acquisition.
Intuit is trying to make a big splash with its small acquisition.
NEW YORK (TheStreet) -- Small business software helper Intuit (INTU) - Get Report made a small acquisition last week. The move didn't cost a ton and won't pad the bottom line for Intuit anytime soon.
However, the deal did once again show that Intuit is dominating the small and medium-size business market by creating a full range of tools and an ever growing shift to the cloud that can't be ignored.
Shares of Intuit, at the Tuesday close of $75.69, are up 1.4% for the year to date and up 26% for the past 52 weeks after climbing 23% in 2013. The company continues to see high single digit revenue growth and has a five year plan that could increase revenue by double digits. Earnings per share should also continue to increase at high rates.
According to Pando Daily, Intuit is paying $30 million to acquire Lettuce, an inventory and order management company. Intuit and Lettuce already are connected through a partnership with Intuit's QuickBooks. The deal will now make Lettuce more of an upcharge for QuickBooks customers that should increase Intuit's recurring revenue.
Lettuce has been growing its business at a rate of 30% to 40% a month. The company charges its customers three tiered prices of $39, $89, or $179 per month. The two higher-priced tiers include synching with UPS (UPS) - Get Report, FedEx (FDX) - Get Report and Stamps.com. Lettuce is the number one online inventory and order management software company.
Intuit has made good use of money by acquiring complementing businesses to its small business portfolio. In December, Intuit acquired DocStoc, a company that caters to extremely small businesses. DocStoc works with solo-preneurs, self-employed professionals and independent contractors. Before the acquisition, the company had seen 50% annual revenue growth. DocStoc was profitable for several years and had over 40 million registered users.
Another strong acquisition was made in April of 2012 when Intuit paid $424 million for Demandforce. The acquisition gave Intuit one of the dominating names in email and social media marketing for small businesses. The company provides email, mobile, social tools and certified reviews for businesses.

Demandforce caters to businesses in the animal care, automotive, dental, medical, pro services and health and beauty industries. In the recent second quarter, Demandforce was cited as having strong growth. Demandforce saw revenue grow 32% in the second quarter.
Product offerings from Intuit that are shifting to the cloud will also help the company in its competition against Automatic Data Processing (ADP) - Get Report. Intuit started with accounting and tax software but now offers payroll, human resources, marketing, invoicing and many other services that set it apart from the competition. The company has already dominated H&R Block (HRB) - Get Report in consumer and professional tax software.
In March, Intuit shared a presentation that offered a glimpse at the company in five years. The company plans on moving from five million to 10 million customers in five years. The company has a small overall share of the total small business customer base.
The five million customers served comes from a market of 29 million businesses, leaving ample room for growth. Moving to international expansion, Intuit believes it has only a 1% share of the more than 600 million global small businesses.
In 2014, Intuit expects revenue to grow 6% to 8%. Earnings per share are projected to climb 10% to 13% by the company. The company wants to grow organic revenue at a double-digit pace. Analysts are expecting revenue to grow 7.7% in fiscal 2014.
The recent second quarter actually saw revenue decline 12% as several items were shifted to the third quarter -- which will make that earnings report extra important to shares of Intuit.
At the time of publication, the author held no positions in any of the stocks mentioned.
Follow Chris on Twitter @chriskatje
This article represents the opinion of a contributor and not necessarily that of TheStreet or its editorial staff.
>>Read more: Yahoo! Is Out of Reasons for Not Paying a Dividend