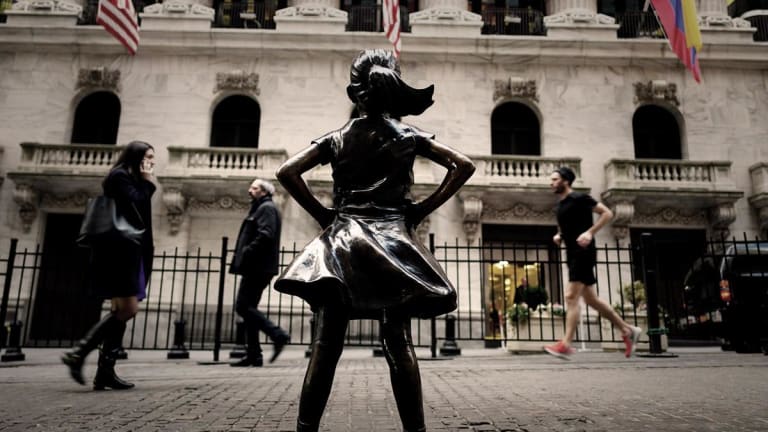 International Women's Day: 'Doing a Good Job, Not My Gender, Matters Most'
TheStreet's Helene Meisler says hard work -- and some luck -- were the keys to her success on Wall Street.
I like to listen to How I Built This, a podcast where host Guy Raz mostly interviews company founders about how they got where they are. He always asks how much folks think their success was due to luck, and almost all agree there was an awful lot of that involved -- something I'm thinking about today as we mark International Women's Day.
I was lucky enough to come to work on Wall Street in 1982. Wall Street was pretty much "dead money" in the decade prior, but stocks took off in August 1982 and never looked back.
I was in the right place at the right time, although I didn't go directly to Wall Street out of college. My college degree was actually in business and management/marketing, which is essentially the liberal-arts degree of business.
My first job was with a marketing research firm that did mall surveys like taste tests. Think "Coke vs. Pepsi."
I did the statistical analysis from those interviews and surveys, but after a while, it was all so similar. I mean, how many taste tests can you do?
A headhunter I knew told me I should go to Wall Street, because they were hiring and were happy to train you. I interviewed with several firms and landed a job at Cowen & Co. as an institutional-sales assistant. I was basically a slave to the partner in charge of the institutional-sales department, but I learned a lot.
Hand-Drawing Charts Until 8:30 p.m. Each Night
About two years into my time there, we hired a technical analyst named Justin Mamis, who was different from any other Wall Streeter that I knew. After seeing Justin's charts, I decided that I wanted to work with him and learn technical analysis.
Justin taught me to hand-draw stock charts, which I still do. The first night, I was drawing lines on charts until 8:30 p.m. and thought: "This is ridiculous."
But remember, this was the mid-1980s, so there were no chart machines on every desk. Heck, few of us even had PCs.
I was convinced there was a way for us to plug the data into a PC and have it spit out charts, but Justin wasn't. He told me that there's a certain feeling you get not only from putting pencil to paper, but also from just sharpening your pencil.
So, I was clearly going to be stuck doing this every night if I wanted to learn -- and learn I did learn. And it's amazing how right Justin was. There is a certain feeling you get from putting pencil to paper.
Being a Woman in a (Gold)man's World
Well, I received a call in the late 1980s from Goldman Sachs (GS) - Get Goldman Sachs Group, Inc. Report asking if I wanted to meet with the firm about becoming a technical analyst. They'd never had one before.
Two days before the interview, they asked me to send over a chart of General Motors (GM) - Get General Motors Company Report and "do whatever it is that you do." I drew in a few lines and said if GM crosses $42.50, it's going to $46-$47.
Now, I knew Jim Cramer when he worked at Goldman in those days, as GS was a Cowen customer. So, I called him to ask if he had any tips about interviewing there.
Jim liked my work, and being his usual enthusiastic self, he was very encouraging. However, he said I shouldn't be surprised if it took me 17 interviews until I met a partner, since after all, I wore a skirt.
Please understand that this was Wall Street in the 1980s and Jim wasn't being sexist at all. Rather, he was being honest and helping to manage my expectations.
Can you imagine my surprise when the Goldman admin who had called me told me the first person I was going to meet was Bob Mnuchin, the partner in charge of all trading? I walked into his office and before I could sit down, he told me he was long 100,000 shares of GM because at Goldman, you had to put your money where your mouth was.
I think I broke into a sweat, but fortunately, GM closed up $2.75 that day and I knew I had the job. Stocks traded in eighths and quarters back then, so for GM to be up an entire buck was a big deal.
I can't even remember why GM rallied so much that day, but it did -- and I got the job. That's luck for you.
Unsurprisingly, there were very few professional women on the Goldman trading floor in those days -- but I never felt excluded or set off to one side. In fact, I always felt I was treated with respect. It was all good as long as I helped make money for the firm, and I learned a lot about trading while working at Goldman.
From Minneapolis to Singapore
Still, this born-and-raised New Yorker picked up and moved to Minneapolis. Then I was offered a chance in the early 1990s to manage equity money at Cargill's financial-markets division.
I was one of just a few women on the trading floor there, too. And while I learned a lot about managing money, the environment was a far cry from the world I had known. Instead, it was very exclusionary. I was one of the few women there, everyone else was a Midwesterners and I was very different having come from the East Coast.
Related: Read Helene Meisler's latest on technical analysis and learn how to understand her valuable charts.
Still, the best thing about moving to Minneapolis was that I met my future husband there. He was transferred in the mid-1990s to Singapore, so I quit my job and we moved to the other side of the world.
We were supposed to be there for only two years, so I decided that I would just trade for myself as my full-time job. While the Internet was still just dial-up at that point, I could get computerized charts by then, so I decided to give up making stock charts by hand.
But it took just one month for me to realize Justin was right. I needed to create handmade charts daily to really see what the market was doing.
Writing for Jim Cramer and TheStreet
About a year or so into my time in Singapore, I got back in touch with Jim Cramer, who was just starting TheStreet. He asked me to write a weekly column, and that sounded like a great plan. Those of you who've followed my work on TheStreet and our premium site Real Money in the more than two decades since then know that my weekly column has since turned to a daily one.
Ultimately, Doing a Good Job Matters More Than Your Gender
My husband and I ended up living in Singapore for five years and moved to Shanghai for four years after that, returning to the United States in the mid-2000s. That means that I've worked at home by myself for more than 20 years.
That's a big change from being on a trading desk. But the one thing I can say after nearly 40 years in the financial world is that doing a good job is what seems to matter the most -- not my gender. I can only hope other women have that same experience.
Employees of TheStreet are restricted from trading individual securities.