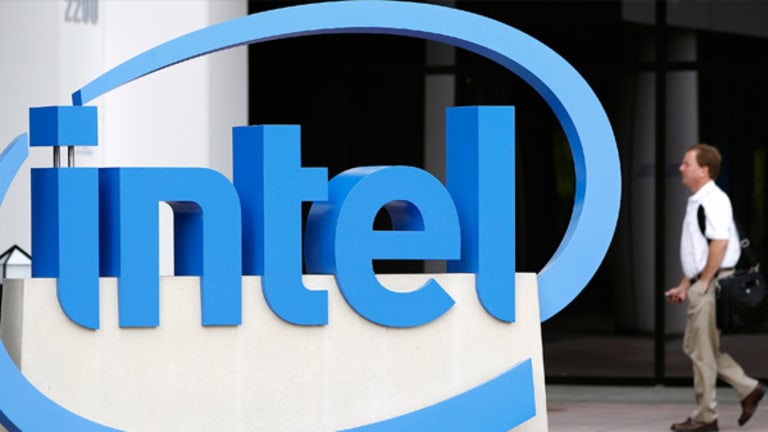 Intel's Push To Be the 'Internet of Things'
Finally, Intel gets a chip on its shoulder.
NEW YORK (TheStreet) -- Like so many that has come before it, the Internet of Things has become the new buzzword among tech companies.
The term, coined more than a decade ago by British tech pioneer Kevin Ashson, refers to objects and devices that are virtually represented in the Internet. If this sounds complicated, don't worry. Semiconductor giant Intel (INTC) - Get Intel Corporation (INTC) Report plans to demystify everything about this concept. But very few people seem to believe that Intel and not Qualcomm (QCOM) - Get QUALCOMM Incorporated Report can emerge as the leader in this new category.
Intel has started to make significant capital investments in this pursuit, including its acquisition of Basis Science, a company that specializes in wearable device technologies for health and wellness applications. I see this as an immediate entry in the next growth area of tech. And after Intel's management underestimated the extent to which mobile devices would overtake PCs, the company seems eager to skate where it believes the puck will land next.
To that end, management says that it will leverage resources to deliver new products that offer greater utility and value to its customers. Given Intel's roughly $20 billion in cash on the balance sheet, the company has enough firepower to drive innovation. But it doesn't end there. Management recently announced a change in its financial reporting structure to better reflect the company's advancements in both the Internet of Things and improvements to its mobile processors.
According to the recent press release,  the new structure will comprise of the following:
PC Client Group, which will track revenue from desktop and laptop chips as well as gateway and set-top boxes.
Data Center Group, which will include communications infrastructure too along with the usual server processor business.
Internet of Things Group, which will include embedded processors as well as Wind River Software.
Mobile and Communications Group, which will include Intel's phone and tablet efforts as it tries to chase down the ARM ecosystem.
Software and services, which will largely feature McAfee.
Other, which will include new devices, netbooks and corporate ventures.
The company isn't doing this just for window-dressing. When Intel reported first-quarter earnings results, the Internet-of-Things segment has already shown strong profitability. Revenue for the new segment jumped 32% year over year to nearly half billion. And this is while posting more than 80% surge in operating income.

Another area that cited for strong growth is the the wearable gadgets market, which is predicted to grow to $8 billion in the next four years. The market ended 2013 at $1.4 billion. Wearables are now at the center of the push to the Internet of Things. But Intel doesn't plant to get blindsided by focusing on just one particularly area like watches.
Management has discussed objects like door locks and thermostats, which can be uniquely identified and controlled via the Internet. Not to mention, the new wave of medical devices, which brings considerable safety tracking features. But how much can Intel command these markets? This goes back to my question above.
Given Qualcomm's dominance in mobile, we can't expect Qualcomm or even Broadcomundefined to just roll over and allow Intel to enter this market uncontested. It remains to be seen to what extent competition pushes Intel further. But with the segment already posting strong growth figures, Intel is quickly emerging as a leader. 
The company continues to be doubted for its PC-dependency, it's nonetheless encouraging that management has bigger ambitions than just tablets and smartphones. Intel's new leadership and the company's renewed focus presents the sort of edge that Intel has missed for a while. Finally, Intel has a chip on its shoulder.
>>READ MORE: Why SAP's Executive Shuffle Is Another Good Sign
>>READ MORE:5 Stocks Set to Soar on Bullish Earnings
>>READ MORE:Tim Cook's Biggest Failure at Apple
>>READ MORE: Who's Minding the Kitchen at Kraft?
At the time of publication, the author did not hold a position in any of the stocks mentioned.
This article represents the opinion of a contributor and not necessarily that of TheStreet or its editorial staff.