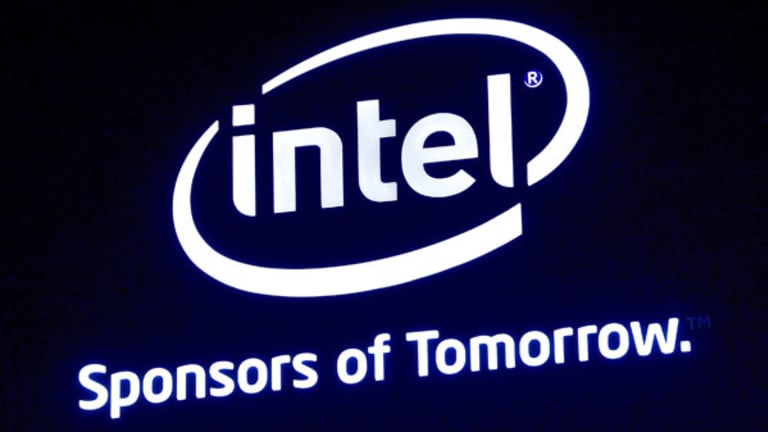 Intel's Dividend May Grow as Tablet Processor Sales Quadruple
Intel's shareholders are excited that Intel will ship four times more tablet microprocessors than last year because it may mean a higher dividend is coming.
NEW YORK (TheStreet) -- Intel (INTC) is not only one of the most widely followed tech companies but also a popular holding of investors who want sustainably generous dividend income. Many wonder if its current 3.7% dividend yield is sustainable, and I see many reasons why it is -- starting with the CEO's recent announcement it plans to quadruple shipments of tablet processors this year.
The maker of microprocessors and integrated digital technology platforms has raised the dividend every year from 2004 to 2012. Last year was the first time in 10 years it didn't increase it. My sources tell me that Intel wants to increase the dividend later this year. It has plenty of cash to do just that.
After the company reported its last quarterly earnings in January, my colleague Marc Lichtenfeld, the associate investment director for The Oxford Club and an analyst of dividend-paying companies reminded readers that in 2013 Intel generated $20.9 billion in cash flow from operations.
Intel paid $4.5 billion in dividends last year. That means it only paid 43% of free cash flow in the form of dividends, giving the company sufficient cash to pay the dividend. He pointed out if Intel's profits continue to improve, a dividend raise sometime over the next 12 months is quite likely.
Intel stock is down 5% for the year to date as of the Thursday close of $24.63. So investors were understandably happy when CEO Brian Krzanich told Fox Business Tuesday that as part of Intel's strategy to expand its presence in the mobile device market the company expects to ship 40 million tablet processors in 2014 compared to about 10 million in 2013.
He also reiterated Intel's progress in the promising wearable technology space that other companies like Google (GOOG) are helping to popularize.
In addition, the company is beefing up things in the important area of security.

At the Mobile World Congress in Barcelona, Spain on Feb. 24 McAfee, a wholly owned subsidiary of Intel, announced a full-featured version of its award-winning McAfee Mobile Security is now available at no cost in 30 languages, as part of an Intel initiative to make security a more integrated part of the consumer experience. McAfee also recently launched McAfee Mobile Security for Apple's (AAPL) iOS operating system, which is also available free of charge.
The free versions are an introduction to the other, more robust versions of McAffee's Mobile Security, which come with an affordable pricing structure.
The mobile device security that Intel gives away will lead to many millions of dollars of sales of the not-for-free, more sophisticated versions, which will add to the company's bottom line during the remaining quarters in 2014.
So will those wearable products that were previewed last month, including an earpiece and smartwatch, that will run on Intel's the next generation of its Quark chips. "We have a strong line," Krzanich said Wednesday, hinting at a "series of announcements" forthcoming. "You can expect a lot more wearable products this year."

This all adds up to the likelihood of increasing revenue, sales profits and bottom-line EPS growth for the innovative tech titan. That should help increase Intel's free cash flow. I'm expecting that much-awaited dividend increase will be announced sooner rather than later.
At the time of publication the author had positions in INTC, AAPL and GOOG.
This article represents the opinion of a contributor and not necessarily that of TheStreet or its editorial staff.
Marc Courtenay is the founder and owner of Advanced Investor Technologies, LLC, as well as the publisher and editor of www.ChecktheMarkets.com.