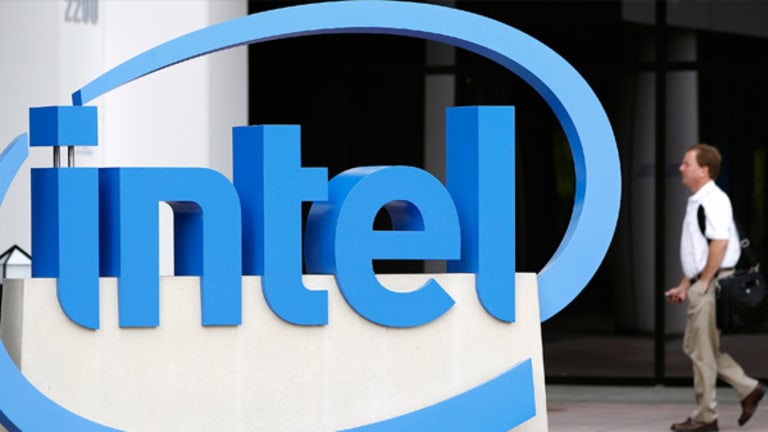 Intel's Ambitions Are Absolutely Absurd
Arrogance makes Intel think it has a chance to do anything but fail or produce minuscule impacts in the living room.
NEW YORK (TheStreet) -- There's an arrogance at Intel (INTC) - Get Intel Corporation (INTC) Report that will kill the company. Ignore this rally out of the teens. Things will not end well for Intel.
Earlier Wednesday, in
Why Won't Intel Just Tell the World It Doesn't Suck?
, I took the bigger picture view.
Here's a company that cloaks itself in secrecy, allowing the media to run with leaks.
First, Intel was all set to unveil its cable television-disrupting set-top box at next week's Consumer Electronics Show (CES) in Las Vegas. Then, before we could properly scoff at this old rumor becoming a living, breathing idea, we hear that Intel has hit a snag. It seems the old-guard media content providers aren't cooperating.
Shocker!
.
The way Intel handles itself from a public/investor/media relations standpoint stinks. I get into why in the above-linked article. It's not about whether they
give
me a scoop or even salient information. It's about the larger, more important issue of how investors consume information about companies, particularly underperforming ones like Intel.
During times of uncertainty and transition, Intel should be opening the lines of communication with investors and the media, not closing them. When a hack like me says that
Intel needs to hire a CEO who doesn't know anything about silicon
, don't get all defensive. Go public and say that's just what we did with Intel Media, and we're thinking along similar, though maybe not the exact same lines for the larger company.
But this is not surprising. The way Intel handles itself is borne out of an arrogance hardly trademarked by Intel. It's the fortress,
you'll get what we give you, pesky little shareholder, when we want to give it to you and you'll like it
mentality that too many companies, big and small, exhibit.
Apple
(AAPL) - Get Apple Inc. (AAPL) Report
, under Steve Jobs, stands as one of the few that has license to treat stockholders with such disregard.
It's this same arrogance, however, that makes Intel think it has a chance to do anything but fail or produce minuscule impacts in the living room.
Reed Hastings at
Netflix
(NFLX) - Get Netflix, Inc. (NFLX) Report
must be laughing his Qwikster off at Intel. And when Hastings laughs at you, you know things are really bad. I'm sure that a considerably more credible media leader -- Jeff Bewkes at
Time Warner
(TWX)
-- is laughing even harder.
While I appreciate that Intel realizes it has to completely transform itself -- and hire service- and content-oriented, hip and edgy media people -- I can't get over the fact it not only thinks it can succeed in the living room, but it can beat Apple, let alone frontrunners such as
Microsoft
(MSFT) - Get Microsoft Corporation (MSFT) Report
.
For Intel to achieve anything even resembling significance in television it will need to buy at least one cable or satellite operator
and
more than one major content company. Maybe it will, but even that generates no guarantees.
Intel says it's prepared to outspend everybody in the living room. Big deal. Here again we witness another case of arrogant beings shortchanging the power of the media's old guard.
Assuming the leaks are correct, Intel wants to take the cable model and completely transform it. It wants to give consumers that one thing we have always wanted, the ability to buy cable channels a la carte alongside truly on-demand television.
I'm not opposed to the idea; it's just that it's never going to happen unless the old guard says so. When they do, where's the incentive to cooperate with Intel?
There are other reports Intel is partnering with Apple on some sort of watch or wearable computer. That makes sense. I don't know if the product will take off or not, but if Intel is smart it will do whatever it can to ride Apple's coattails in other areas as well.
Apple has more leverage with content providers and cable operators, just like it does with wireless carriers. That doesn't mean they'll do what Apple wants -- we know this much -- it just means Apple operates from an obvious position of strength, alongside its well-earned arrogance.
--Written by Rocco Pendola in Santa Monica, Calif.
Rocco Pendola is
TheStreet's
Director of Social Media. Pendola's daily contributions to
TheStreet
frequently appear on
CNBC
and at various top online properties, such as
Forbes
.