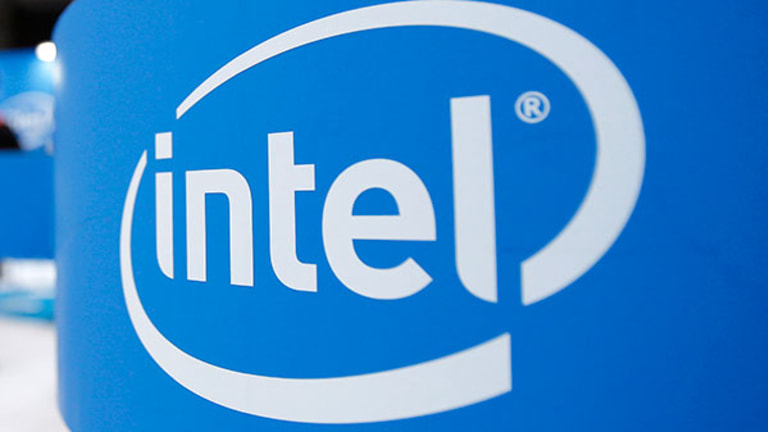 Intel, Wal-Mart, DuPont: Buy the Dow's Three Worst Performers
There's tons on value in all three stocks for relatively minimal risk.
NEW YORK (TheStreet) -- Investors planning for a second-half recovery should look to three of the worst first-half performers on the Dow -- Intel (INTC) - Get Intel Corporation Report, Wal-Mart (WMT) - Get Walmart Inc. Report and E. I. du Pont (DD) - Get DuPont de Nemours Inc. Report. 

Take a look at the chart.
INTC Year to Date Price Returns
data by
Not only are all three companies trading at or near their 52-week lows, their respective stock valuations (price to earnings) are cheap compared to their industry peers and when paired with the S&P 500 (SPX) index, which is valued at a P/E of 21.
When combined, their respective analyst 12-month price targets suggest gains of more than 16%. Also, all three companies pay annual dividend yields that are higher than the market standard rate of 2%. If that's not value, I don't know what is.
Let's take a look at the merits of each one, staring with Intel.
With shares at $30.56, down almost 16% in 2015, Intel has seen better days. The struggles of the world's largest semiconductor company can be tied to its dependency on slumping personal computer sales. But at just 13 times earnings, it's tough to ignore how cheap INTC has become, especially when Intel is becoming less dependent on PCs.
Revenue from its PC-related business still accounts for 50% of its annual sales. But that's down 30 percentage points from where the company was only three years ago. Intel, which just picked off chip rivalAltera (ALTR) - Get Altair Engineering Inc. Report, has made the Internet-of-Things (IoT) its primary focus. Altera's strong IoT capabilities augments Intel's deal last year for Basis Science, a company that specializes in wearable devices for health and wellness applications.
So while gloomy prospect of PCs may be a reason to shy away, Intel is clearing pathways for better days in the future. This explains why the stock still has a consensus buy rating and an average analyst 12-month price target of $36, suggesting 17% gains from current levels of around $30. Combined with its 24-cent quarterly dividend, yielding 3.13% annually, that's excellent value.

Like Intel, the first half of 2015 has been a struggle for Wal-Mart, the world's largest retailer. Growth has been hard to come but the company is trying new things, including its subscription shipping service due out later this summer. Wal-Mart will offer unlimited shipping for $50 per year, undercutting the $99 per-year rate offered by Amazon.com (AMZN) - Get Amazon.com Inc. Report.
This is not expected to be a huge growth driver for Wal-Mart. But investors would be better served taking a longer-term view of where the Arkansas company is heading. Wal-Mart, the price leader, has become not only more innovative but also more generous, as evidenced by its decision in April to raise its starter level worker pay to at least $9 an hour. The company plans to raise wages to at least $10 per hour by February 2016.
Will this cost money? Sure. But paying workers better has been a boon for Costco (COST) - Get Costco Wholesale Corporation Report. To the extent Wal-Mart can attract better talent and change its image, WMT, which trades at just 14 times earnings, is poised to rebound in the second half of the year and beyond. The stock's average analyst 12-month target suggests 12% gains and Wal-Mart pays a 49-cent quarterly dividend that yields 2.7%. In other words, it's worth the risk. The stock, which closed at $71.85 Thursday, is down 16.3% for the year.
Finally, we have agriculture conglomerate DuPont, which pays the highest annual dividend yield among the three companies at 3.26%. DuPont has the dubious honor of being the Dow's worst first-half performer, at $60 down almost 19% year to date. Why is the stock down? Because for fiscal 2015, earnings are projected to decline 2.5% year over year.
But this is what makes DD even more attractive. While 2015 has and will be a struggle, in 2016 the company is projected to grow earnings 11% above 2015 levels. So, with shares priced at just 17 times earnings, this makes DuPont's shares one of the better bargains on the market, especially when projecting out to fiscal 2016 estimates of $4.35, which drops its P/E of 13.
In short, aside from being one of the best dividend payers, DuPont shares are projected to climb almost 22% in the next 12 months, according to the average analyst 12-month target of $73. There's tons on value here for relatively minimal risk.
Of the three companies, DuPont, which pays a 24-cent quarterly dividend, yielding 3% annually, looks the most attractive. As for Intel, with shares down more than 13% on the year and trading at just 13 times earnings against a 21 P/E for the S&P 500, it's tough to ignore how cheap the stock has become. 
This article is commentary by an independent contributor. At the time of publication, the author held no shares in any of the stocks mentioned.