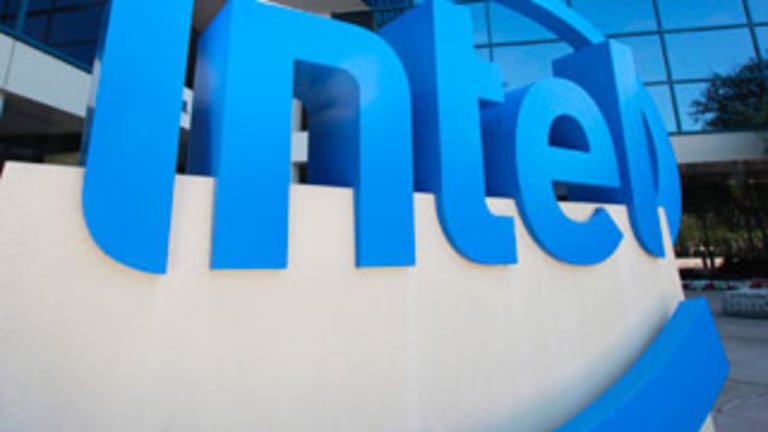 Intel: The Best Seat Is on the Sidelines
The path forward for Intel, and its share price, looks set to get rockier.
NEW YORK (
) --
Intel Corporation
(INTC) - Get Free Report
has been in the news recently as rumors again circulate that the company will successfully win
Apple's
(AAPL) - Get Free Report
proprietary chip production business away from rival
Samsung Electronics
.
Though the initial reaction by investors to these rumors was positive, the stock has since traded off modestly. Share prices are not simply impacted by one possible business relationship; the story is more complex. And given the current challenges facing Intel, my view is the path forward for the company -- and its share price -- gets rockier from here.
All things considered, Intel's management team has done a commendable job executing in its core personal computer chip business. The "good/better/best" positioning strategy of its i-series processors has been a primary contributor to Intel's ability to expand the average selling prices of its products despite a slowing PC industry. The company has also benefited from a core market that has had very limited competition due to the trials at its one-time nemesis
Advanced Micro Devices
(AMD) - Get Free Report
.
Also see: Tax Audit Horror Stories: What To Do When The Unthinkable Strikes
The problem is that Intel's ability to continue to defy gravity is nearing its end. Four months into the launch of
Microsoft's
(MSFT) - Get Free Report
latest personal computer operating system it is safe to conclude that the tepid adoption rate of Windows 8 -- which by some accounts has been even slower than it was for the much-maligned Windows Vista -- will not catalyze a meaningful upgrade cycle for personal computing hardware.
As a result, as consumers continue to spend a growing share of their technology dollars on smartphones and tablets, the PC market is poised for a decline in sales this year.
With Intel's core business set to experience intensifying pressure, it is up to its server business and nascent processor business for mobile devices to take the baton from here. That seems unlikely. While relative strength in the server market might continue in the near term, mobile devices present a conundrum for the venerable chipmaker.
For Intel to regain some positive investor sentiment, the company needs to gain traction in the market for mobile systems on a chip. With the mobile device market currently dominated by devices made by Apple and Samsung, rival chip designs control the market. Apple's proprietary A-series chips,
Qualcomm's
(QCOM) - Get Free Report
Snapdragon chips and even Samsung's own Exynos chips are based on microprocessor architecture developed by competitor
ARM Holdings
(ARMH)
. That leaves Intel with a very steep challenge to gain market share.
See Jim Cramer's multi-million dollar portfolio at TheStreet.com for FREE. This weekend only.
Intel's best shot at reshaping the mobile device processor market rests on its ability to disrupt the status quo by leveraging its expertise in processing-power design and creating energy-efficient packages that leapfrog competitive offerings. This is far from a trivial engineering endeavor.
Therein lies the dilemma: Even if successful, developing more capable mobile platforms will only serve to exacerbate the cannibalization of the PC market by the very devices these new Intel chips will power.
While it is often better for a company to cannibalize its own sales rather than to allow a competitor to take sales, cannibalizing one's core business with lower-priced (and potentially lower margin) products is particularly painful.
Complicating matters further, Intel will need an unrivaled degree of success in this business to begin to move the needle on the revenue dial for a company with over $50 billion of annual sales. Design wins with second-tier device makers simply will not cut it.
While the current 4.2% dividend yield on Intel's stock is attractive on the surface, given the company's prodigious spending on capex to fund its foundry expansion and the resultant diminution in its free cash flow and net cash balances, it doesn't take too much imagination to conjure up scenarios in which Intel's ability to sustain that payout rate might get called in to question in the future.
Also see: 7 Things You Should Be Doing to Live to 100
In my view, these developments skew the risk for investors to the downside rather than to the upside. All said, I'm content to watch this one from the sidelines.
--Written by Craig Gentry, chief investment strategist at
.
The author has no personal ownership or investment banking relationships.
Craig Gentry is Executive Vice President and Chief Investment Strategist at Destination Wealth Management.