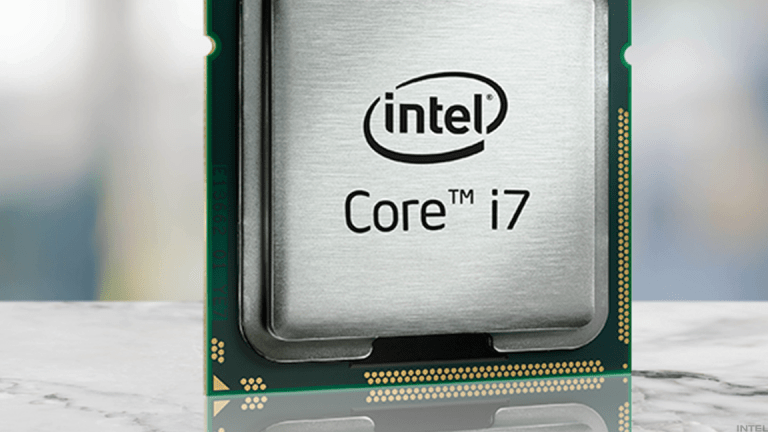 Intel's Latest Desktop Chips Appear Competitive with AMD's -- For Now
The chip giant's newest products deliver moderate performance gains relative to their predecessors. However, AMD might soon launch chips that deliver much larger gains.
As their company's manufacturing woes continue, Intel's (INTC) - Get Intel Corporation (INTC) Report engineers are doing their best to keep a resurgent AMD (AMD) - Get Advanced Micro Devices, Inc. Report at bay.
The new desktop and workstation CPUs unveiled by the chip giant on Monday represent another commendable effort to squeeze more performance gains from a 14-nanometer (14nm) manufacturing process node that debuted all the way back in 2014. However, a look at the specs and pricing for the chips suggests these efforts have reached a point of diminishing returns, just as AMD is getting set to launch its first CPUs to rely on a more advanced process.
Intel's new CPUs fall into one of three categories:
Three "K" series high-end desktop chips -- the Core i9-9900K, i7-9700K and i5-9600K -- that are declared to be Intel's first 9th-generation Core PC CPUs. Like the 8th-gen chips they succeed, the products are based on Intel's Coffee Lake architecture, which began rolling out last fall. And like all other "K" series parts, the chips are overclockable. Prices range from $262 to $488.
Seven workstation and high-end desktop chips that will succeed products unveiled in the spring of 2017. Like their predecessors, the chips are based on Intel's Skylake architecture, which debuted in 2015. Prices for the refreshed "Skylake-X" family range from $589 to $1979.
The Xeon W-3175X, a 28-core, 56-thread monster of a chip that's said to target "extreme" workstations.
The New 'K' Series Chips
The most powerful of the 9th-gen desktop chips, the 9900K, has been anticipated for a while by gamers and enthusiasts. It contains 8 CPU cores, supports 16 simultaneous threads and packs 16MB of L3 cache memory (2MB per core). For comparison, the 8th-gen chip it succeeds, the Core i7-8086K, is a 6-core, 12-thread part with 12MB of L3 cache.
However, there are a couple of qualifiers. The 9900K features a launch price of $488, or $63 more than what the 8086K cost when it launched in June. And while both chips carry 5GHz turbo clock speeds, the 9900K's base clock speed is lower (3.6GHz vs. 4GHz).
Likewise, the 9700K has 8 CPU cores to the 6 claimed by its predecessor, the Core i7-8700K, and has a slightly higher turbo clock speed. However, it supports four fewer threads, has a slightly lower base clock speed and costs $15 more. And since total L3 cache size is unchanged at 12MB in spite of the higher CPU core count, there's less cache per core.
Overall, Intel's 9th-gen K series CPUs should deliver meaningful price/performance gains relative to their 8th-gen counterparts. However, compared with the big gains that 8th-gen chips often delivered relative to comparable 7th-gen products, the improvements are likely to be more subdued this time, at least after taking price changes into account.
The New 'Skylake-X' Chips
Along the same lines, the 7 new Skylake workstation and high-end desktop chips should deliver moderately better price/performance than last year's offerings. Intel upped the base and turbo clock speeds for the 5 most powerful chips in the lineup to varying degrees, while keeping core and thread counts unchanged. Cache sizes are larger for the 4 least powerful chips.
The two least powerful chips, the Core i7-9800X and i9-9820X, also feature two more CPU cores and support four more threads than their predecessors. However, they also respectively cost $200 and $290 more than them. And while the 9800X has higher clock speeds than its predecessor, the opposite holds for the 7820X.
Intel vs. AMD
How do Intel's latest chips stack up relative to AMD's Ryzen (desktop) and Ryzen Threadripper (workstation/enthusiast) CPUs? That's a complicated question, but on the whole, it looks as if Intel's lineup is fairly competitive in some segments -- particularly ones involving lower price points -- and less so in others.
The 9900K should have no trouble outperforming AMD's most powerful non-Threadripper desktop CPU, the Ryzen 7 2700X, and is likely to be popular with high-end gamers. However, it also costs more than $150 more, even before accounting for the fact that the 2700X comes with a cooler and the 9900K doesn't.
The 9700K only costs about $45 more than the 2700X (not counting the cooler), and should outperform it when running workloads that don't support a large number of threads and/or can make good use of the 9700K's superior turbo clock speeds. However, the fact that the 2700X supports twice as many threads (16 vs. 8) is likely to make a difference with some multithreaded workloads.
And the story should be similar for the 9600K relative to AMD's Ryzen 5 2600X -- the 9600K costs about $35 more, has the same core count and delivers higher turbo clock speeds, but supports half as many threads.
Meanwhile, AMD's Threadripper lineup still appears to have a healthy price/performance edge relative to Skylake-X in many price segments, even after factoring the performance edge Intel retains on an instructions-per-cycle (IPC) basis.
For example, while Intel's $589 Core i7-9800X has higher clock speeds than AMD's Threadripper 1920X CPU, the 1920X packs 4 more cores and supports 8 more threads, while costing about $90 less. Intel's $989 Core i9-9900X costs $90 more than AMD's recently-launched Threadripper 2950X, while packing 6 fewer cores and supporting 12 fewer threads; clock speeds are fairly similar.
The 9900X also has slightly lower core/thread counts than the 1920X, which costs about half as much, and AMD's 2920X, which costs $340 less. The 9900X might still outperform these chips thanks to clock speed and IPC advantages, but one has to think that a cost-conscious buyer will weigh his or her options.
The differences are even more pronounced at higher price points. Intel's costliest new Skylake-X part, the Core i9-9980XE, costs $1,979, has 18 cores and supports 36 threads. It will compete against AMD's Threadripper 2990WX, which (although having a lower turbo speed) has 32 cores, supports 64 threads and costs $1,799, while having the same base speed.
AMD's Upcoming 7nm Launches
It's worth keeping in mind here that AMD has been going toe-to-toe with Intel while relying on 12nm and 14nm manufacturing processes that are considered somewhat inferior to Intel's 14nm process. The tables will soon turn, given that AMD is poised to launch PC CPUs that rely on a 7nm process that's considered superior to Intel's 14nm process, and seen as roughly on par with the company's much-delayed 10nm process. The chips will also rely on a next-gen CPU core architecture known as Zen 2.
AMD has already begun sampling 7nm server CPUs and GPUs. And while the company hasn't yet disclosed when its first 7nm PC CPUs will arrive, it wouldn't be surprising to see them unveiled in January at the CES trade show. CEO Lisa Su is giving a keynote talk at CES, and AMD has said (without sharing details) its 7nm CPU and GPU efforts will be discussed.
Intel, on the other hand, is only promising that PCs containing its next-gen 10nm CPUs will be available during the 2019 holiday season (server CPUs are due in 2020). Should AMD launch 7nm PC CPUs in early 2019, that's likely to yield a healthy price/performance edge against Intel for much of the year, judging by what's currently known about Intel's 9th-gen efforts.
And if AMD can launch 7nm Threadripper chips by around mid-2019, that will bolster an already-strong value proposition in workstation and enthusiast segments.