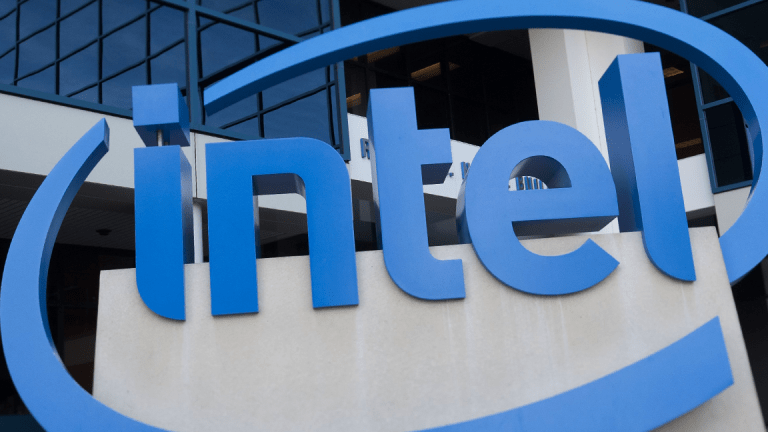 Intel's Alliance With AMD to Battle Nvidia Could Be a Sign of Big Things to Come
As the chip giant slashes its PC R&D spending, it could be in its interests to lean on AMD for its integrated graphics needs.
As the chip giant slashes its PC R&D spending, it could be in its interests to lean on AMD for its integrated graphics needs.
Intel Corp. (INTC) - Get Report has been cutting its PC-related R&D spending as it directs more resources towards server, automotive and IoT opportunities. The company has also been a little less wedded lately to a "not invented here" mindset that made it reluctant to adopt chip technologies developed elsewhere, and -- like many others involved with the PC industry -- has made the high-end notebook market a priority for its ongoing PC efforts.
A combination of these factors seems to be responsible for a GPU partnership with Intel CPU archrival AMD Inc. (AMD) - Get Report . And they could pave the way for a deeper GPU alliance between the companies in time. Provided AMD is willing to play ball.
This column originally appeared on Real Money, our premium site for active traders. Click here to get great columns like this.
On Nov. 6, Intel unveiled a notebook CPU for its high-end H-series line (aimed at gaming and workstation notebooks) that will ship in a chip package that also contains a custom-designed AMD GPU and high-speed HBM2 graphics memory chips. Intel claims the solution, which relies on a proprietary, space-saving, chip interconnect technology called EMIB, allows thin-and-light notebooks just 11mm to 16mm thick to deliver the kind of "performance-tier graphics experiences" one could otherwise only get from much bulkier systems featuring discrete GPUs.
The Intel CPU found within the package is part of the company's recently-launched 8th-gen Core CPU lineup; to date, 8th-gen chips have been delivering healthy performance gains over comparable 7th-gen chips. Judging by recent reports, there's a good chance the CPU is also based on Intel's new Coffee Lake CPU architecture. The first systems featuring the chip package are due in Q1 2018.
AMD shares rose 7.3% to $11.93 on the news, recovering a chunk of the losses seen in late October after the company issued underwhelming Q4 guidance.
Nvidia Corp. (NVDA) - Get Report might quibble with some of Intel's claims. Though it's true that most H-series notebooks with high-end discrete GPUs (typically from Nvidia) are relatively thick and heavy, that doesn't hold for H-series systems rolled out this year that rely on Nvidia's Max-Q design framework. Nvidia claims Max-Q allows notebooks just 18mm thick to house its GeForce GTX 1080 GPU, currently the most powerful Nvidia chip available for notebooks.
Intel, of course, is promising the solution it developed with AMD, will enable notebooks thinner than 18mm. But then again, it isn't clear yet whether the custom AMD GPU's performance will match the 1080's -- or for that matter, high-end notebook GPUs based on Nvidia's next-gen Volta architecture, which are expected next year. In the desktop GPU market, high-end chips based on AMD's new Vega architecture are competitive with Nvidia's 1080 and 1070 GPUs, but aren't as fast as two other Nvidia parts (the 1080 Ti and Titan Xp) are also fairly power-hungry.
Apple Inc. (AAPL) - Get Report is one potential client for the Intel/AMD solution. The company's latest 15-inch MacBook Pros are about 15mm thick and pair H-series Intel CPUs with discrete GPUs based on AMD's mid-range Polaris architecture. Judging by how it's described, there's a good chance the GPU in the Intel/AMD solution delivers better graphics performance.
Both Intel and Nvidia are trying to better cater to a high-end notebook market that -- thanks to demand for gaming systems, ultrabooks and tablet/notebook convertibles -- has been seeing healthy growth even as total PC sales remain sluggish. Intel's notebook-related sales grew an impressive 20% annually in Q2 with the help of higher average prices and inventory restocking, before growing a modest 2% in Q3. And the company's first 8th-gen processors were for its U-series line, which targets ultrabooks and convertibles requiring long battery lives and good (but not bleeding-edge) performance.
Strong MacBook Pro demand led Apple's September quarter Mac revenue to rise 25% on the back of 10% unit growth. And healthy notebook-related demand was among the reasons Nvidia's "Gaming" segment revenue grew 52% in its July quarter.
Yet though the high-end notebook market is a relative priority for Intel, it's clear that the company is trying to spend less on its PC operations overall in order to devote resources elsewhere. At its February analyst day, Intel forecast its PC CPU R&D would drop 5% from 2015 to 2017. And in Q3, the company's adjusted operating expenses fell 6% annually, something it partly attributed to "efforts to rationalize our sales and marketing programs."
R&D spending on the integrated GPUs that are often found on Intel CPUs appear to be one of the casualties of the spending cuts. The aforementioned 8th-gen U-series chips deliver major CPU performance gains relative to 7th-gen chips, but their GPUs are largely unchanged. Likewise, the first 8th-gen desktop CPUs (based on Coffee Lake) feature the same integrated GPU as the 7th-gen chips they replace.
Meanwhile, AMD just launched the first processors for its Ryzen Mobile family, which pair CPUs based on AMD's new Zen CPU core architecture with Vega GPUs. Integrated GPU performance has long been an AMD selling point, and judging by what the company's promising, Ryzen Mobile should extend that lead.
All of this raises the question of whether Intel and AMD would be open to a deeper GPU alliance in time. One in which -- in exchange for a per-chip royalty paid to AMD -- integrated AMD GPUs would be baked into Intel processors. The deal Intel just inked with AMD, together with the near-total lack of integrated GPU improvements for 8th-gen processors, makes the idea sound less far-fetched than it may have a little while ago.
In addition, though nothing ultimately came of them, there were previously reports that Intel would license AMD's graphics intellectual property after a licensing deal with Nvidia expired in March 2017. One big question here is whether AMD would be comfortable with a licensing deal, effectively giving up a selling point for its processors in exchange for royalties on a much larger number of chips.
While announcing the AMD deal, Intel called it "a great example of how [Intel and AMD] can compete and work together, ultimately delivering innovation that is good for consumers." Given how Intel's R&D priorities have changed, it might be a sign of things to come.
Apple and Nvidia are holdings in Jim Cramer's Action Alerts PLUS Charitable Trust Portfolio. Want to be alerted before Cramer buys or sells AAPL or NVDA? Learn more now.
More of What's Trending on TheStreet: