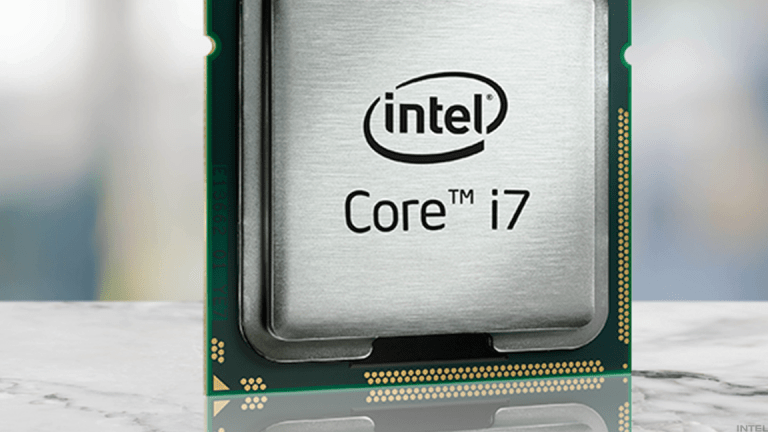 Intel Reports Earnings on Thursday: 5 Important Things to Watch
Sales to cloud giants, PC CPU expectations and capital spending plans are among the things to keep an eye on as the chip giant reports.
Intel's (INTC) - Get Intel Corporation Report 2019 outlook might take the spotlight as it shares its numbers for the last quarter of 2018.
The PC and server CPU giant will be sharing its Q4 report after the bell on Thursday, and hosting an earnings call at 5 p.m. ET. On average, analysts polled by FactSet expect revenue of $19.02 billion (up 12% annually) and non-GAAP EPS of $1.22.
Intel also shares quarterly and full-year sales and EPS guidance in its reports. Currently, the consensus is for Q1 revenue of $17.31 billion (up 8%) and EPS of $1.01, and for 2019 revenue of $73.19 billion (up 3%) and EPS of $4.53.
Intel is the Stock of the Day on Real Money, our premium site for active investors. For Stephen Guilfoyle's take on why Intel's earnings are so important, please click here.
Intel shares were up 3.11% to $49.43 on Thursday ahead of the earnings report.
In addition to Intel's revenue and EPS numbers, here are a few important things for investors to keep an eye on as the company reports.
1. Server CPU Sales Trends -- Particularly for Cloud Customers
In Q3, Intel's Data Center Group (DCG), which supplies server CPUs and various other data center products, saw its sales to cloud service providers rise 50% annually. That, together with a 30% increase in sales to telecom service providers, helped DCG revenue rise 26% to $6.14 billion in spite of a mere 1% increase in sales to enterprise and government clients.
However, there are a growing number of data points, including comments from Asian server makers and U.S. hard drive and memory suppliers, that suggest cloud giants are for now slowing down their IT hardware spend, as they work to digest the equipment they bought in recent quarters. That, together with a potential slowdown in enterprise server spend and AMD's (AMD) - Get Advanced Micro Devices, Inc. Report planned mid-2019 launch of second-gen Epyc server CPUs that are likely to be quite competitive, could lead Intel to be cautious with its 2019 outlook for DCG.
As it is, the consensus is for DCG, which is now staring at tougher annual comparisons, to see its growth drop to 14% in Q4, with revenue coming in at $6.35 billion. And for the whole of 2019, DCG is only expected to grow 6%.
2. PC CPU Sales Expectations
2018 was a stronger year than expected for Intel's Client Computing Group (CCG). Healthy demand for business PCs and high-end notebooks, iPhone modem share gains and CPU average selling price (ASP) growth all gave the segment a lift.
Of course, the resilience of the PC CPU market caught Intel by surprise a little, causing shortages for a number of chips. And while supplies appear to be improving now that we're in a seasonally weaker part of the year, the problem hasn't fully gone away just yet.
The shortages, together with Apple's (AAPL) - Get Apple Inc. Reportrecent iPhone sales pressures, AMD's planned mid-2019 launch of third-gen Ryzen desktop CPUs and the potential for slower business PC demand, could influence Intel's 2019 outlook for CCG. The consensus is for CCG revenue to rise 12% in Q4 to $10 billion, but less than 1% in 2019, with growth turning negative during the back half of the year.
Apple is a holding in Jim Cramer's Action Alerts PLUS member club. Want to be alerted before Jim Cramer buys or sells AAPL? Learn more now.
3. The Capital Spending Budget
After having spent cautiously on capex for several years, Intel dialed up its spending in 2018. In its Q3 report, the company forecast it would spend $15.5 billion on capex in 2018, up from $11.8 billion in 2017. Investments in both CPU and flash memory production lines contributed to the growth.
Will Intel keep investing heavily in capex this year? A slew of other chip manufacturers have recently pared back their capex plans, with memory makers particularly eager to restrain their spending. At the same time, Intel, which recently lost its longtime manufacturing process lead to Taiwan Semiconductor (TSM) - Get Taiwan Semiconductor Manufacturing Co. Ltd. Report , might be eager to make up some of the ground it has lost.
Currently, the consensus is for Intel's capex to drop to $14.3 billion in 2019.
4. Non-Volatile Memory Sales
Flash memory prices took a nosedive in the second half of 2018, and with the industry still seeing its total bit shipments grow rapidly as production of high-density 64-layer and 96-layer 3D NAND chips ramps, more pain is likely in store for the coming months.
Intel's Non-Volatile Memory Solutions Group (NSG), which sells flash products as well as products featuring its 3D XPoint/Optane next-gen memory, is bound to feel a sting from the NAND market's woes. Its sales are expected to rise 26% to $1.12 billion in Q4 thanks to flash production ramps and Optane adoption, but only 5% in 2019.
5. IoT and Programmable Chip Sales
Intel's Internet of Things Group (IOTG), whose products include CPUs for verticals such as retail and video surveillance as well as Mobileye's driver-assistance processors, hasn't been unscathed by the company's CPU shortages. Due to the shortages, as well as the recent sale of Intel's Wind River embedded OS unit, IOTG revenue is expected to drop 8% in Q4 to $813 million in spite of healthy demand in many of the unit's end-markets.
Meanwhile, Intel's Programmable Systems Group (PSG), the product of its 2015 acquisition of FPGA developer Altera, is expected to see revenue drop 9% to $519 million amid a tough annual comparison. The chip industry's recent downturn might weigh on PSG in the near-term. On the other hand, the business has healthy exposure to a mobile infrastructure market that's seeing demand pick up as 5G rollouts get underway.